Luxury brands and their slew of classic, cult-favorite, and trend-driven bags have possessed a hold over fashion fanatics for decades. With iconic styles from legendary labels garnering hefty price tags and even heftier fanbases, expensive handbags from the most established and exclusive designers have long been heralded as the pinnacle of luxury fashion.
But now more than ever, bags from mid-range brands offer new and exciting (and affordable) options for handbag aficionados.
Against a backdrop of relentless price increases from luxury labels and the growing influence of accessibility-favoring Gen Z consumers on luxury, a multitude of mid-range brands are shaking up the designer handbag marketplace.
And this prompts the question – Is mid-range the new luxury?
What Is Mid-Range?
Before we can ponder whether mid-range is the new luxury when it comes to designer bags, we first need to clarify exactly what mid-range means. Expertly summed up as "pricier than Zara, cheaper than Prada," mid-range labels offer premium products at lower and more accessible prices than luxury designers while remaining distinct from the mass market flooded with fast fashion brands.
Ranging between roughly $200 and $800, handbags from mid-range designers are sufficiently lower-priced than their luxury counterparts. Plus, these bags increasingly offer the premium quality and desirable materials that luxury shoppers are used to. And this is proving enticing amid concerns over a drop in the quality and craftsmanship of heritage luxury labels.
Changing Price Points
It's no secret that fashion is getting more expensive. Many mid-range labels' prices have increased over the past decade. But this rise is incomparable to the surge in the cost of bags from top-tier luxury brands, with some luxury bag models increasing by 300% in the past decade.
Bags from mid-range labels offer luxury shoppers an escape from chasing the seemingly ever-rising prices of popular styles from top luxury designers.
Continuous price increases from the likes of Chanel, Louis Vuitton, Gucci, Hermès, Dior, Balenciaga, Valentino, and many more brands have made the cost of luxury handbags practically unrecognizable when compared to a decade ago. Consumers could once snap up popular bags from these labels for under $1,000, a price point that now seems fanciful.
And so, enter the cohort of mid-range designs offering an affordable alternative. Take Diesel's 1DR bag. It debuted on the label's Spring/Summer 2022 runway, and since then, the logo plaque-embossed design has become a celebrity favorite. Priced between $295 and $495, the structured, flap style has played a pivotal role in re-establishing Diesel as a sought-after, mid-tier brand with cult appeal.
Joining the mid-range rank's treasure trove of covetable and reasonably-priced accessories is Cult Gaia's crystal-adorned Hera design for $428, Polène's minimalist Umi style priced at $390, and JW Anderson's Bumper bag for $850. And there are many more handbags from mid-range brands, leaving luxury shoppers everywhere rethinking just how much their next dream carry-all should cost them.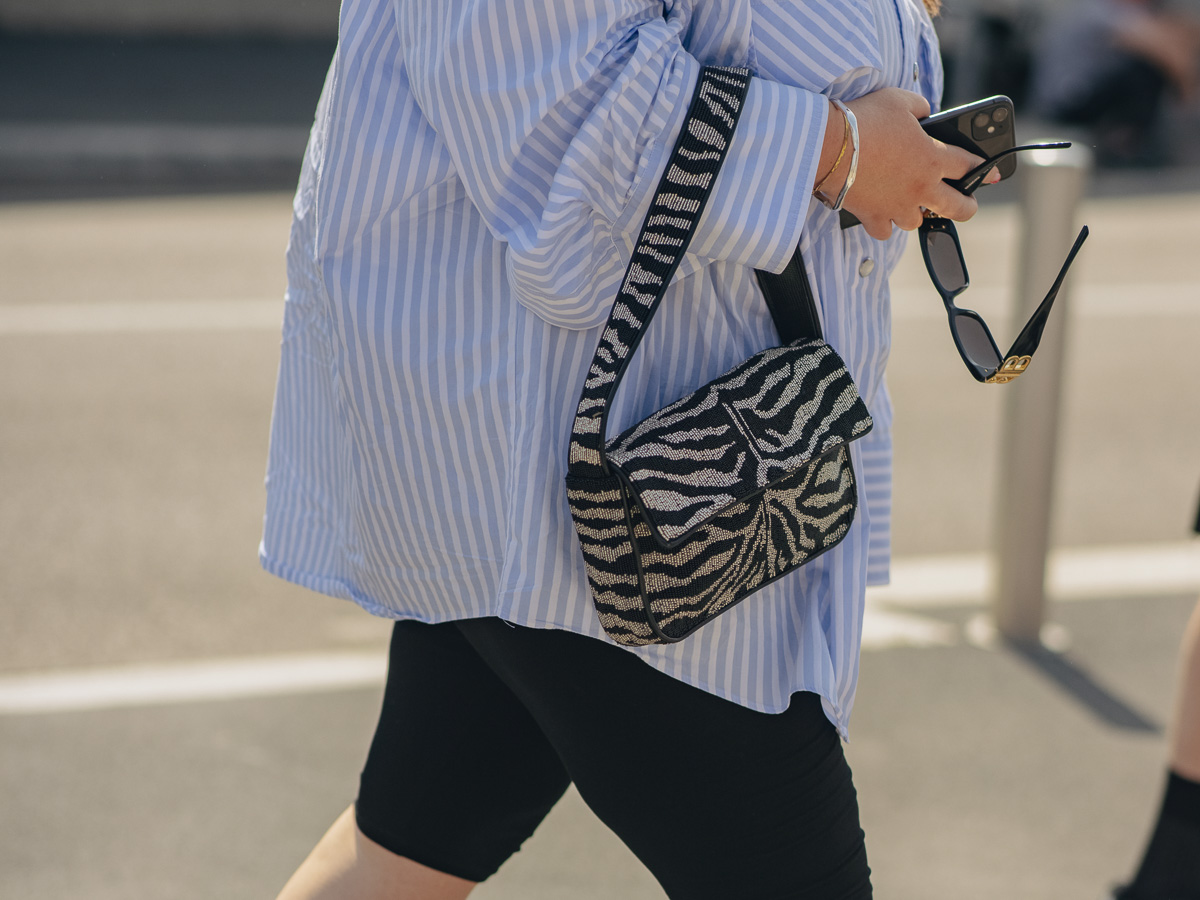 Shaking Up The Status Quo
But it's not just more affordable prices and great quality that mid-range brands offer bag fanatics. Increasingly, bags from these labels are a fun and unique alternative to the luxury brands' roster of classic designs and style codes.
Mid-tier brands have developed a reputation for shaking up the handbag status quo, conceptualizing innovative avant-garde designs, or putting their stamp on classic silhouettes.
Cult Gaia's ornate top handle creations centering structured bodies shaped to resemble giant pearls have become classics for the emerging label. In contrast, the brand's famed Ark bamboo bag has helped redefine modern Bohemian chic.
Over at JW Anderson, knitted iterations of slouchy handbag silhouettes champion the joys of pared-back style and have become synonymous with the British designer's playful approach.
And mid-tier labels have also proved themselves when it comes to reworking staple handbag styles in their own image. Take JW Anderson's Bumper style, the designer's answer to the oblong shoulder bag, which has long been a mainstay within the classic handbag collections of luxury labels. Or, Self-Portrait's coveted Bow bag that's been dubbed a modern classic thanks to its adoption of the timeless structured top-handle style.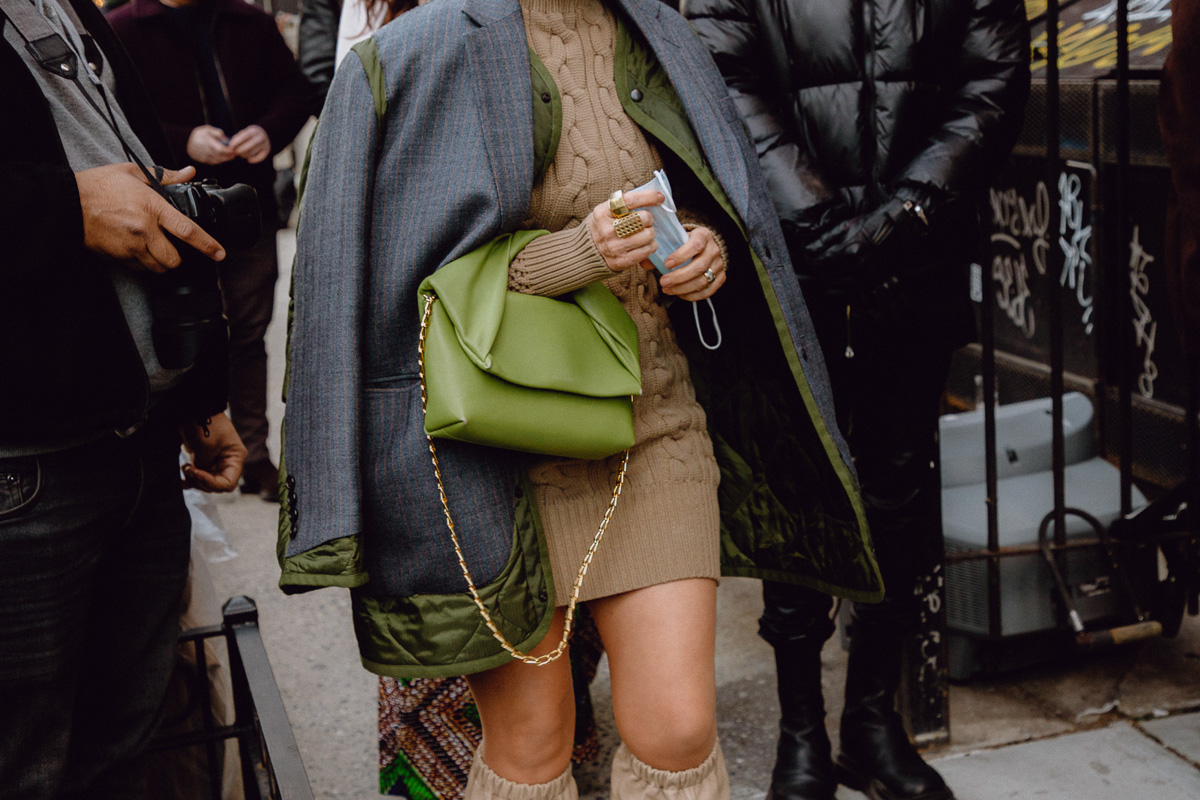 Mid-range brands like Polène have succeeded in developing innovative designs that are becoming as linked to their brand as the Classic Flap, or Birkin is to Chanel or Hermès, respectively. Polène's Number One bag adopts a simple approach, utilizing smooth curves, a simple flap opening, and a functional cross-body strap to create a signature style that is instantly associated with the growing label.
So, what's the takeaway? Fashion, and more specifically, luxury fashion, is changing. A buzz in the luxury sphere seems to signal an opening for a cohort of coveted mid-range labels and their bag designs to enjoy the prestige and cult appeal once reserved for only the most expensive and exclusive famed luxury fashion houses.
And while it seems unlikely that any of these bags are set to dethrone the likes of the Hermès Birkin or Chanel Classic Flap any time soon, the landscape of luxury is changing. With it comes an army of new, exciting, and affordable handbag designs that threaten the notion of luxury being defined by price, prestige, and exclusivity.