It has happened. The Kardashian sister trio, Kim, Kourtney, and Khloe, have announced their global partnership with designer Bruno Schiavi and his apparel company Jupi Corporation. The initial range is said to include a women's Ready to Wear collection, handbags, belts, wallets, and lingerie which should hit stores in 2011.
We have seen so many celebrity fashion lines and most of them are far from anything I would buy. I will be the first to admit that I love watching the Kardashians on TV, but their empire of everything they place their names on has seemed to lack any discretion seems to be chosen as long as it brings in money. I am not finding fault with their knowing how to market themselves, but I am not about to run out and buy a handbag or piece of clothing because their name is associated with it.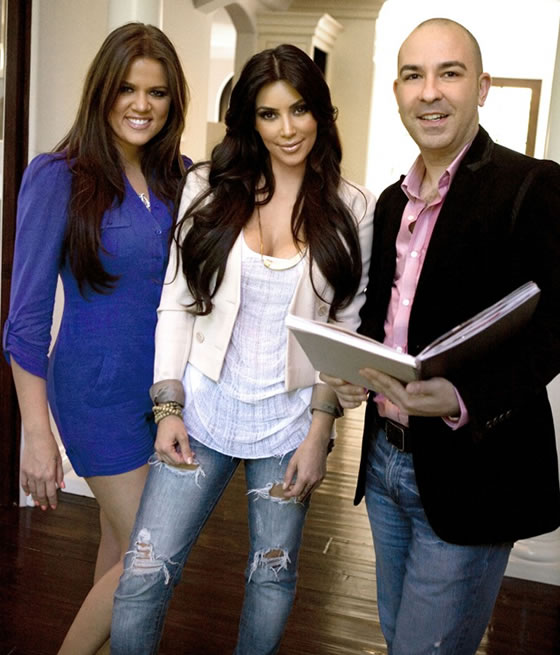 Bruno Schiavi is an "expert" on body image and has focused his lines on body range items inspired by The Biggest Loser and Dr. Rey's Shapewear range. This is why Schiavi thinks working with the Kardashians is a great fit, since he believes they "celebrate healthy and curvaceous body image, the importance of high self esteem and family values whilst still being fun, theatrical and sexy." I can't say I wholeheartedly agree with that – aren't the girls promoting a diet supplement and didn't Kourtney pass out from lack of food and over exertion trying to lose baby weight? What I can say is that the Kardashians have great curves and maybe it could be useful to have a line out there that embraces this.
But, the Kardashians are always dressing great (we give them a lot of outfit love on BagThatStyle). There is a great chance their clothing can turn out being cute, but I am highly skeptical about their bags. Either way, we will give you more details as the line comes to fruition.
"The Kardashian sisters are an inspiration to women of all ages and loved for their sense of fashion and style. I am extremely excited to be working with Kim, Khloe and Kourtney across so many fashion categories – taking their brand to women in key markets around the world" says Bruno Schiavi.

"We are excited to work with Bruno Schiavi in developing our first brand together," stated Kim, Khloe and Kourtney Kardashian. "His expert design sensibilities, his amazing creativity, and his genuine understanding of female consumers everywhere make him the ideal partner."
What do you all think of the Kardashians starting their own line?