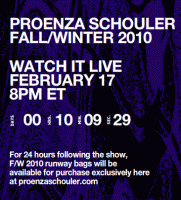 One of the hottest tickets at New York Fashion Week is for Proenza Schouler, which will be showing tonight. Proenza Schouler Bags have not only hit the scene but they have become highly sought after. The PS1 is now a part of many PurseBloggers handbag vocabulary.
While it will not include PS1's, as the PS1 is not part of the runway show as they are separate from the seasonal bag collection, the handbags from the Fall/Winter 2010 Proenza Schouler show will be available on ProenzaSchouler.com for 24 following the show. Also, you can watch the show live tonight at 8 PM EST also at their website.
Check out the show tonight and make sure to check back to see if any of the runway bags are calling your name!