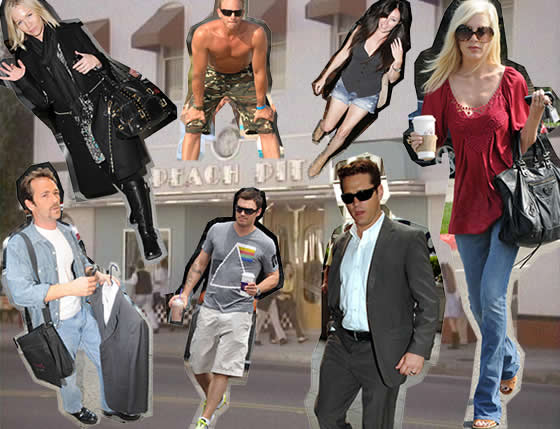 Today is 90210 day, how awesome is that?! And when I realized it is September 2, 2010, thereby meaning it is 90210, I got giddy like a kid on Christmas! One of the hottest TV shows of my generation (which transcends generations), is the original Beverly Hills 90210. To this day, I watch 90210 everyday on Soap Net. And then I hear the same comments being made by Tori Spelling about spending the weekends in bed with Donna Martin. That could be taken out of context, but it is mostly about laying around all weekend watching 90210. Sounds amazing to me!

In honor of 90210 day, we have a collage of the original cast (present day photos) chilling by the Peach Pit. The only gal who we cover because of her handbags is Tori Spelling. Tori is a Balenciaga girl, which we completely appreciate.
Share with us your favorite 90210 character and episode!