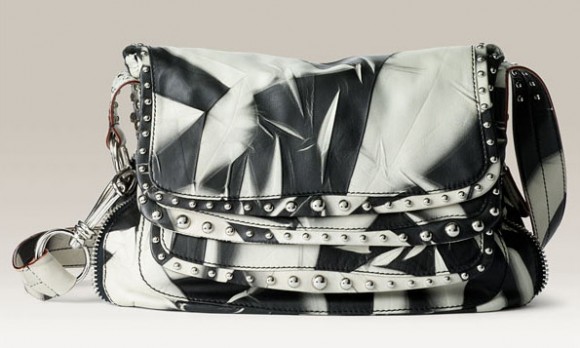 I kind of love this bag, and I fear I may be the only one.
The Donna Karan Chaos Leather Messenger Bag is not something I'd normally embrace. First, I hardly ever like any of the bags from Karan's eponymous line. Second, I usually hate multicolored bags. Third, this bag really shouldn't work. But for some reason, it kind of does.
It might be because the colors and dye patterns remind me of my much beloved zebra print, or because the distressed neutral look reminds me of my much beloved Alexander Wang – I'm not sure. But the dye pattern gives the bag texture and depth that I don't think a solid color bag could muster, and the slight distressing keeps things young and hip.
Multicolor bags are often difficult to work into a wardrobe, but the style and colors used in this one would probably lend itself to easier incorporation, as long as you're not much of one for patterns. And even if you are, this would probably still work as long as the other patterns had the same mood. Or maybe I've been smacked in the head today without my knowledge and I'm having visions. Who knows. Buy through Nordstrom for $1395.