What's a girl have to do in order to thank Marc Jacobs in person for his brilliance? Well, I assume I need to be famous or figure out how to rub elbows with the elite fashion crew out there. While I try to figure out how to make that all happen, I'll just have to settle for staring at some beyond fabulous handbag creations Mr. Jacobs continues to bring us.
As I sit here and type, part of the house is without air conditioning. It's in the 80s here in Ft. Lauderdale and stagnant heat is not something I am a fan of unless I am poolside with a frosty beverage in hand. While that is not currently the case, coming across this Marc Jacobs bag has given me yet another reason to get out of the house and trade in the inside heat for the outside heat.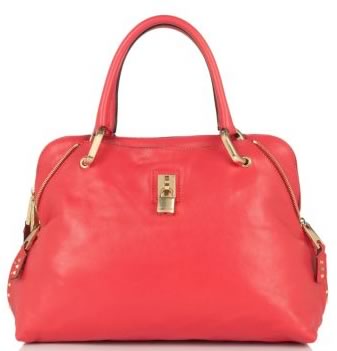 I am dying to frolic outside with this Marc Jacobs Paradise Rio Leather Tote. One word for you – gorgeous. This bag features gold clip detailing, two leather handles (6″ drop) and a signature gold padlock at the front. The small gold studs along the side remind me of the Kate Lock Hobo Megs covered a bit ago. I enjoyed the feminine touch then just like I enjoy them on this bag. I am totally digging the bright color pictured here but the bag comes in black and a pale pink if you want something a little more subtle. More than anything, I am confident this bag will become an instant staple in so many different people's wardrobes. Buy through Bloomingdale's for $995.