Sporty and functional, see how this MJ bag scores
In my promise to keep Purseonals going, this week I have another bag review for you! Many of my Purseonals are on premiere designer bags, with price tags that are quite high, but today I'm giving you a review of a bag that is both sporty and functional from Marc Jacobs and under $400.
Two years ago Marc Jacobs consolidated Marc by Marc Jacobs under his main label and in the time that has followed we've watched how this has shaken out for the brand. The Shot bags, including the Snapshot (more to come on this bag soon, I really like it), Little Big Shot, Big Shot, and other accessories is what's propelled Marc Jacobs back into the handbag lovers world. Marc Jacobs bag were once a major staple of handbag chatter, with many people loving the Stam (I still love that bag, Amanda loves that bag, we've talked about it), and if feels right to have his bags on our minds again.
1 / 6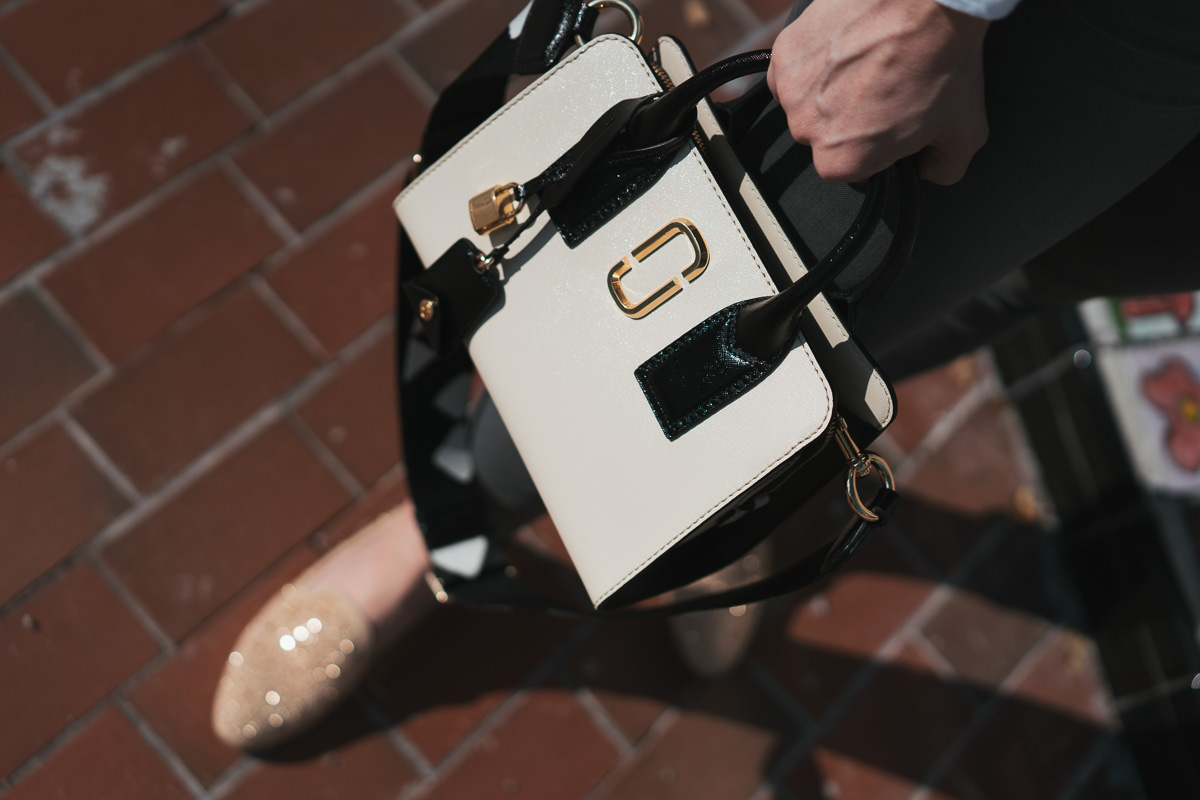 Aesthetics
Around the holidays is when I wind up getting more gifts from brands, and this bag was a gift from the Marc Jacobs team. I really like how this bag looks - it's laid back and cool, and easily wearable. There are many color combinations and I absolutely love the cloud white/black combination, with the body of the bag being cloud white (which is not a stark white, it's almost a little creamy), the handles black, and the side of the bag pairs black and white together. The Double J logo hardware on the front is an neat brand integration without being overly branded. My favorite part of the bag is the detachable strap that's majority black with white diamond detailing. You don't have to use the strap, but you all know that I always use a long strap, and I love how this strap changes the bag up completely. It makes the bag feel really sporty and easy, which I love.
The leather is a durable Crossgrain leather which has a sheen to it. I know this means the bag won't show wear as easily, and while I really like that aspect about the bag, I also don't love when a bag has much shine. My personal preference is a more matte leather, so aesthetically this would be the reason the bag loses points - but truth be told, it makes the bag so much more wearable.
The dimensions of the bag work well with all of the design elements, not overwhelming and not underwhelming. You can't go wrong with the classic tote shape and overall, this bag is such a great bag for everyday use both in style and functionality (more on that below!).
2 / 6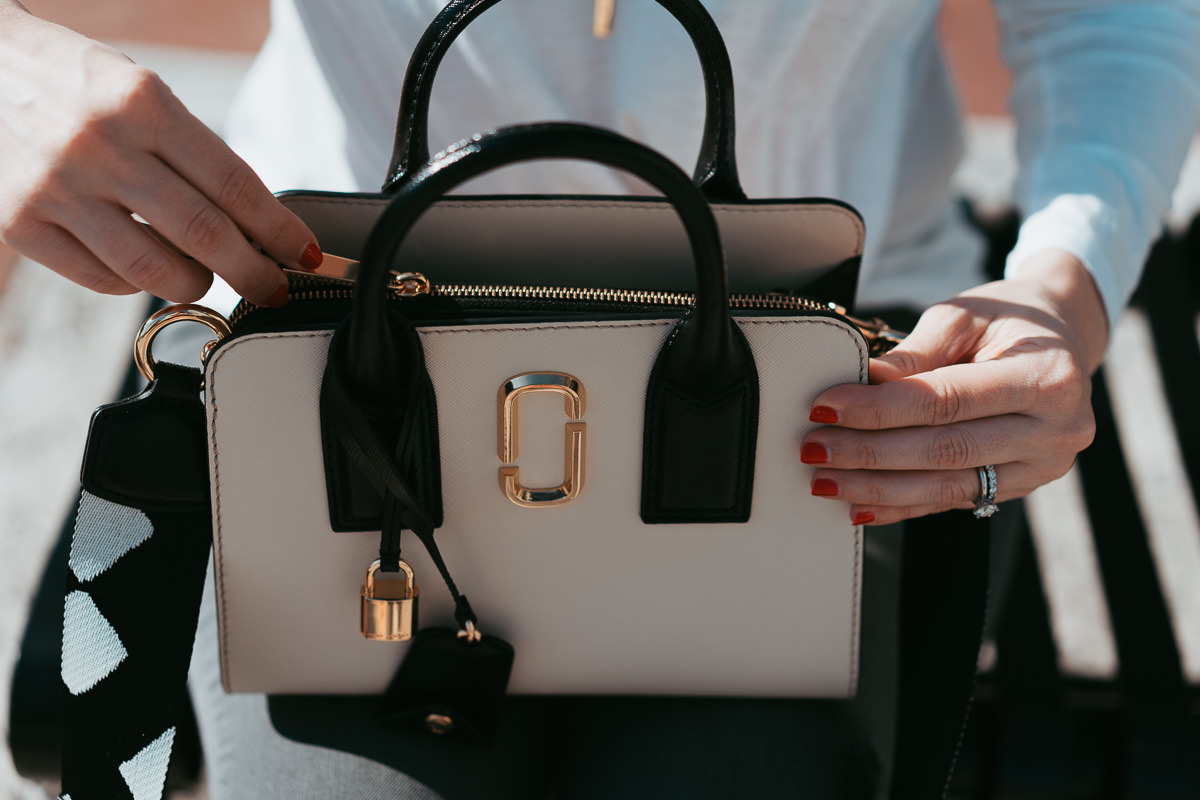 Usability + Functionality
This bag has everything I look for in a bag when it comes to interior set up. I am always drawn to multiple compartments and this bag has a center zip compartment that separates the bag into two other open areas, one with an open pocket. The open pocket is in the back compartment and it fits and iPhone plus, and is really easy to get my phone in and out of. The leather on the bag is a bit stiff which makes it a little tricky to get my hand in and out easily. I think with use the bag will soften and it will become easier to grab items as I want to.
I've recently started to really appreciate a lighter interior, though most bags have a dark interior (which by the way I used to always want as it didn't show wear as easily), because it's easier to find what I'm looking for. After having Millie my bag became my everything and I am really busy following around an active baby, so I have less time to look for items inside of a bag. While I know a dark interior is easy to hide wear, it is also harder to locate what I'm looking for. This point is merely personal preference, it doesn't greatly impact the usability or functionality of the bag and it's a double edged sword as a light interior will get dirty quicker, but it sure does make locating items easier.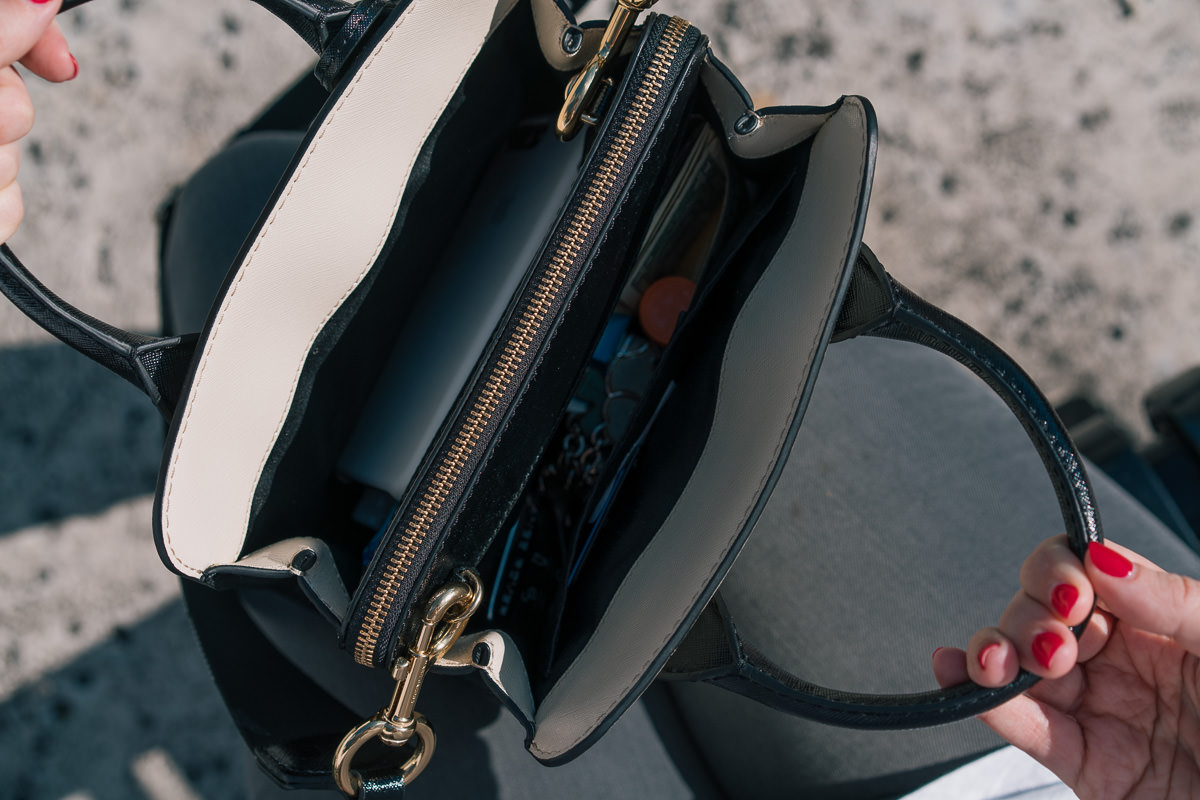 The biggest problem I have is where the zip on the center compartment starts and stops - it's about two inches down the compartment side. It's an awkward angle to use the zipper and get in and out of the bag, especially when it's on my body by the strap. I find the strap gets in the way of the zipper and those extra inches on either side, while good for expansion, make a functionality problem. The zip itself is wider so my fingers feel the zipper and it's bothersome.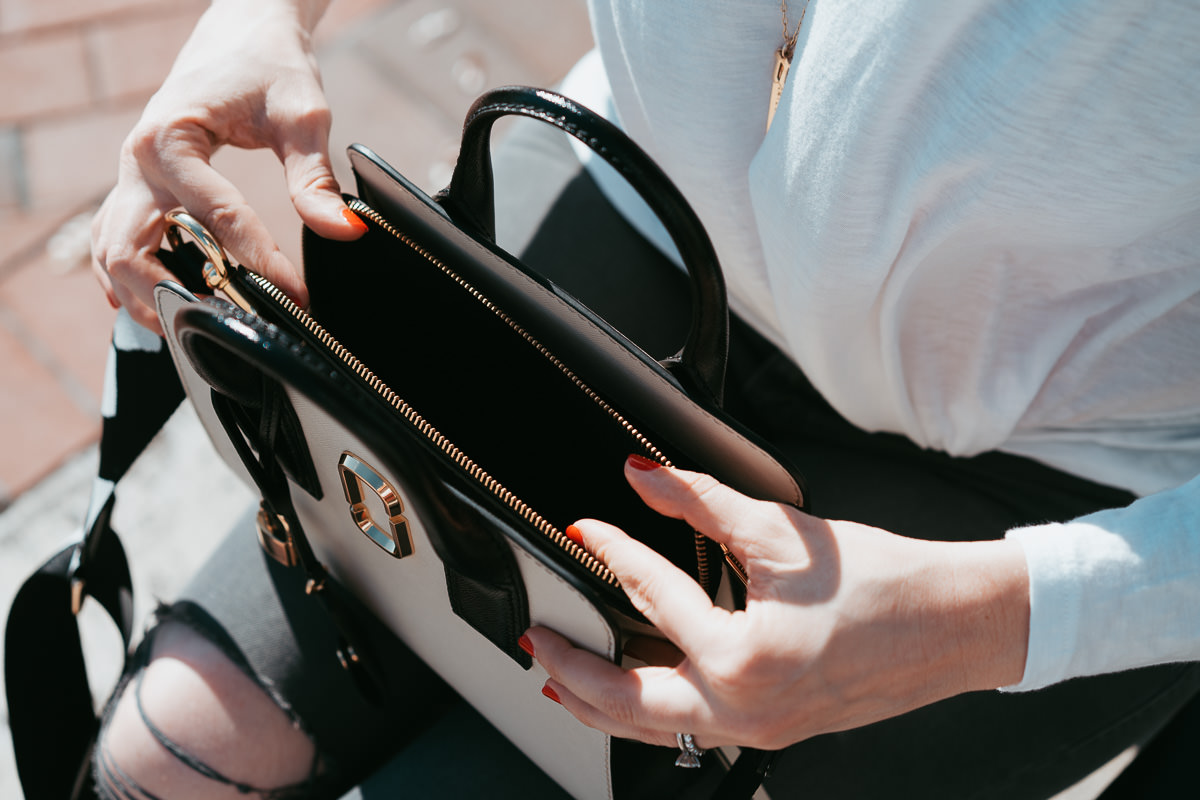 However, overall, the bag is still quite easy to use. I put my important items in the interior zip that I don't need to get to as much and other items in the two compartments. I can fit a couple diapers and small case of wipes if needed which is always a plus, and the separation makes organization much easier. I tend to think this bag would score higher if I had the Big Shot instead of the Little Big Shot, because proportions would be big enough to make up for some of the areas that this bag loses points for. You can't fit a continental zip wallet, so I take out my cards and carry them in a smaller card case. The dimensions of the Little Big Shot are 10" L x 5"W x 7 1/2"H.
3 / 6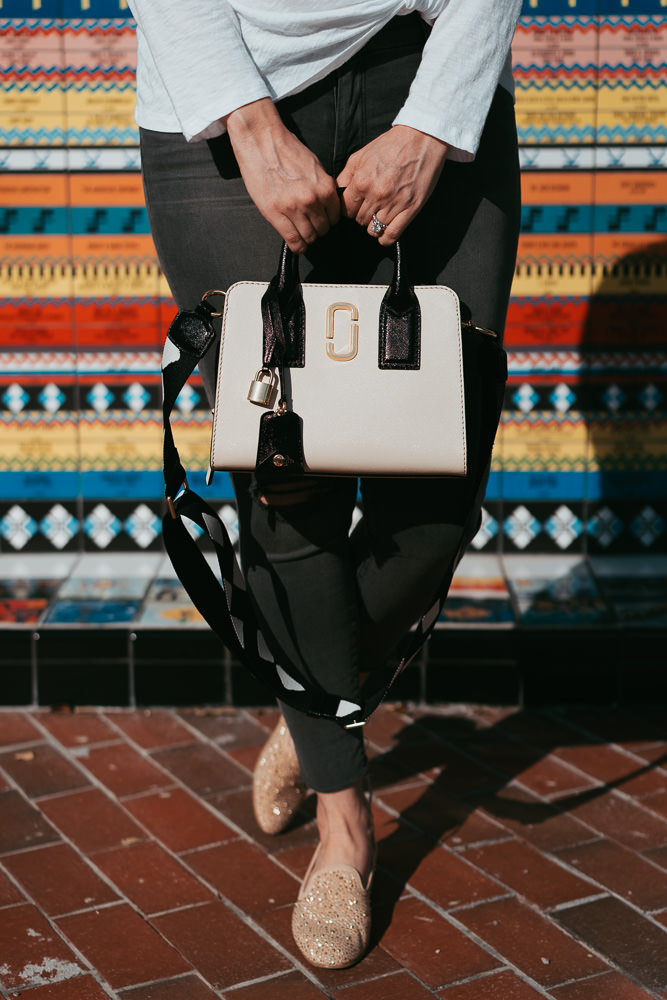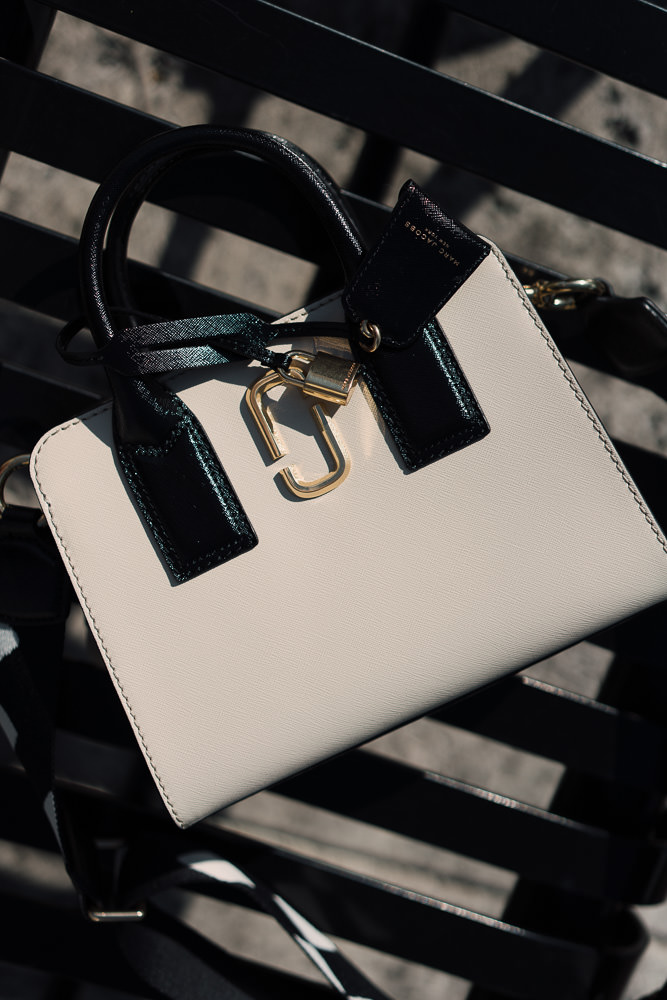 Quality + Construction
This bag is really well made. The leather is both sturdy and durable, and not entirely scratch-resistant, but it would be quite hard to show wear which is a major plus. I spoke a bit about the leather above, it's 100% crossgrain leather. Upon close inspection, you can see the crossgrain, which literally has tiny crossed lines all over. There's a shine to the leather itself. Though it's not the most premium leather, the leather used is still really nice (and great for the price, more on that below).
Though the bag looks like it could be heavy, it's not - it's deceivingly light. I really love that about this bag, the thick leather but the light overall weight. I haven't carried the bag long enough to show major wear, but barely any wear has shown since using the bag. The gold hardware is really nice as well and the stitching is well-done, all in place and attractive. This bag is really well made so it scores high in our quality and construction.
4 / 6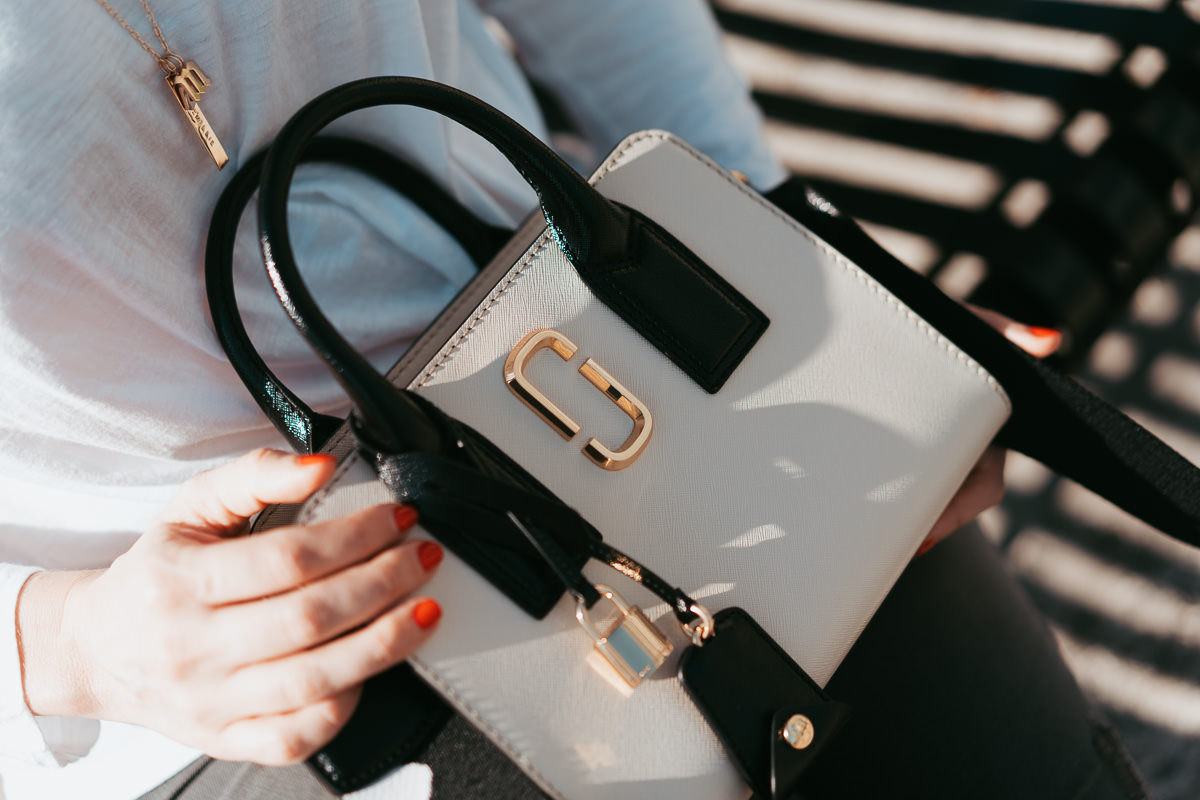 Value
It's hard to come by a bag that costs less than $1,500 let alone less than $500. We are constantly on the search for well-made bags that don't have price tags that easily surpass most people's monthly rent. This bag is $370, which puts it in a major deal category for me. Even when we look at many contemporary priced bags, they have shot up to be closer to $500-$900 and this bag is not tiny but has a really great price.
The value is the best part of this bag - I honestly was shocked when I saw the price tag. I am so used to seeing rising prices and I can't always justify it, but when it comes to this bag, the quality is great but even better is the price. I honestly would say if you're looking for a fun bag, this bag is a great option (plus there are other great colors like black, tan, pink, and the coolest black and pink combo which is my second favorite!).
5 / 6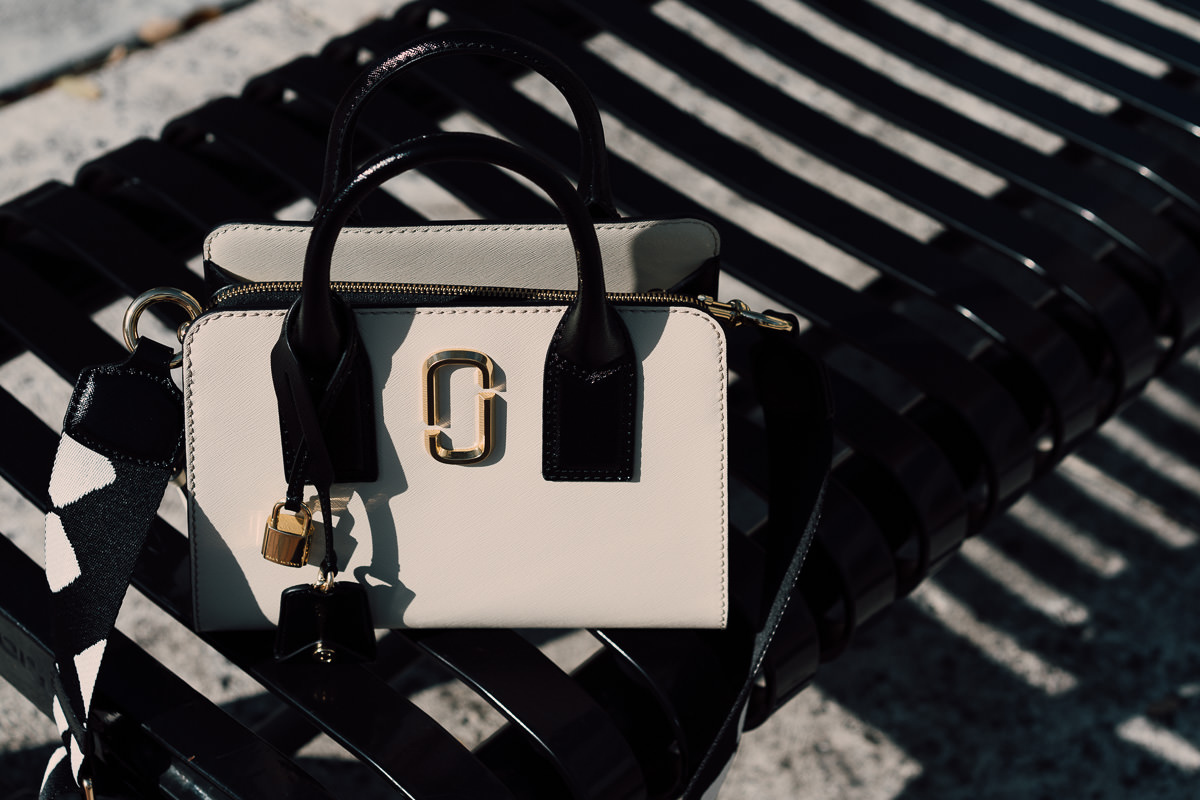 Staying Power
Staying power is hard to judge on a bag, because really, this category always ranks high for brand's incredibly classic bags. This bag is trendy, but not in a way that marks it as such a seasonal piece that you really can't carry it again, but it also is not a timeless staple like a Birkin. I like that the logo on new Marc Jacobs bags in this double J hardware is both eye-catching but not overly distracting.
I think this bag can be worn for years and you'd be happy to reach into your closet and grab it and use it. It falls right in the middle of this rating - not the most timeless classic, but not a seasonal trend piece either.
6 / 6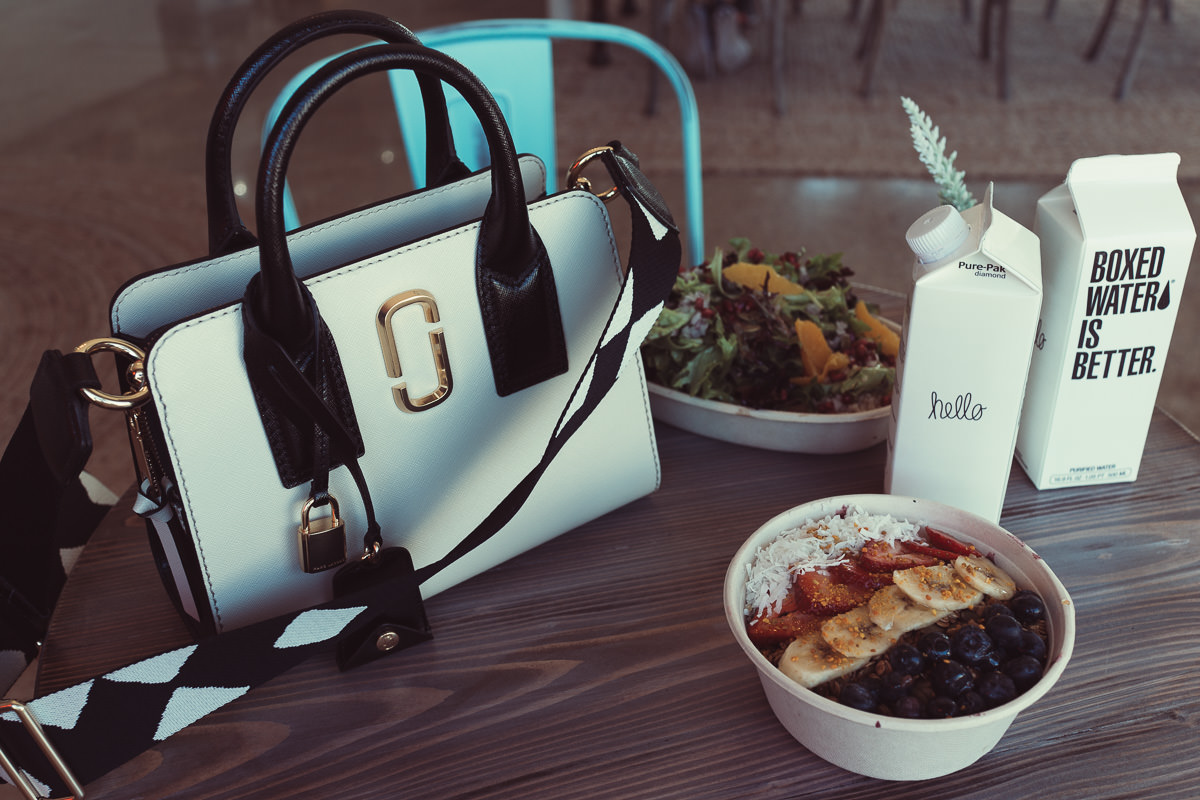 Total
This is a really cool bag, and I'm really into the entire Shot line of bags from Marc Jacobs. This bag has such a sporty feel which makes it great to use daily, and I like that when I carry it I'm not overly concerned about color transfer to sensitive leather or even just babying the bag. Right when I got this bag I knew I could take it out and really carry it, and that's always a nice feeling (actually these are the bags in my collection that get most use).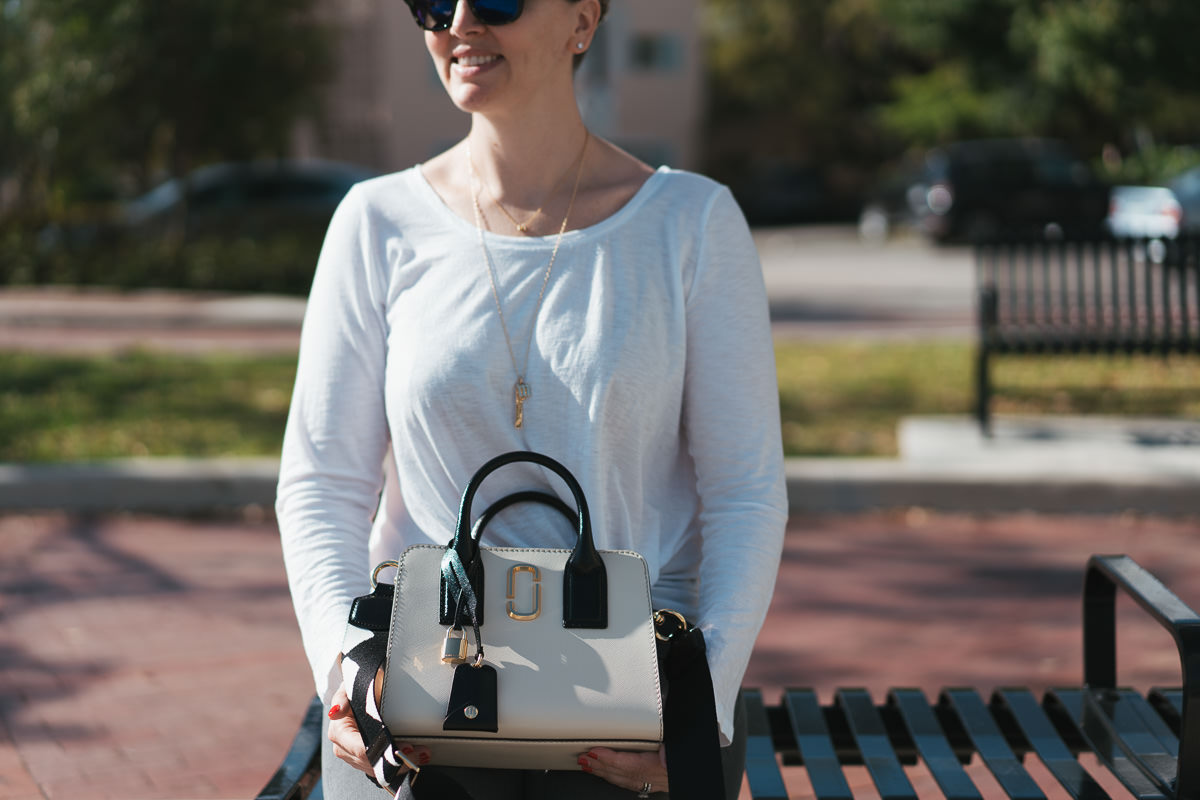 P.S. Please consider supporting our small, bag-loving team by clicking our links before shopping or checking out at your favorite online retailers like Amazon, Neiman Marcus, Nordstrom, or any of the listed partners on our shop page. We truly appreciate your support!