I have a bit of a Marc Jacobs obsession right now. I love his ladylike bags for fall, especially with the added structured body, two toned coloring, and chain link shoulder strap. While the Gene Satchel is a bit more subdued, the Marc Jacobs Single Sequined Bag adds a burst of fun in neutral colors.
I already expect dissenting opinions, but let me explain to you all why I like this bag.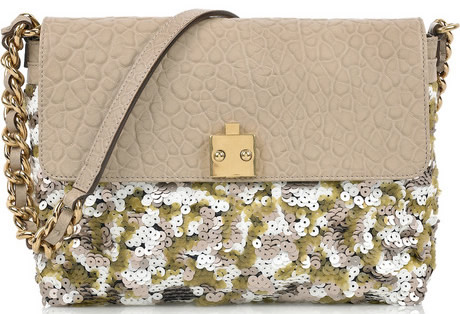 Remember the Marc Jacobs Tweed Bag with Florescent baubles? I bought that and I adore it. It has the right bit of over-the-top in each detail that it just works. But I will be the first to admit that it is rather eye-catching and a bit too much for many occasions, which is why I am honing in on this sequined bag.
There is undoubtedly sensory overload going on with the bag; we have multicolored sequin embellishment paired with a textured leather flap over front and chain and leather strap. But the entire bag is neutral in color, which tones down everything going on and gives a fun yet feminine touch. I just adore this bag. And this bag reminds me that fall is around the corner (along with our big move to NYC) and that puts and ear-to-ear smile on my face. Buy via Net A Porter for $995.