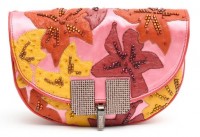 It took us a few days (my guess would be that lighting issues delayed the release of the show photographs), but we rustled up a few pictures of the handbags from Marc Jacobs Spring 2011 for your viewing pleasure. And a pleasure they are – those who prefer seriousness to fun in their accessories need not apply.
These bags only make up part of what is always an enormous accessories collection, but it seems as though Jacobs is right on board with the multicolor trend that has emerged quickly in Europe, as well as the continuing trend for smaller, more streamlined and structured bags. This is perhaps the most wearable collection of runway bags Jacobs has presented in a few seasons, and they'll almost certainly do well at retail.
Photos via Women's Wear Daily and Style.com.