When we covered Louis Vuitton's Spring 2019 campaign, I was an instant fan, which isn't super surprising since it's no secret that I'm a self-appointed Louis Vuitton gal. While I personally wouldn't change a thing about anything in the campaign, I was drawn to one single item in particular…the one that can only be described as "the egg bag."  I'll be honest—at first I was unable to process my feelings on this uniquely shaped bag. I'm an opinionated person and I am usually quick to reach a verdict of whether I like something or not, but I couldn't determine if the intense wave of emotion I was experiencing over the egg bag was true love or unadulterated hate. While it was definitely the stand out piece from the Spring 2019 campaign, I was careful not to rush to a conclusion on how I felt about the egg bag.
The shape of the egg bag is unprecedented and peculiar; not words I necessarily want to associate with a handbag that I might add to my collection. Sure, we have seen (and I've loved) round bags and we've seen basketball shaped bags, but the question remains. Are consumers ready for an egg bag?
Eggs have unexpectedly been at the top of my radar over the last few weeks. Although the egg bag came before the egg (aka the infamous Instagram account that beat Kylie Jenner's record for the most liked photo on Instagram of all time) there is no denying it, eggs are having a moment. Following this year's Grammy Awards and Cardi B's oyster dress, I was thinking fondly back on the years when red carpets were filled with the wackiest, most over the top outfits. There was once upon a time when celebrities, most notably Lady Gaga, were continuously dressing in seemingly the most unusual outfits they could find to attend award shows.
Cardi B inspired me to take a stroll down memory lane and look back at all of my favorite red carpet looks from the past. I was casually clicking through Gaga's different outfits from way back when (who can forget the meat dress?), when I stopped in my tracks at the Grammys red carpet from 2011. Lady Gaga arrived inside of an EGG. I knew the Louis Vuitton bag reminded me of something, but I couldn't quite put my finger on it. This epiphany came to me immediately once I saw the photo of Gaga's 2011 Grammys entrance. Apparently she lived in the egg for three full days.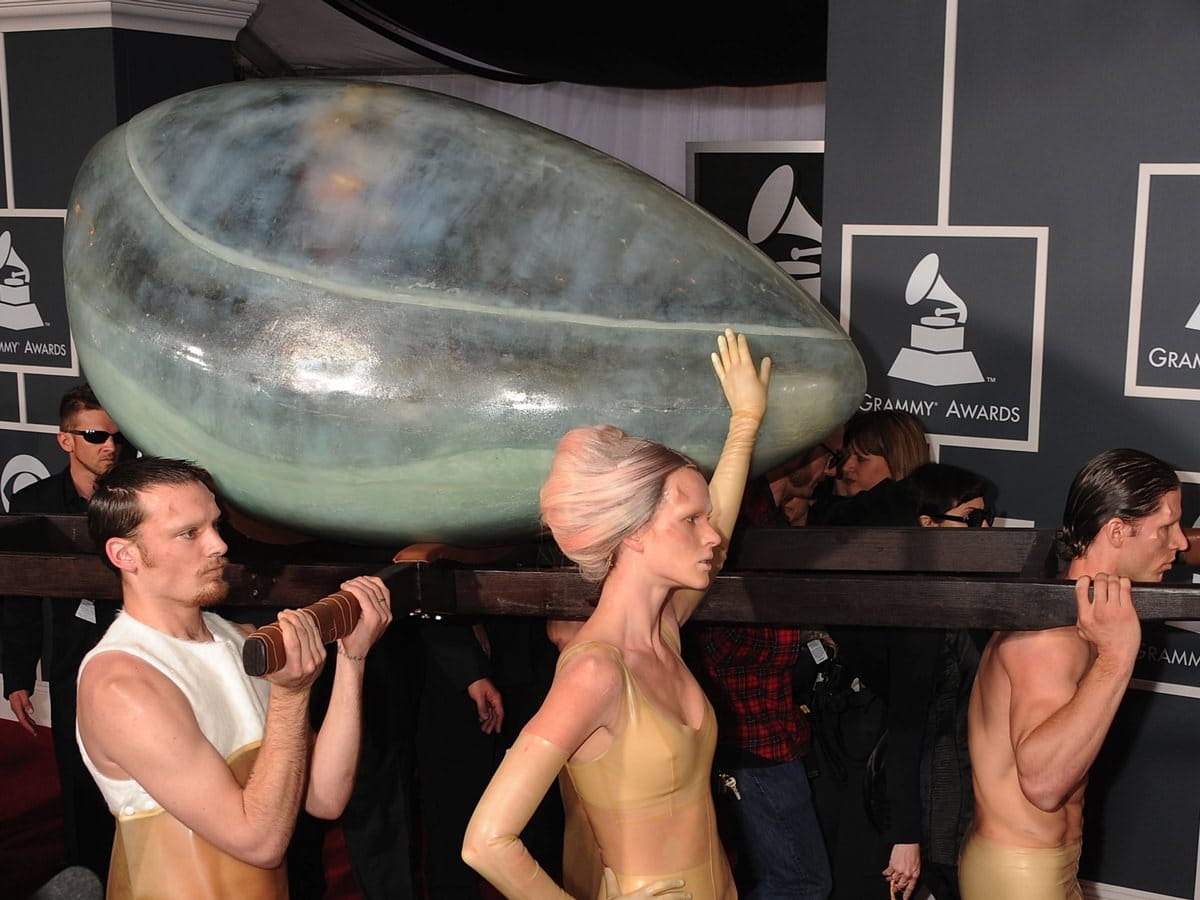 The realization that the egg bag reminds of me of Lady Gaga's red carpet look only makes me love the egg bag more. I'm in total "everything old is new again" mode, so this could not be popping up at a better time. Overall I have decided that I really like the egg bag and I can't wait to see the different forms it will take. I personally would love it in a larger version in the LV reverse monogram canvas. Reverse monogram is my favorite Louis Vuitton canvas; I find it so aesthetically pleasing! I haven't seen it on the Louis Vuitton site just yet, I know I will be stalking the brand over the coming weeks.
What do you think of the egg bag? Do you love it, hate it, or meh it?
P.S. Please consider supporting our small, bag-loving team by clicking our links before shopping or checking out at your favorite online retailers like Amazon, Neiman Marcus, Nordstrom, or any of the listed partners on our shop page. We truly appreciate your support!