Few brands boast the understated luxury of Spanish heritage leather goods maker Loewe. Its incredible attention to detail is nearly unmatched, and Creative Director Jonathon Anderson remains committed to celebrating the brand's history. While many creative directors aim for major change when signing on at a heritage House, powerhouse designer Jonathan Anderson has enjoyed bringing new life to Loewe's most storied House codes, allowing the brand to receive the recognition it deserves.
An Iconic House Code
One of those historic motifs is the Loewe Anagram. One of fashion's most understated yet still recognizable logs, it is a favorite of many handbag lovers. The classic Anagram motif dates back to the 1970s. Designed by Spanish artist Vicente Vela, it consists of 4 Ls intertwined, striking a beautiful balance of classic and contemporary. The Anagram is an emblem of the Loewe identity, representing spontaneity and boldness with a playful, unique edge.
The Anagram Selection of Fall 2022
The Loewe Anagram takes center stage this season, appearing on a variety of new bags that beg to be seen. First up, there's the Luna Bag. New for Loewe for Spring 2022, the Luna bag quickly rose to the top of Loewe lovers' wish lists thanks to its distinct half-moon hobo shape and incredible attention to detail. Simple in silhouette, the Luna's clean lines and satin calfskin body are further enhanced this season with the addition of a sculptural gold Anagram. Neutral hues of black and white are contrasted with tan leather trims, which are colorways exclusive to Loewe.com.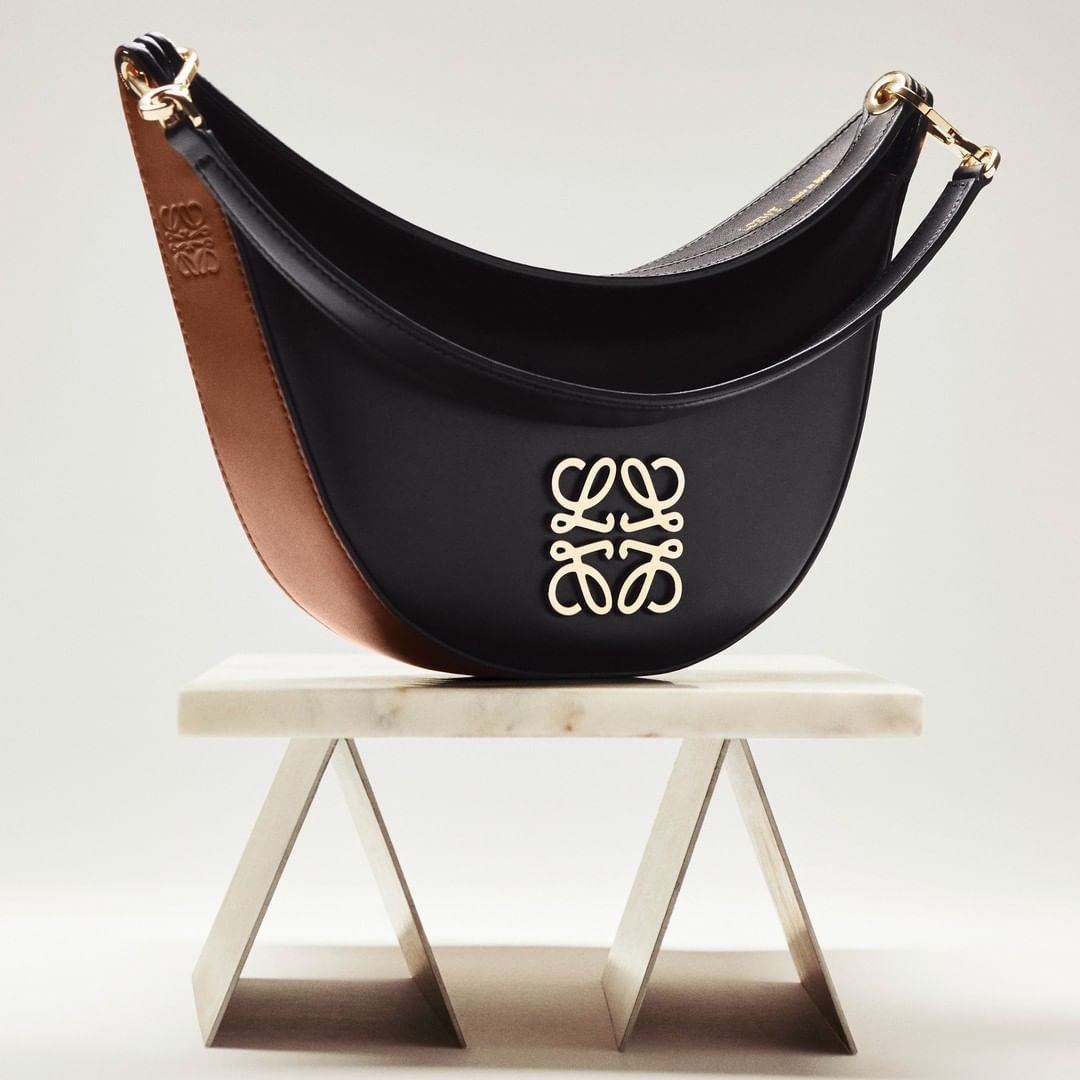 If you're looking for another Loewe classic this winter, the brand's staple basket bag is winterized in woven shearling. Leather details like a calfskin base, straps, and an oversize, exaggerated Anagram logo finish the bag. At first glance, this bag is a showstopper, crafted fully of shearling inside and out, with a price to match, $5,200 to be exact; it screams Aspen-chic in the best way possible. You know what they say, go big or go home, and if you want to nail the shearling winter look, this is the way to go.