I will always be a handbag girl first and foremost, however shoes and bags go hand in hand (or hand and foot if you will). I am not a high heel stiletto girl, but give me a beautifully made pair of comfortable shoes and you will have me as a customer forever. We all know that most major fashion houses design shoes as well, but I'm always looking for something new.
I've always felt that designer handbags make an outfit look better and I think adding a good pair of shoes completes the look. I've spent a lot of time on my phone since having Vaughn (my screen time numbers are grossly high) browsing Instagram and shopping and stumbled upon M. Gemi shoes. I knew of the brand before, but I spent more time checking them out and reading reviews and wanted to see what the brand was like for myself. Sometimes I stumble upon a brand I really want to share and that is the case with M. Gemi. This isn't sponsored, it's just me sharing shoes that I really love and think you will too (full disclosure: the brand sent me these three shoes as a gift).
M. Gemi received its name from founding member Maria Gangemi and the brand prides itself in being made the old way with a focus on luxury. Each shoe is handcrafted in small family-owned Italian workshops and that history and skill is shown in each and every shoe. The art of shoe craftsmanship is older than that of handbags and let's be honest, the Italians do it best. When Maria Gangemi decided to start her brand she wanted to model it after the Italian tradition of creating impeccably designed shoes at a great price.
Though I happily wear sneakers and overall my style is very casual, a pair of shoes can easily transform my outfit, making a simple jeans and t-shirt look appear more put together. For this very reason when I stumbled upon M. Gemi on Instagram, I fell down the rabbit hole looking at photos. There were so many shoes I had my eyes on that I knew would fit seamlessly into my wardrobe and was excited to try.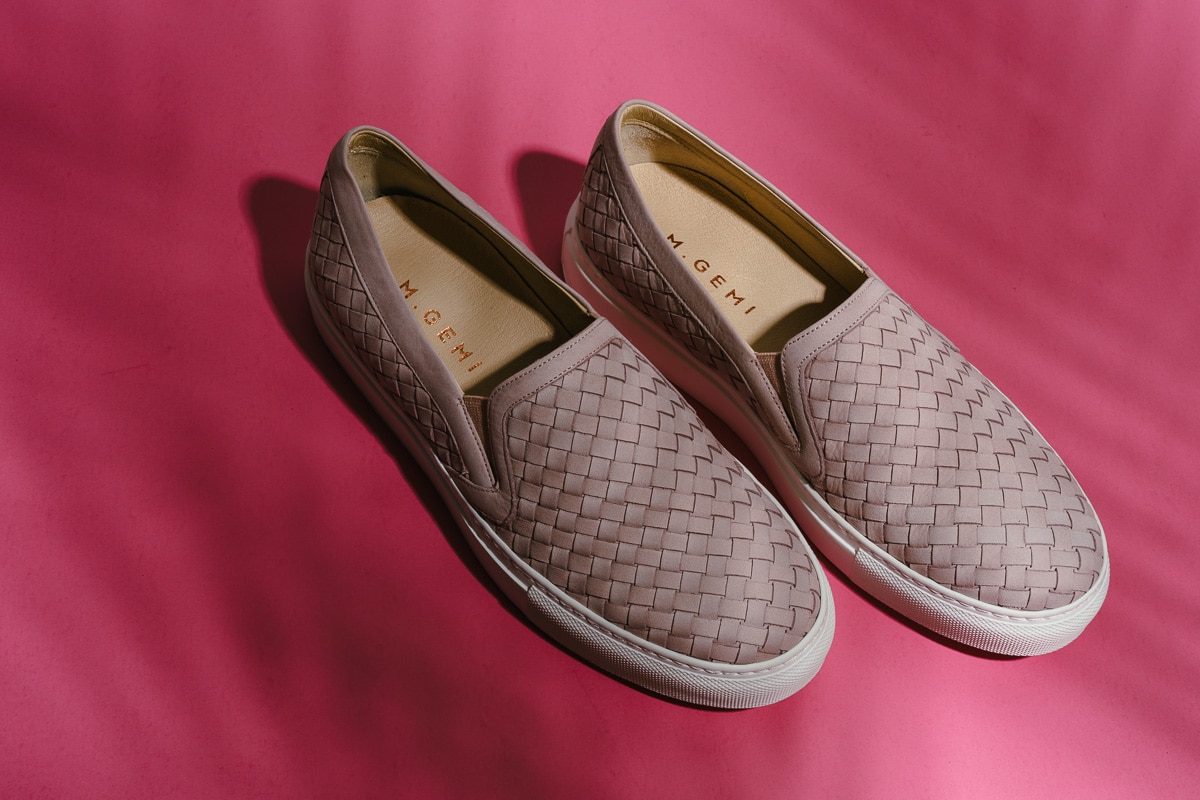 First shoe I loved: The Cerchio. As I've gotten older, I've learned to stay true to my style. I used to try to make popular heels work for me and I was miserable. My day-to-day life is really casual (again, this is why I'm a designer bag girl!) and though I love sneakers, I need to dress it up a bit more often. I love a brand that offers a dressier slip-on and the M. Gemi Cerchio is perfect. This woven sneaker quickly became my shoe – the one that I slid on to make it look like I wasn't just sporting the athleisure look 24/7. There are a ton of colors offered on this woven sneaker and each looks beautiful on the nubuck leather (each shoe is individually woven by hand). I opted for the Rose Dust (the site suggests to size half a size down in majority of colors of this shoe), and after the first couple wears, these shoes slide on like butter and are incredibly comfortable to walk in. I sized half a size down in the Rose Dust and I could have gone with my normal size, but this still works for me. The Rose Dust is completely sold out but there are other color options or you can join the waitlist. Price is $248.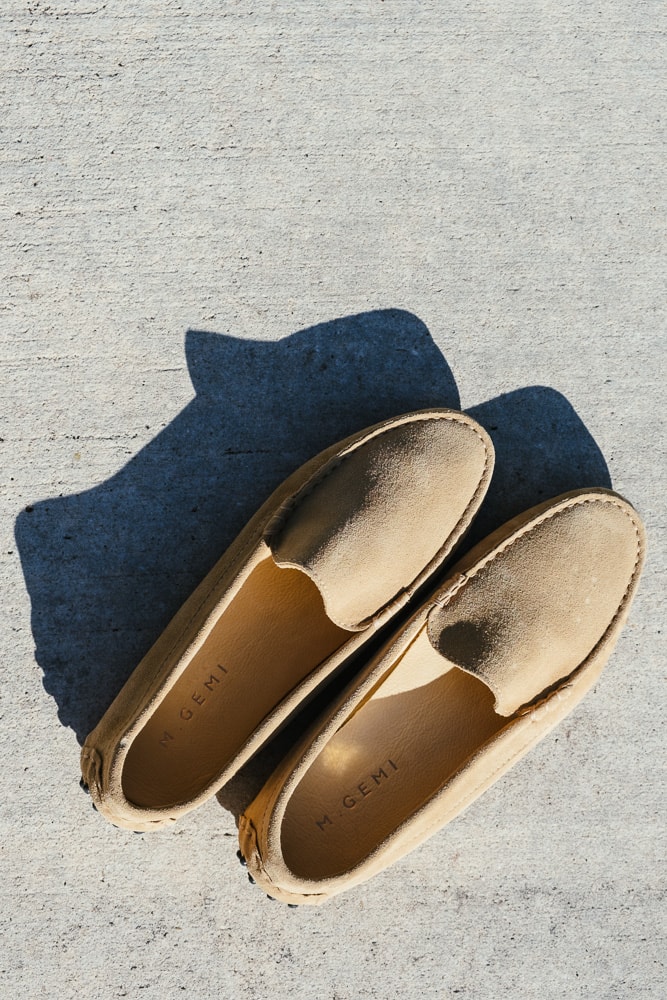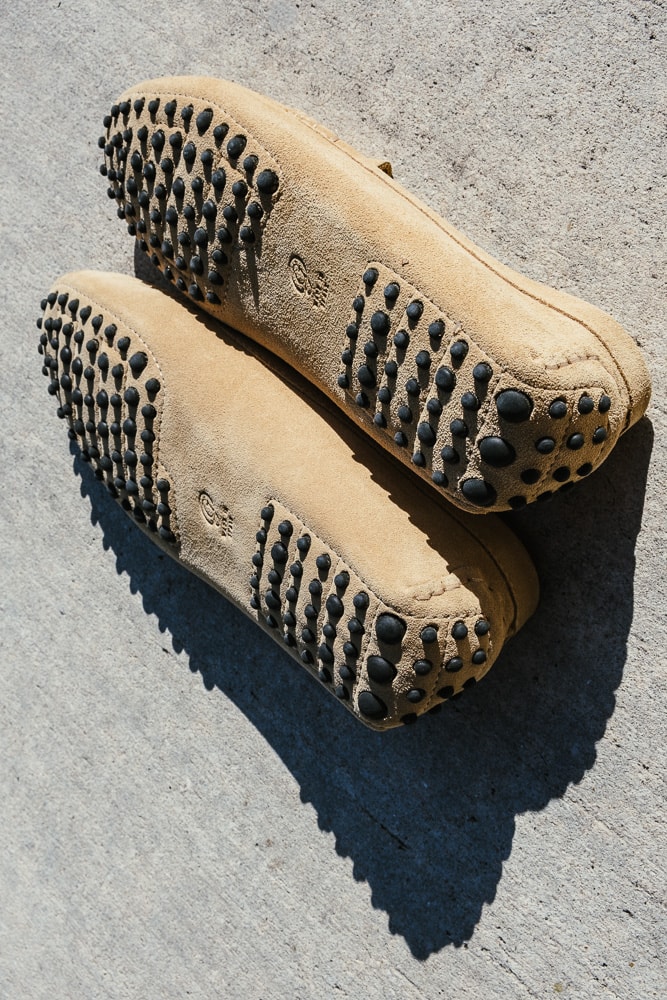 The next shoe I knew I needed was The Felize. I have other drivers that are similar, but I loved the slimness at the toe of the shoe which is really flattering for my feet. While suede can be tricky to keep clean, I love it on shoes. These moccasins work well for daily use and easily slide on and mold to your feet. After a few wears they really feel comfortable and I picked my true size. I wear a 39.5 and have a long lean foot (after I typed this I felt like it was a weird way to describe my feet, but it's true). These not only fit really well but also look really flattering (having a bigger size shoe sometimes means the shoe gets wide and clunky as the size goes up, I hate that). I feel really sophisticated wearing these and feel like a grownup with my life in order, which many days seems far from the truth. Price is $198.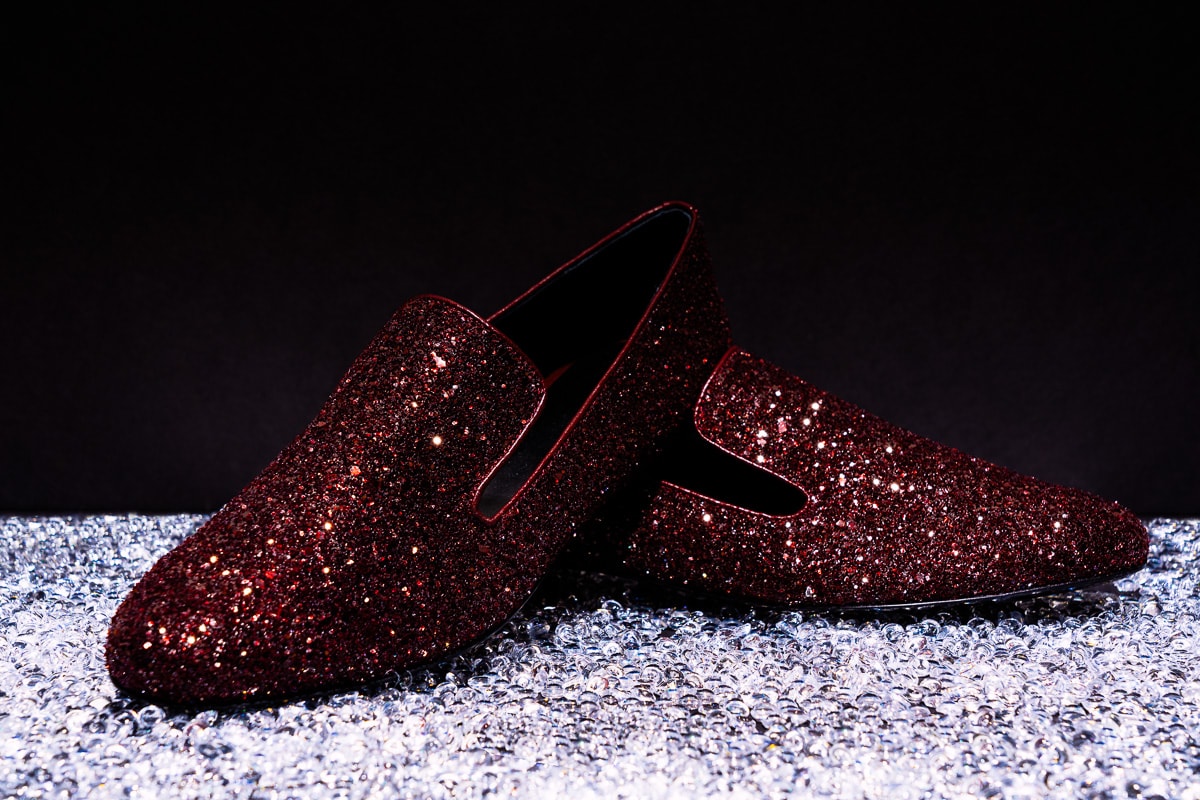 Lastly, I wanted a fun slide that worked well as an evening shoe and that's why I went for The Parma in ruby. I feel a bit like Dorothy in Wizard of Oz with these shoes and I mean that in a good way. I see so many moms that not only wear heels soon after they delivery their baby but also while they're pregnant, and I'm just not that girl. I don't think I can tell you the next time you'll spot me heels and that's why I opted for these shoes. They aren't daily shoes for me, but I have them in my closet as special occasion shoes that won't hurt my feet, so they will get lots of wear.
Best part of all of the shoes I eye'd from M. Gemi is they all work well with my bags. Right now you'll spot me carrying a nylon Prada backpack (more on that to come soon!) and every shoe I found on M. Gemi works with my casual diaper bag as well as my other bags that I opt for. I am all about ease of wear when it comes to both my clothing and accessories and that is why I'm so excited about M. Gemi – the shoes are well-priced and fit into my wardrobe so seamlessly. In both my handbag and shoe purchases right now I'm looking for something different and this brand fits the bill.
You can get $25 off your first pair which is automatically applied at checkout for new customers. Shop all M. Gemi shoes here and let me know if you buy them and love them as much as I do!
P.S. Please consider supporting our small, bag-loving team by clicking our links before shopping or checking out at your favorite online retailers like Amazon, Neiman Marcus, Nordstrom, or any of the listed partners on our shop page. We truly appreciate your support!