Get ready to be surprised and astounded, you guys: I've found a Valentino bag about which I am totally and utterly ambivalent. I know this doesn't happen often, so if you feel like you need to take a moment to let that sink in, please go ahead and take one. We'll wait.
You back? Great.
In fact, I'm having trouble rustling up any thoughts about it at all. However, one continues to reoccur: for two grand, not only can you get a better bag in general, you can get a far more interesting Valentino bag.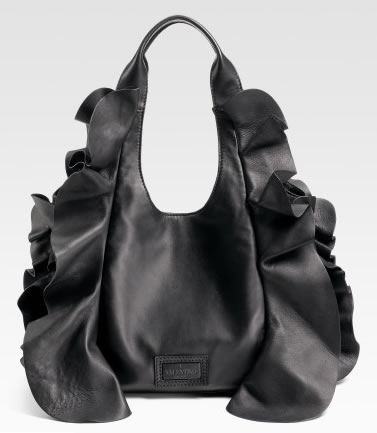 The ruffles are suitably rich and textured, I suppose, and the graduated size from top to bottom is ok. Something about it is just not impressive to me at all, however, and maybe it's because I've seen the brand do ruffles in so many more interesting and intricate ways. Perhaps the problem is that they do such an out-of-the-ballpark job with designs that are much more complex, and in comparison, it's hard to celebrate their ability to pull off something so comparatively simple. Buy through Saks for $1995.