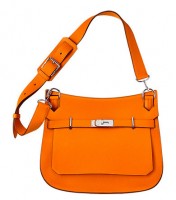 Recession? What recession?
With Hermes set to report a 30% revenue increase for the third quarter, it's not difficult to understand why LVMH CEO Bernard Arnault has such a keen interest in the company. According to Women's Wear Daily, the increase centers on the success of the silk, leather and timepieces categories, which make up the backbone of the Hermes tradition and represent the company's most sought-after products. All told, family representitives believe Hermes may be on track to have its most successful year in company history.
So not only has Hermes weathered bad economic times in a profitable, growth-minded way, but this report also makes it clear that the growth was not a coincidence or the result of a temporary tactic. Instead, it represents real consumer interest in the things that Hermes does best, which only portends more future growth and gains in market share for the French luxury giant.
WWD specifically mentions the success of the crossbody Jypsiere bag as being a cornerstone of Hermes's continued growth, and giving fans of the brand a new bag to obsessively collect surely increases sales. With new creative director Christophe Lemaire scheduled to make his debut for Fall/Winter 2011, only time will tell what the company's next handbag move will be. What would you like to see from Hermes in the future?
Source: Women's Wear Daily.