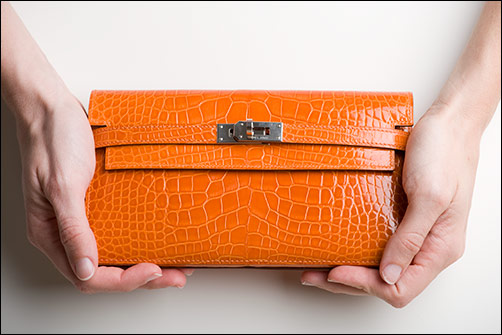 Time to put an end to the suspense. We previously teased you with the orange box, now it's time to show off the goods. This being Megs' first dive into Hermes exotics, the Hermes Kelly Long Wallet (officially: Money Holder) in orange matte alligator is the quintessential combination of skin and tone from the House of Hermes. Megs had been contemplating to go exotic with Hermes for a while – when our Hermes SA contacted us and we learned about this beauty's immediate availability, there was not much hesitation. The wallet is made from matte Mississippi alligator and dyed in Hermes' signature orange color. The gator version is denoted by the small square printed by the Hermes logo. This exotic skin is mainly reserved for Hermes' smaller leather goods, larger bags are very rare in alligator.
This Kelly Long variety also comes in other leathers. It is available in mysore goatskin, box calf and epsom calfskin in a broad variety of colors. Prices for the regular leather versions range around $2,350. Needless to say, this exotic version is a wee bit more expensive. Inquire with your local Hermes boutique if interested.
Click the thumbnails to enlarge the image!