Alessandro Michele is a fan of innovative pairings, which can be seen in his many collaborations in his time as Creative Director at Gucci. Michele's love for floral prints runs deep; it's a theme that can be seen in majority of collections from his own designs and so this latest release for Gucci is truly an ideal melding of two storied fashion names. With prints pulled from the Ken Scott archive which is preserved by Como-based textile producer Mantero, the anticipated Gucci x Ken Scott collection just launched.
Though fashion designer Ken Scott was American, he resided in Milan in the 60s and 70s which is where he created his colorful and bold patterned fabrics and collections. Ken Scott quickly became known for his large-scale prints, integrating romanticism and pop culture, which led to him being known as 'The Gardener of Fashion' because of his bold and vivid floral designs. Gucci x Ken Scott is a collection that seamlessly incorporates archival prints from Ken Scott onto Gucci house staples. The Gucci Epilogue collection includes this line of color and floral patterns from Ken Scott's rich archive in an unexpected and eye-catching manner.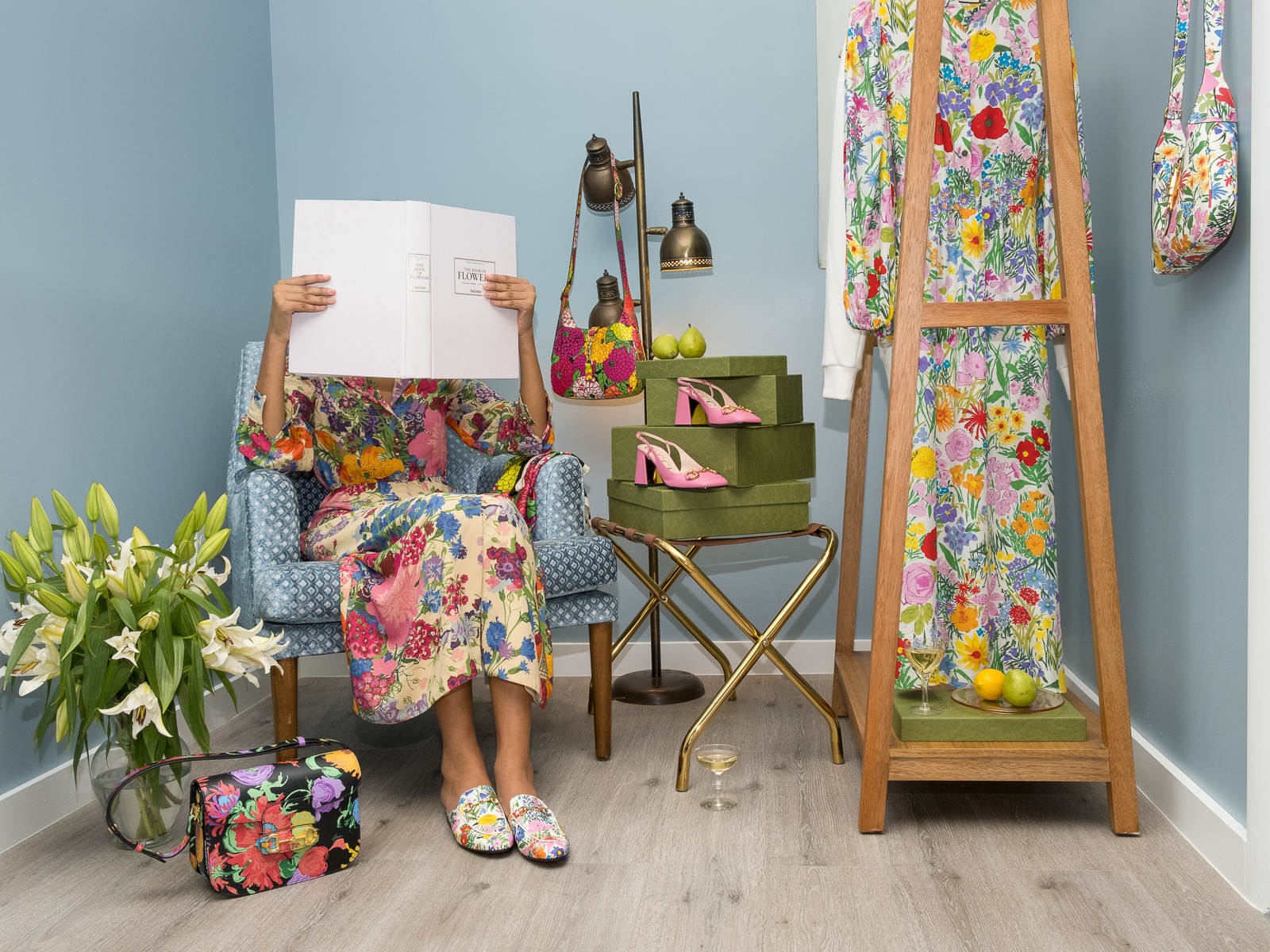 We had the opportunity to see these pieces in person and bring them to life through our lens in a vibrant backdrop on a rainy Miami day. You can wear the Gucci x Ken Scott items however you wish, whether mixing patterns and colors is your ideal look or using a single item as a statement piece is more your speed. Some of Gucci's most popular bags were given a dramatic and striking update with Ken Scott prints which transform the bags. The Horsebit 1955 and the Jackie were the two shapes we focused on, with both a darker background and a white background option.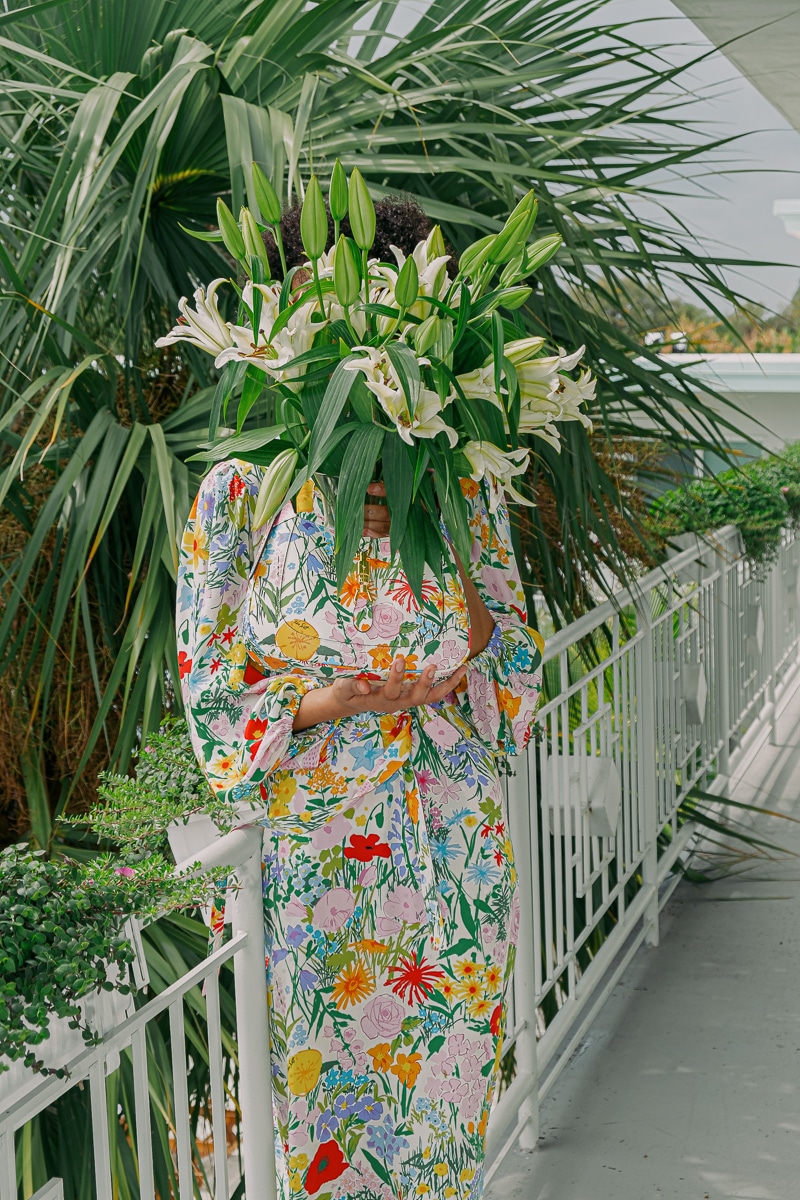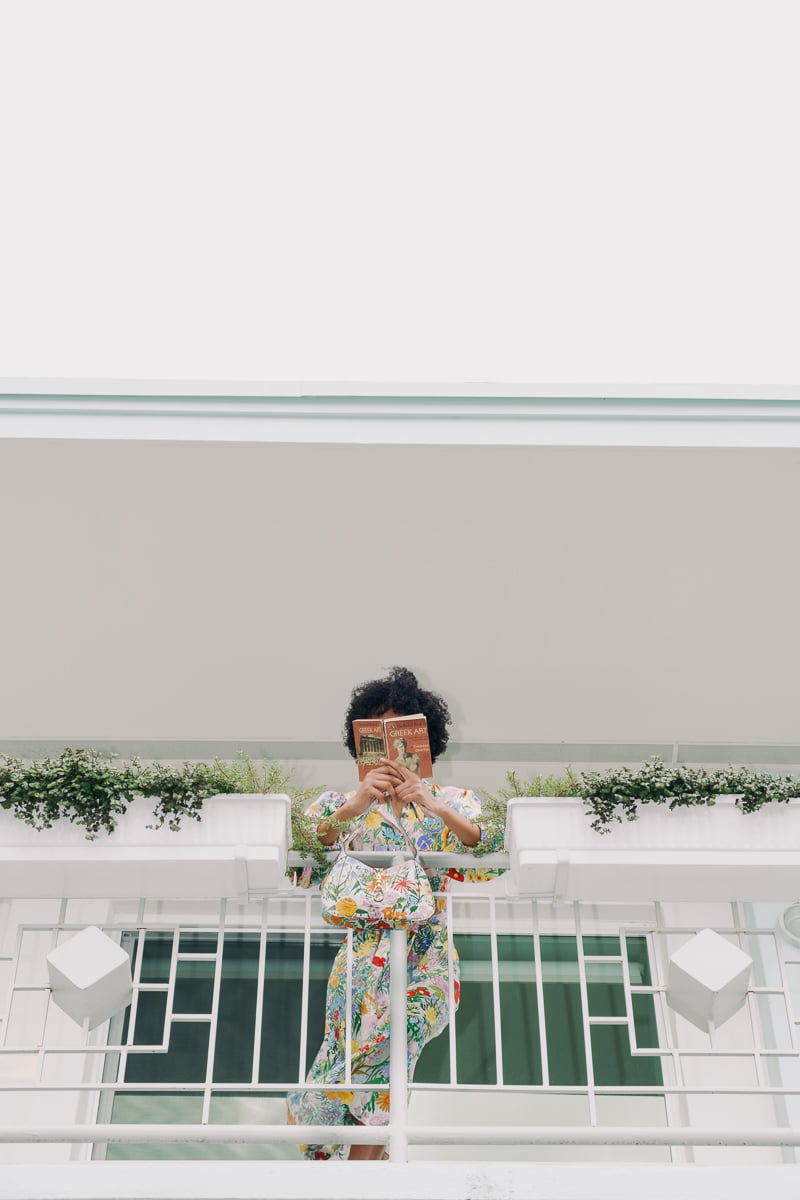 "Ken Scott was a really great creator of fabrics," Gucci Creative Director Alessandro Michele says, "he mapped out flowers with romanticism and flowers into pop culture. He treated flowers like shop signs, he multiplied them, turned them into something that stood out. I like his work because I am obsessed with floral prints."
The Gucci Horsebit 1955 quickly became one of my most carried bags and there are three versions of it included in the Gucci x Ken Scott line. Our focus was the black background with a bright botanical print, a bag that easily pairs with neutrals and prints alike. The dark background offers this bag an ease of carrying, a way that allows it to transform to coincide with dressier outfits while equally pairing nicely with your more casual daily wardrobe. The Horsebit 1955 is a very versatile bag, not overly large and separated into three internal areas with a large center compartment and a zip closure. There's also a small back open area and front area with an open pocket as well. The shoulder strap is adjustable which allows for different styling and carrying. There's another black leather background option with a Zinnia floral print along with a white leather version with a more whimsical wildflower print that works well for spring and summer. Each is $2,980 via Gucci.com.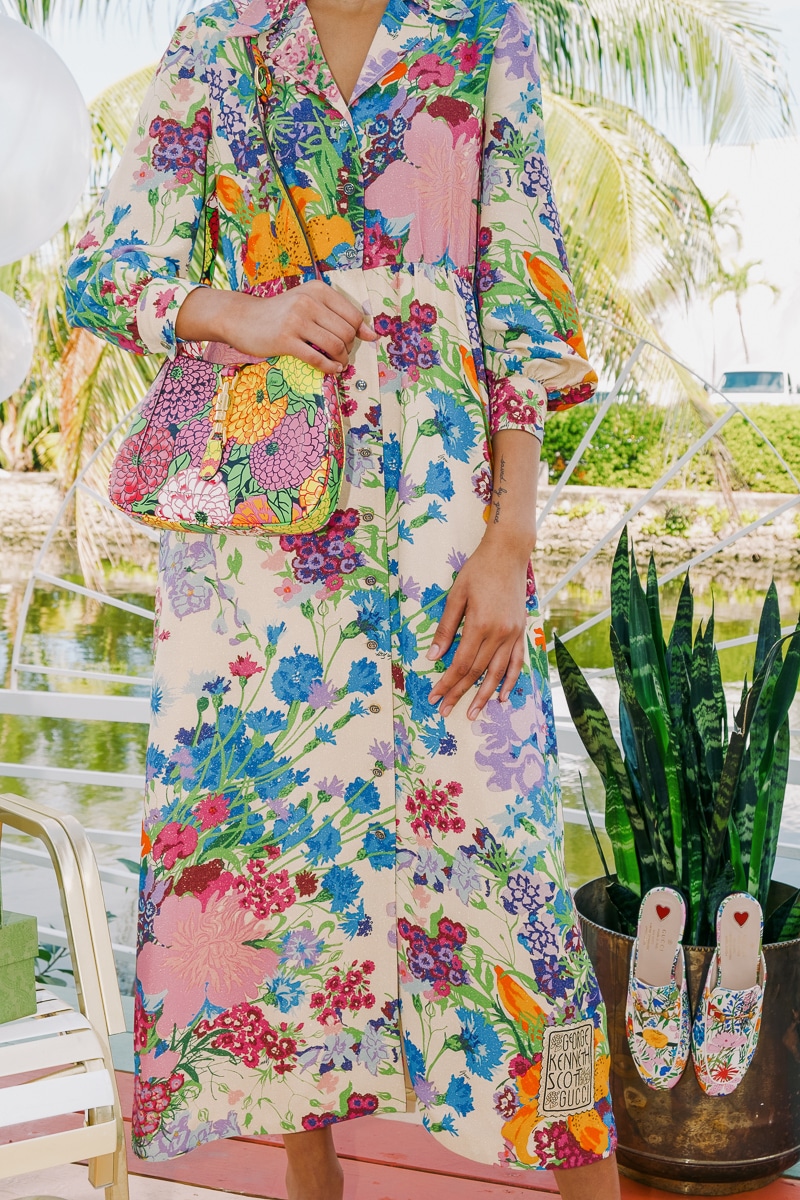 The Ken Scott Print Gucci Jackie 1961 is another standout of the bags in this collection. Similarly to the Horsebit 1955, there are three different prints, two with black leather backgrounds and the other with white. The Gucci Jackie Small offers versatile ways to wear and style the bag, with a top handle that has a 7″ strap drop from the central hole with an additional shoulder strap with a 20.5″ drop from the central hole. Gold hardware adorns the bag and there is a piston closure on the front that is easy to open and close. On the inside you'll find enough space for your daily essentials as well as one open pocket and one zippered pocket with a microfiber lining. Overall dimensions are 10.8″W x 7.5″H x 1.6″D.
As an added bonus, I received a massive personalized Ken Scott floral printed box with my name on the outside. Upon opening, I was delighted to find an entire themed box with the Gucci x Ken Scott Print Jackie 1961 with a black leather background and bright Zinnias alongside a Ken Scott print puzzle, and a grapevine peace sign wreath with two bouquets of flowers to create my own floral wreath. We blasted 70's yacht rock while cutting flowers and meticulously making this wreath come to life while sitting on a bed filled with Gucci boxes and items. For those hours in that Miami hotel room, I felt like I was transformed into the world of Gucci x Ken Scott.
While our focus is always on the bags, I can't leave out other items that are part of the Gucci x Ken Scott line. Everything from shoes and clothing to sunglasses and other accessories are included with each bringing different prints, patterns and colors to life. You can opt for the bold or the ethereal (this dress was mesmerizing), each offering a different print or floral, including peonies, roses, poppies, and sunflowers. There's an exuberant spirit with this line, one that feels light and fun, because after all, shouldn't fashion be just that? Fun. I think so, and this collaboration proves it.