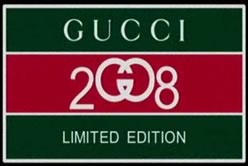 For this year, Gucci announced a special limited 8-8-2008 collection of just 8 fashion accessories that will be available exclusively through Gucci Hong Kong and China stores. The special edition pays homage to competitive sports and is supposed to epitomize sporty luxury, according to Gucci creative director Frida Giannini. Cornerstone of the campaign is the new I-Gucci watch, which is unique to the 8-8-08 campaign in both coloring and sporty appearance. It also happens to be the first digital time piece Gucci has ever released – its digital face is capable of displaying both numerical and clock-hand formats. Other specs include a 44 millimeter steel frame casing, a red monochrome rubber strap (embossed with Gucci's iconic GG pattern on its inside) and selection of multiple time zones.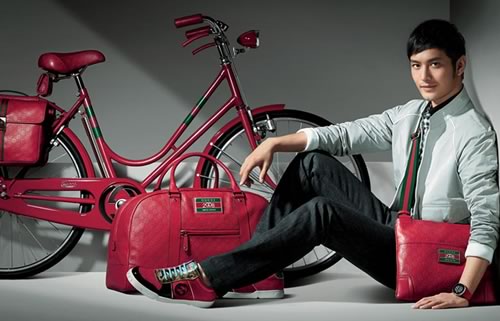 The 8-8-2008 collection also features an unlikely accessory in form of a bicycle. The bike is built for leisure and sports bold red double GG leather details such as the seat and the handle bar grips. On a personal note: Being somewhat of a bike fetishist myself, I feel like the Holland-style bike defies the whole concept of the campaign. If the collection is conveying a sporty spirit, why not collaborate with a real competitive race bike maker such as Specialized and give Gucci lovers a real sport toy for their money's worth? I suppose my perception of "sports" are quite a bit different than the creative department at Gucci envisions. Judging their frail Chinese campaign model, his stature and lack of sporty appearance, entirely justifies my criticism of the nature of the campaign. In my humble opinion, this collection's ties to competitive sports should have been dropped for the sake of real athletes around the globe.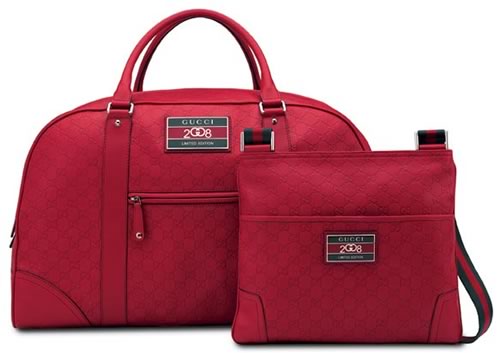 Moving on from an athlete's rant, the limited collection also features two pieces of luggage in the bold red "La Pelle Guccissima". The first is a study leather duffel bag and the other a soft-leather messenger bag with Gucci's Green-Red-Green web on its shoulder strap.
You can view the full limited edition here, while this page offers an exclusive video, giving insights into the shooting and creation of the campaign pictures. As mentioned, most items will only be available through Gucci boutiques in HK and China, the I-Gucci watch will be available globally.