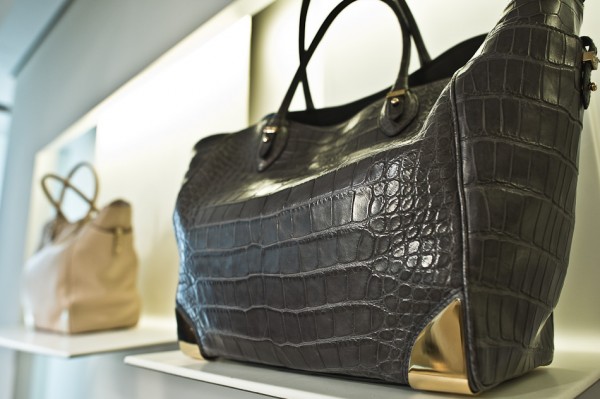 Hats off to Amanda for holding down the PB fort as Vlad and I partake in a "vacation." So far on this particular trip, we rarely check our email and keep swatting one another's hands away when we see the other attempting to slyly work via our iPhones. But today, after a long day in the sun, we both caved and decided it was time to check in with you all. And this is a particularly fun check-in, because I come bearing handbag eye-candy.
Behold, this amazing oversized Salvatore Ferragamo travel tote. A few years ago Ferragamo caught my eye with its Carlotta tote and I was in love. I imagined it being my weekend bag in the back of my super cool imaginary convertible on our way to our imaginary Hamptons home. But I have found a replacement to drain my imaginary bank account filled with copious amounts of imaginary money, and it's this exotic Salvatore Ferragamo Alligator Travel Tote.

Isn't this the most divine bag you have ever seen? When we went into the Ferragamo showroom to re-see the Resort 2012 collection, my eyes immediately found this bag and I could not interrupt my gaze. Many who possess a hefty bank account and share our love of designer handbags opt for the Hermes Travel Birkin to be their oversized option, a much more predictable (but similarly luxurious) pick compared to this design.
Ferragamo offers a timeless appeal along with super-luxe materials. In fact, the bottom corners of the bag add hardware that gives a feel of some current Alexander Wang bags, which leaves the overall feel of the design both elegant and hip. Once I have more information on this bag I will be sure to share, though price is not known yet.