For a while I was vehemently opposed to tiny bags with long straps. Let me clarify, I am opposed to them for me. Being 5'10 and not a waif, the thought of an extremely small bag dangling at my side seemed absurd (similar to how many petite women find oversized bags silly on their bodies). So riddle me this, today I am digging an entirely small bodied bag WITH logos and a rainbow tassel. Who am I and what have I done with my other self?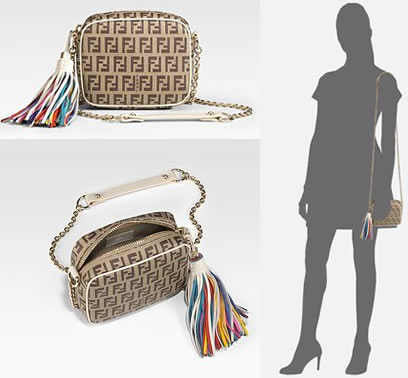 Really, this is all kinds of unlike me. And liking this being so unlike me, makes me like this bag even more. I like the idea of carrying the Fendi Mini Chain Multicolor Tassel Bag on a night out or when I'm going on a quick errand run. No need to mess with a heavy shoulder bag, just a long chain link strap and compact body. The body of the bag is large enough to fit a cell phone, credit cards, cash, lipstick. And these are the essentials for many of us, though if you are a mom and going out with your kids it is a whole different story.
The style of the bag is made to have a long drop, 22″ to be exact. And the perfect finishing touch to the monogram Fendi coated canvas; a multicolored oversized tassel. Expect accessories for your bags to reign supreme this Spring (Louis Vuitton is all over this trend) and Fendi is right in queue. Measurements are 5″W X 4″H X 1¾"D. Price is rather steep, buy through Saks for $560.
Do I need some sense knocked into me?