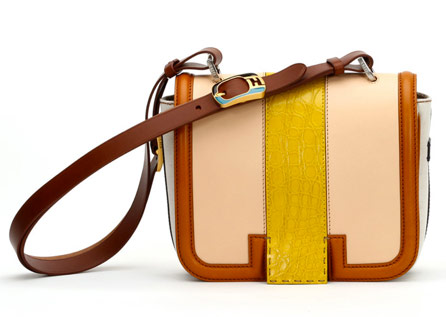 I've already pontificated on just how much I love Fendi's Spring 2011 handbags, but now that promo photos are out and we can all get a clearer, closer look at the bags than runway shots afford us, I feel the need to reiterate: This collection is great, and from a purely accessories standpoint, it's one of the very best of the season.
Not only are these bags highly detailed and extremely well-designed, but they provide a momentary snapshot of where fashion is right now and where it may be going in the seasons ahead. The shapes are absolutely classic; these totes, shoulder bags and satchels don't needlessly re-invent the wheel, but the ways that they're finished give them a fresh, modern edge. The combinations of colors and textures in the leathers and hardware make the entire enterprise feel new and vibrant, even though these are the kinds of bags that generally become wardrobe staples. If you're looking for one bag to buy for spring, buy it from this collection.
Photos via Style.com.