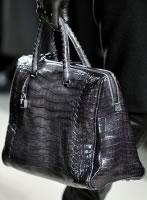 Let's not mince words about the handbags that went down the Bottega Veneta runway last week in Milan: I cannot recall ever seeing a runway collection that included so many different kinds of bags, all of them utterly beautiful. I'm not even that enormous of a Bottega fan and I was still awed by the details that went into all of them, from oversized crocodile hobos to the tiniest embellished knot clutches. It was without question a pleasure to watch every look that came down the catwalk, and the bags were the icing on the drool-worthy cake.
I mentioned this tangentially in my post about this season's Gucci bags, but the purses that grace the runways provide a level of luxury that can't be matched. They're usually the creme de la creme, made from the best materials and with the most attention to detail that a brand has to offer. Bottega's outstanding collection, which was carried by nearly half of the models in the show, is perhaps among the best examples of a true runway bag collection that I've ever seen. The bags were expertly dyed candy-colored crocodile and snakeskin, mixed with browns and graphites and complemented by a few examples of the brand's famed intrecciato weave in the best leathers available. They were so engaging, in fact, that I found myself distracted from the show's gorgeous dresses – no small feat.
Photos via Style.com.