Before I had Millie and even before I was pregnant with her, I had a list of things I knew I would buy for my future kid. I have been obsessed with Freshly Picked shoes for years, purchasing them as gifts for my friends with kids (seriously—such a good gift, you can not go wrong), and while I know that having a baby is far more than just dressing them up, I was pretty excited about that added bonus. Let's be honest, anything pint-sized is pretty adorable, especially shoes. So Freshly Picked has long been on my radar, and I have more shoes for Millie from the brand than I'd like to admit. Plus, you've seen them in many of my posts with Millie over the past year, and many of you have said how much you love them!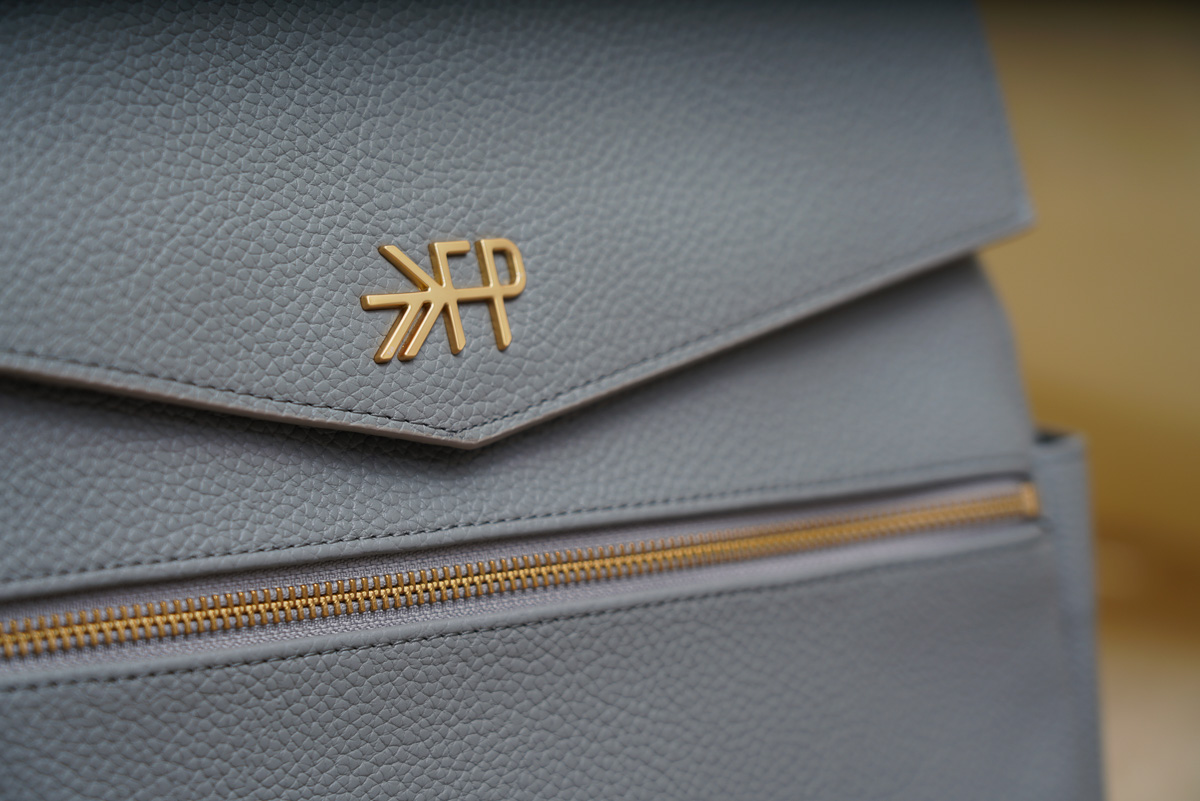 I was thrilled to see that Freshly Picked introduced a Diaper Bag last fall, and it came at the perfect time. As motherhood progresses and Millie had gotten older, my needs for my bag change almost daily. Millie is both the easiest child, with her overall laid back temperament, and a difficult child, with her endless food allergies and medical needs. My bag constantly reflects that—I don't need a lot of toys or items to keep her occupied, but I also need to carry every medication she may need at all times.
Last week, my mom and I took Millie to Disney for a few days and my bag needs changed again—I needed a backpack, not a shoulder bag, and I realized that every other parent was on board with that. A backpack takes the weight off your one arm, is easy to take off and on, and while Vlad will carry any bag under the sun for me, most dads prefer carrying a backpack if they need to do it for longer. This is why I love my Freshly Picked Diaper Bag! It came at the right time and it has suited every need and then some for me and Millie.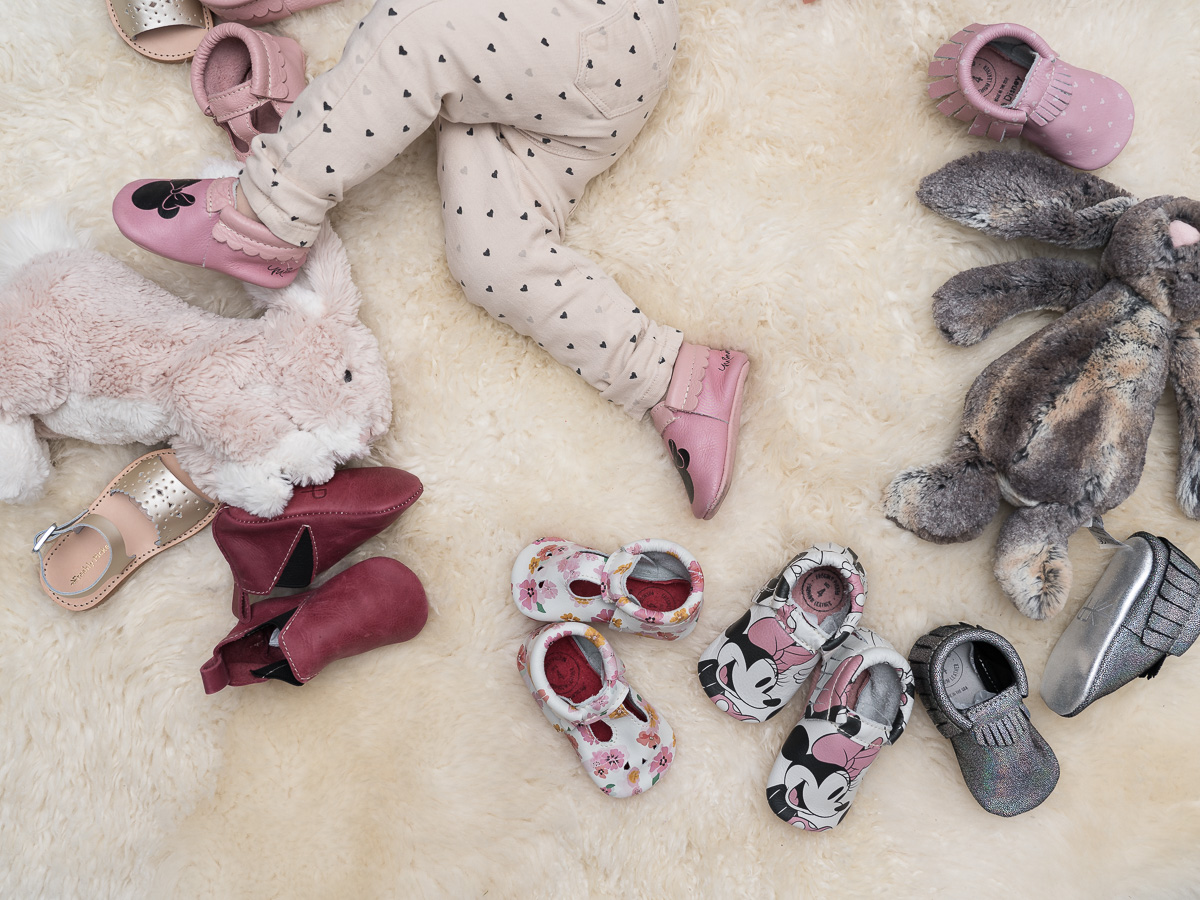 This is a bag that was made for moms, by moms, and you can tell immediately when you get it. Though the shoes are leather, this bag is a vegan leather that is really high-end (it looks like a beautiful pebbled leather) and is also very durable. It's lighter weight than leather would be, which is such a plus when it comes to a diaper bag, and it's spill-resistant and wipes clean, which are both beyond important when it comes to a bag that is going to be used around children.
While you can wear the bag three ways—as a backpack, crossbody, or a purse—I really love the backpack option. Oddly enough, I'm not really a backpack girl, but after a long day on my feet, carrying all of my items and Millie's around, my back and I greatly appreciate the backpack over a shoulder or crossbody bag. Overall dimensions are 13″ wide x 15″ high x 7″ deep, with enough room to fit tablets and laptops up to 15″ in the electronic sleeve.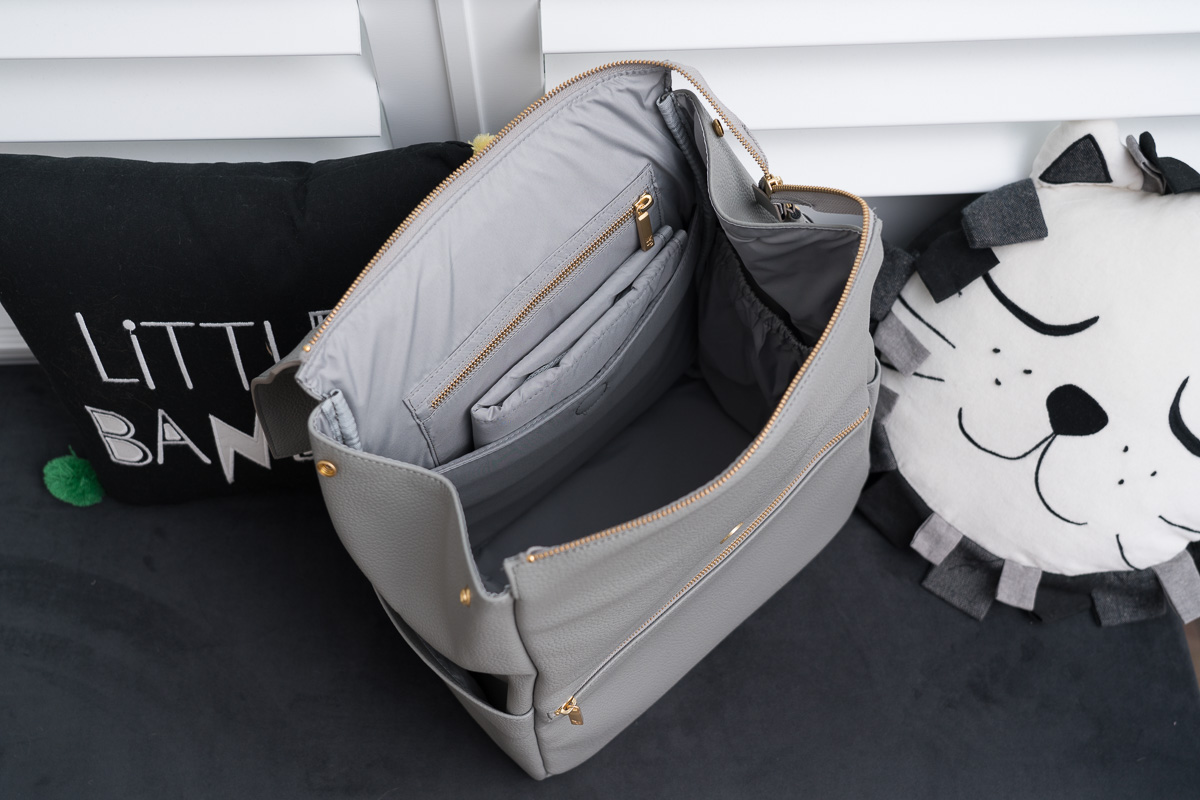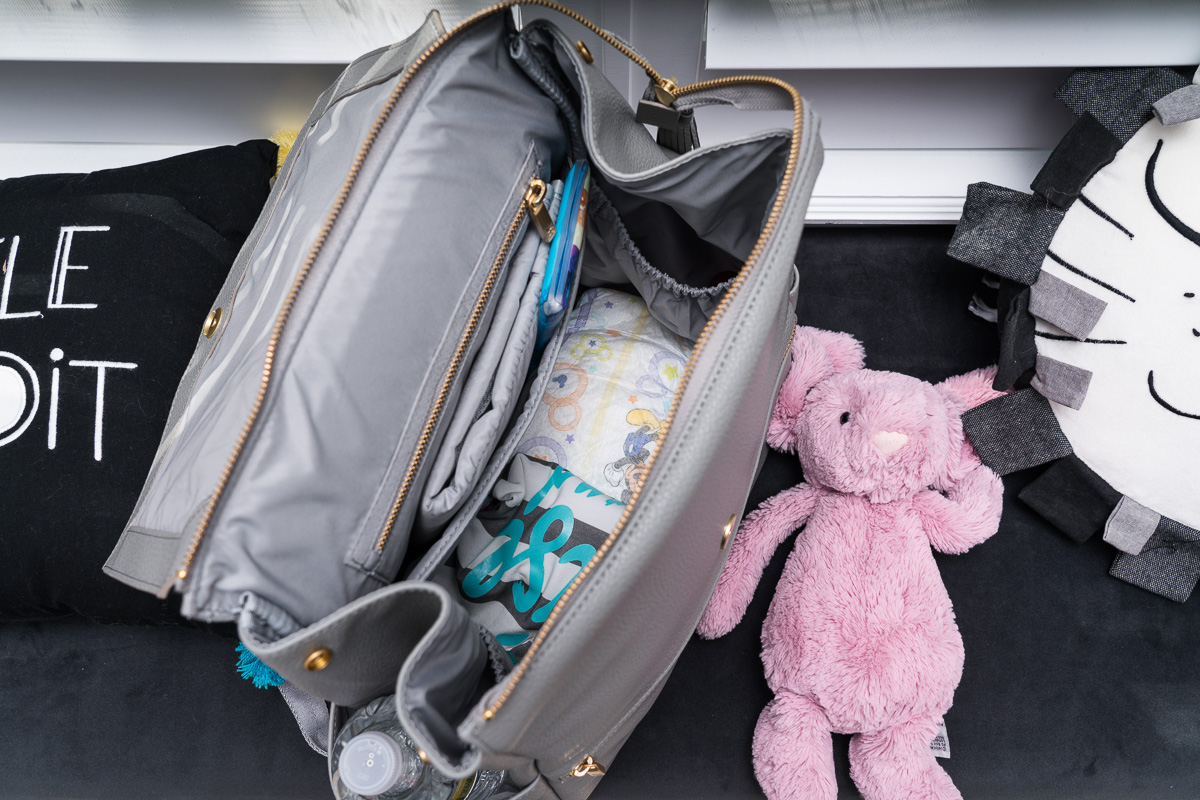 The exterior has important compartments, including a pouch pocket on either side which can fit a bottle (up to 32 oz—I use one side for Millie and the other to carry a water bottle for me), along with a front zipper pocket that is easy to access and can hold your phone and keys with plenty of room to spare. The inside is a organizational heaven: the bag is quite deep, so in the main area I always have changes of clothes for Millie and a couple toys for her. There are four pouch pockets, each is big enough to fit a bottle; two are on the front interior, while one is on either side. I typically put a sippy cup with water in one, diaper cream in the other, snacks in one, and then the additional pocket is for some of my items. The back slip pocket (which can fit a tablet) comes with a changing pad, and that's what I use it for—I have a bit of a germaphobe problem and tend to want to have my own surface down when I change Millie. Behind that, there is a zip pocket as well. Lined in nylon, this bag is light (only 2.3 lbs) and just makes so much sense that I keep obsessing over it. I love being able to find everything that I need at every moment, and this bag allows it while looking good.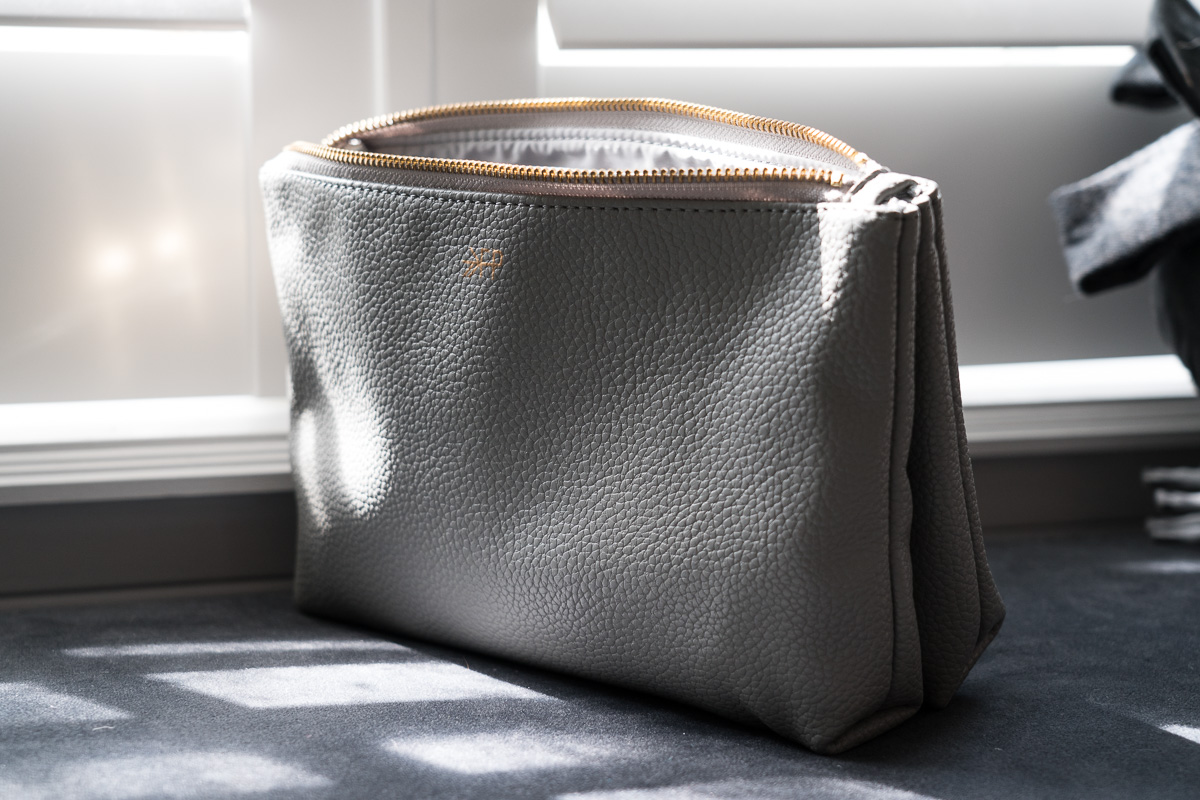 I added one of Freshly Picked's Zip Pouches to the larger interior compartment, which holds Millie's medicine. We have to travel with her EpiPen, Benadryl, Prednisone, and an anti-nausea medication at all times, and I always want to keep these in a pouch. This way, I know they are in one place, I can locate them easily, and it gives me so much peace of mind to have it all so easily accessible. I really love the pouches and would highly recommend them if you're looking for one for your bag. Actually, even if you don't have a baby or child, it's a great pouch because it looks great and can be cleaned easily and is also lined in nylon, so if anything spills you don't need to worry about it ruining the pouch completely.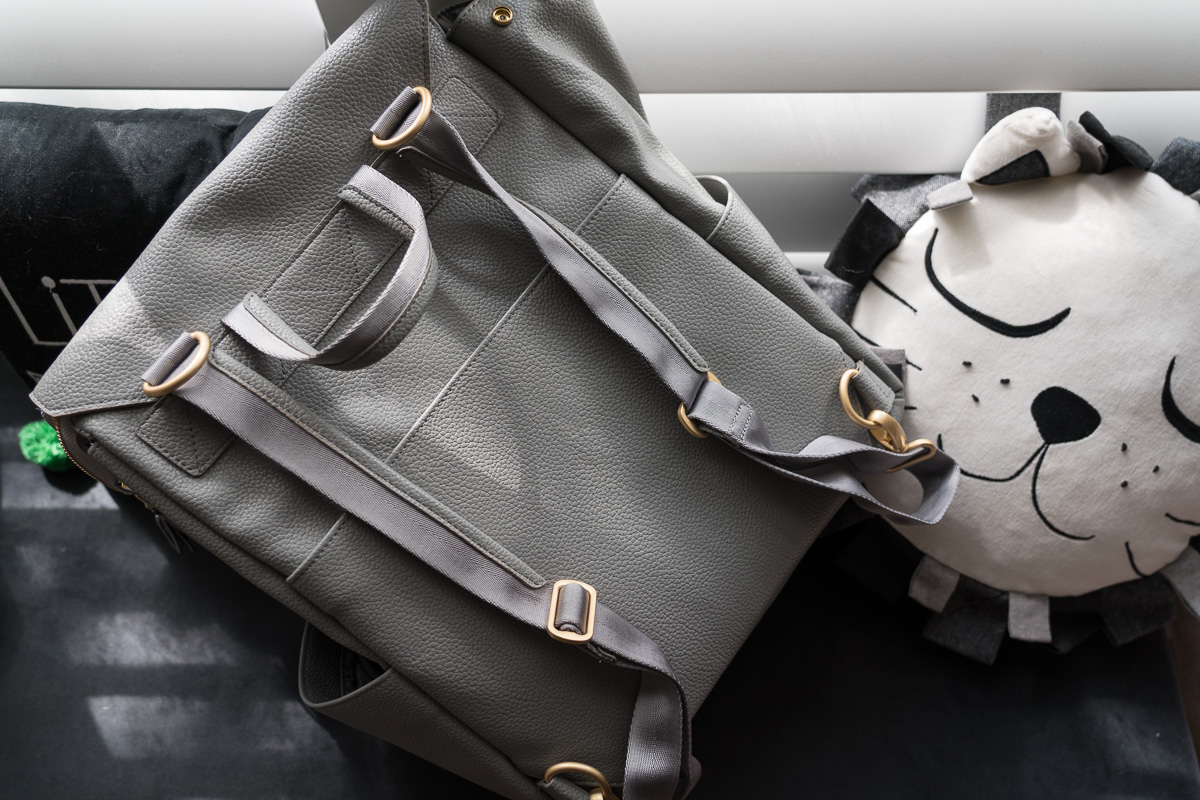 So how do I rate this bag? It's truly amazing. In addition to the fact that it's stylish, usable, and durable, the bag is so well priced: at $175, you truly can't beat the whole package. Plus, while you're at it, you can buy some Freshly Picked shoes for your kiddos or as gifts, because that is what turned me on to the brand. Millie wears Freshly Picked shoes constantly, and we have amassed quite the collection. When she started walking, they were comfortable to give her feet room to move, and she loves being barefoot, so this is the closest thing to it. They are also by far the cutest kid's shoes out there, and if Freshly Picked made adult moccs, I'd wear them. Buy the Freshly Picked Diaper Bag for $175.
The team at Freshly Picked is offering PurseBlog readers 20% for this week if you use code purseblog20 at checkout, so you can buy the bag and all the shoes your heart desires for a discount. When checking out, be sure to enter our code purseblog20!
And another major plus: we are giving away a $250 gift card to FreshlyPicked.com. The giveaway is hosted on our Instagram, so be sure to follow us and find out how to enter at this post!