Diaper Bags
accessorize appropriately.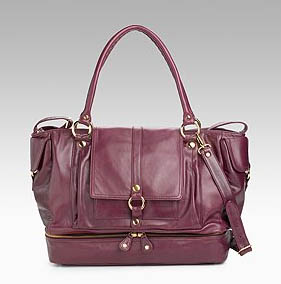 I wrote about the Rebecca Minkoff Knocked-Up Baby Bag last week for PurseBlog Savvy, and ever since then, I've been on the lookout for some kind of not-awful baby bag to write about for you guys. What I've realized in that time is that what might not pass for a cool handbag will often be totally awesome, compared to the other available bags made for the same purpose. That's kind of how I'm feeling about The Chaiken Diaper Bag. (Side note – has anyone ever seen Chaiken make a handbag? I've never seen them for sale anywhere. I checked their brand website, and this bag is literally the only thing they have in their online store. I'm perplexed). If this were just a regular tote bag, I would think that's it's decidedly "meh," despite the fact that it's made from lambskin. But call it a diaper bag, and it's suddenly the least offensive diaper bag on the planet (well, nevermind, I still like the less-expensive Minkoff version better). With the addition of a baby bag being possibly the most significant handbag adjustment of a woman's life, why aren't there more good options out there? Buy through Saks for $550.
It has felt like eons since I have discussed a diaper bag on Purse Blog. Reason being, I do not have a baby, I am not nannying, and it is out of sight out of mind. But while browsing Saks I ran into what seemed a really cool diaper bag. Nothing overly amazing, nothing too designer oriented so as to loose the usability a diaper bag needs. The Chaiken Diaper Bag is spacious and does not scream out "I am a diaper bag!" like so many others do. The bag is designed with soft glazed lambskin and is available in the perfect array of colors; camel to be neutral, navy for a boy, plum for a girl (if you want to follow tan is neutral, blue is for boy, pink is for girl trend). The bag also sports a bottom zip compartment, which will come in handle, and cotton lining which is easy to clean. The inside features ample compartments and separators to keep the diapers from the cream from the wipes. There is that tiny bit of rugged feel, like a Chloe bag, but it is still subdued. Dimensions are 12″H X 18″W X 6½"D. Buy through Saks for $550.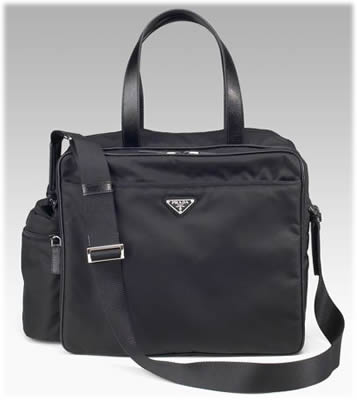 Last night, as I was getting Baby B ready for bed, I realized that spit up is my nemesis. Sure, it is natural and there are no hard feelings toward the baby, but boy does the spit up stink and boy is it hard to clean up! After 3 onesies in a period of 1 hour, I realized ease of cleaning it the most important aspect when buying baby products. The Prada Nylon line is known for practicality, which makes the Prada Tessuto Baby Bag the perfect baby bag. The nylon can be wiped up with a wet cloth, and this bag has a high usability factor, with a front and side zippered pockets, a changing pad, and a cross body strap. Dimensions are 13″W X 11½"H X 4½"W. Throw in a change of clothes (or two or three), diapers, wipes, cream, and you are on your way. This is one of those great baby bags, that can be thrown around, spilled on, spit up on, and still make it through the storm. Via Saks for $1100.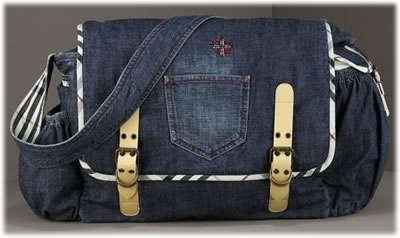 Just because you have to carry a diaper bag does not mean it needs to be a) drab, b) overly flowery, or c) flat out ugly. I know many moms do not have time to primp everyday, so their wardrobe is a tad more laid back. For the mom's who love designer but also are still just trying to make it out the door without rice cereal in their hair and spit-up on their shoulder, the Burberry Denim Diaper Bag reverberates laid-back chic style. Blue denim on the outside is paired with the well-known Novacheck pattern on the inside to make a stylish messenger bag. As far as pockets and other baby essentials go, there are two side pockets, a patch pocket on the flap, and a terry cloth changing pad. While this diaper bag is not filled with tons of compartments, it is surely chic if it packs enough room for you (11″H x 5 1/2″W x 11″D). Buy through Saks for a reasonable $229.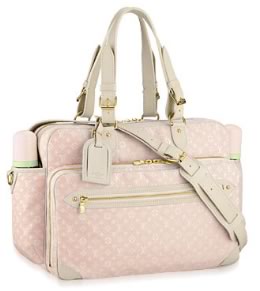 When I have a baby I intend to travel with him/her/the whole family clan. All over Europe I have seen families on vacation and baby in tow. What I realize from carrying my Chloe Paddington Tote is two things: a) it is heavy and b) poor moms having to carry the diaper bag. I will hunt down the perfect man diaper bag when the time comes, because there is no way that I will carry the baby and the bag at all times. But you know me, I will travel in style, just like the rest of you Purse Bloggers should. The Louis Vuitton Monogram Mini Lin Diaper Bag is trimmed with grained calf leather and features all the hoots and whistles needed for a posh and practical diaper bag. You are guaranteed to need to change your tot, so there is a washable embroidered changing mat. Then the list just goes on and on, and I can't think of anything LV has forgotten to make a mother happy. There are flat handles that are adjustable, a removable padded shoulder strap, an address holder which can be stamped with baby or mother's initials (never put your full name, initals works perfect!), and a key ring holder. But then there are the compartments, TONS of them. On the outside you will find two pockets for baby bottles, one large front pocket with two interior flat pockets, one zip pocket, and one flat side pocket for mat. And on the inside you will find two flat pockets for diapers, two interior compartments, and an elastic band on each side for baby bottles. So there you have it. A posh perfect pair. Measurements are 17.7″x 11.8″x 6.7″ . Available for the stylish mom in you via eLuxury for $1870.
Edit: I must have mid worded myself; I am not a man, but I intend to have my man carry a diaper bag so I am not the only one carrying something! :lol:
Seems like many women on the Purse Forum and many women I know are pregnant right now or have a brand new little bundle of joy already (congrats LucciBag on her new mini!!)! The perfect diaper bag is a must have and there is a way to look fashionable and still be practical. The Bumble Bags do just that, implement chic momma style with practical pockets, easy cleaning, changing pad, and every other add on that is a necessity for a baby. The feminine pink paisley print on the Bumble Bags Kimberly Diaper Bag enchants the eye while the practical stain resistance, water resistant lining, zipper pockets, bottle pockets, and changing pad, add everything imaginable for your tot. When traveling with your baby, you need a bag that accommodates all needs, but also appeals the eye. Measurements are 17.5″L x 13″H x 6 "W. For a little girl, I love the pink paisley, but there are numerous other options. $128 via Diaper Bags.
It has been a while since I have paid homage to the momma's with babies out there. It is kinda funny, because you would think I pay more attention to it all- seeing that I am a part time nanny of sorts. I watch the most adorable little girl who has a baby brother or sister on the way. Ask me about all the latest DVD's, toys, and craze for the life of a 2 year old, I know it. Right now I am starting to think of a baby bag for the expecting mom. For a late spring/early summer baby, a bag adorned with flowers is practical and fun just like the Petunia Pickle Bottom Dogwood Blossom Bag. All that is packed into this bag is what is truly important for a mom with baby on hip, but the color arrangement is beautiful, including a brown/teal/raspberry/tan floral brocade. The slue of add-ons include a shoulder strap with a cell phone holder, a key clip, front and side pockets, a detachable stinky diaper pouch (we know how bad the smell gets), water-resistant liner making it easy to clean, four bottle pockets, a wipe case, a changing station, and ample room at 14″H x 15″W x 4 1/2″D. The price is right ($175 through Neiman Marcus), and in my opinion the bag has all a mom could want. What do you mother's think?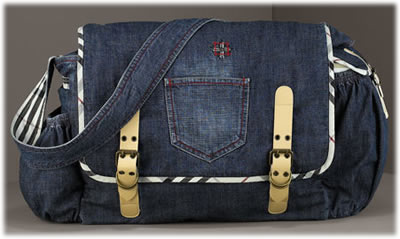 While so many of the accessories we lust and obsess over are not essential, when you are a new mommy a diaper bag is essential. You have to be prepared at all times with diapers, bottles, food, toys, wipes, pacifiers, and whatever else I am leaving out. For the new mom who does not want to spend too much and wants a stylish yet casual bag the Burberry Denim Messenger Diaper Bag is a bull's eye. Rather than overpowering the outside, the inside of this diaper bag is lined with the signature Novacheck pattern while the outside shows off practical and casual blue denim. Because this bag is all about practicality, there are two side pockets, a path pocket on the front flap, and a terry cloth changing pad included. The dimensions are 11″H x 5 1/2″W x 11″D. I may not be a mommie but I am half tempted to buy this bag for everyday use. Casual chic Burberry style is available through Saks for $229.