Some handbags out there that bring an instant smile to my face. There isn't necessarily a common theme in the bags that bring me such happiness, but that's quite alright. Perhaps it has to do with my mood or perhaps it just has to do with the bag itself. I am not really bothered by why I can't seem to figure out what makes me smile about some bags more than others; in fact, it is rather refreshing.
Speaking of refreshing and putting a smile on my face, let's take a look at this Christian Louboutin bag. This bag completely encompasses that je ne sais quoi aspect that I completely love in a bag. It is fun, flirty, ferocious and feminine all wrapped into one.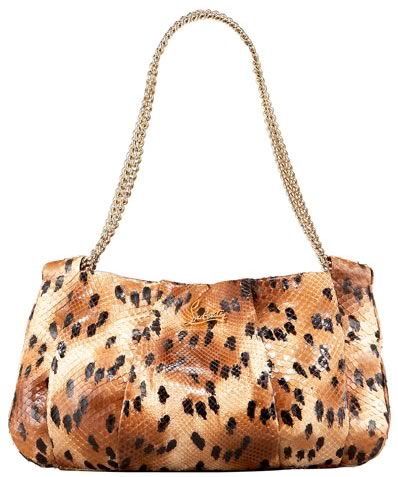 The Christian Louboutin Painted Python Shoulder Bag is a bag that I would beyond love to call my own. In fact, I would have to say that I more than love this bag. I mean, I like, *really* love this bag.
Yes, I realize that the leopard print has been painted on the python skin, but I actually think that makes me love it more. With this aspect, the bag went from a bag to a piece of art. You might not completely agree with me on that statement, but I am sure you can see where I am coming from. Golden hardware and shoulder straps glisten and shine wonderfully. Pair this with a sleek outfit and let the bag standout the way it totally can. However, it's not just a sleek outfit that would work, so many others would too. Buy through Bergdorf Goodman for $1745.