Since Clare Waight Keller departed Chloé fans of both the designer and the brand were anxious to see if and how the brand's aesthetic would change under new creative director Natacha Ramsay-Levi. Waight Keller churned out big bag hits for the brand such as the Drew and the Faye Bags, but still stayed true to Chloé's heritage of luxe, but distinctly Parisian cool-girl style. Ramsay- Levi's first couple of collections were a mix of fan-favorites as well as new designs. Under Ramsay-Levi's direction, the bags infused new elements with Chloé's classic style, but they were still distinctly Chloé.
A few season's in, it seems Ramsay-Levi has found her footing, and for Resort 2019 she embraced the logo trend introducing new bags and new hardware. Today we're giving you a closer look at one of these new bags: the Chloé C Bag. New for Resort 2019, but seen on the Spring 2019 runway as well, this style proves to be a big push for the brand. As it's name states this collection of bags features brand new hardware, in the form of a large gold 'C'. There are a few different styles and two sizes in this collection. The first, is a mini, wallet-on-chain type bag that can be worn with a cross body strap, or carried as a clutch with the chain tucked inside.




This clutch is pretty structured, though it does expand a fair bit. At first glance it's incredibly well crafted and the leather seems sturdy and super durable in embossed croc. Inside there is a small card slot and the back of the bag features a slit pocket as well. The embossed croc version is stunning and elevates the bag a bit more, though it is also available in a leather and suede combo for $1,190 via Nordstrom. Simply put this bag is pretty! It's sleek and ladylike and would elevate any outfit whether it be a day or a night look. Overall dimensions are 8.5″ W x 5.5″ H x 2.25″ D.
[sc_buy_now price="$1,450″ link="https://click.linksynergy.com/fs-bin/click?id=oGj7akNVsTg&subid=0&offerid=531419.1&type=10&tmpid=6894&RD_PARM1=https%3A%2F%2Fwww.net-a-porter.com%2Fus%2Fen%2Fproduct%2F1100630%2FChloe%2Fchloe-c-mini-leather-trimmed-croc-effect-shoulder-bag&u1=pb_011119_chloecbagcroc"]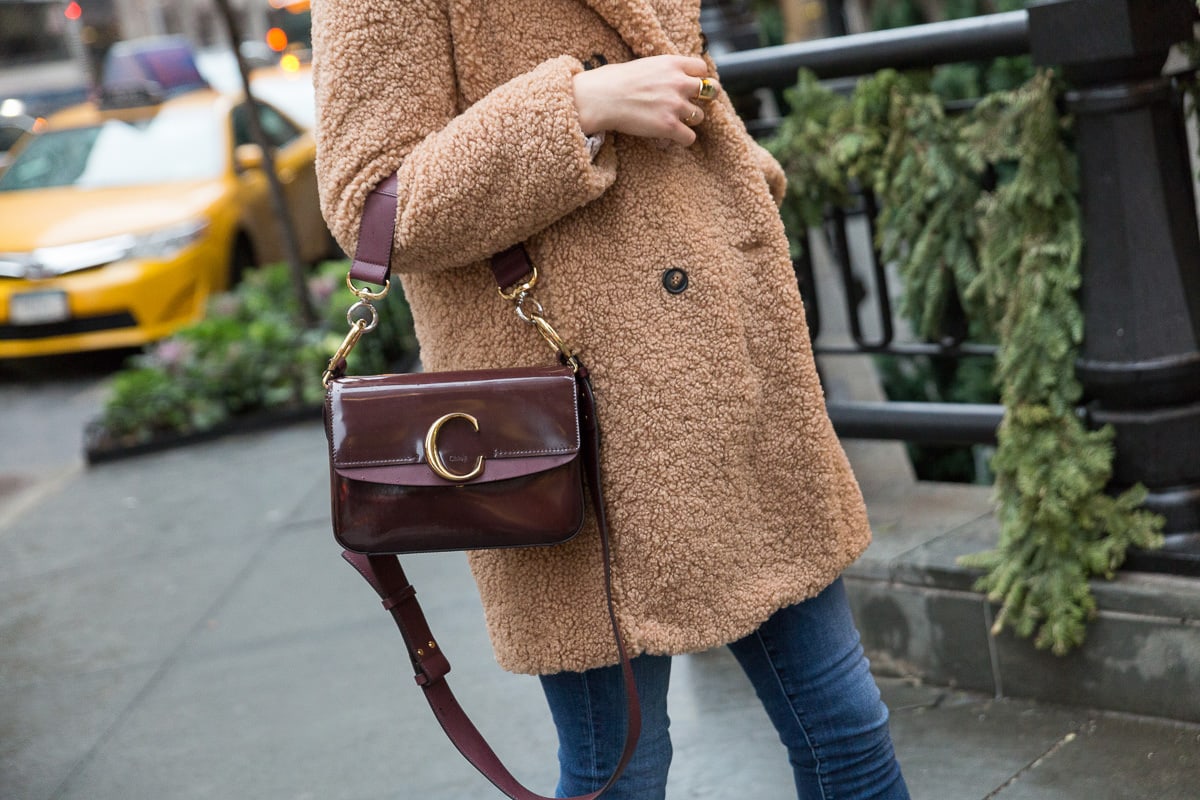 If you're looking for a bag with style to use strictly for daytime, than the Chloé Small C Bag is the one you'll want. Available in both smooth leather as well as patent leather, called "spazzolato sfumato lambskin," the Small C Bag is structured, and though the interior capacity is small it's still large enough in size to carry your daily necessities. Overall dimensions are 9.5″ W x 6.5″ H x 2.5″ D. The Small C Bag has both a top handle strap, which is detachable, as well as a longer shoulder strap which you can adjust. Inside there is a long zippered pocket and this size also features a slit pocket on the back exterior of the bag.
[sc_buy_now price="$1,850″ link="https://click.linksynergy.com/fs-bin/click?id=oGj7akNVsTg&subid=0&offerid=593370.1&type=10&tmpid=8156&RD_PARM1=https%253A%252F%252Fshop.nordstrom.com%252Fs%252Fchloe-leather-shoulder-bag%252F5106496%253Fcountry%253DUS%2526currency%253DUSD%2526mrkgcl%253D760%2526mrkgadid%253D3313967272%2526utm_content%253D32036601485%2526utm_term%253Dpla-258212000129%2526utm_channel%253Dshopping_ret_p%2526sp_source%253Dgoogle%2526sp_campaign%253D662927182%2526rkg_id%253D0%2526adpos%253D1o1%2526creative%253D145503089978%2526device%253Dc%2526matchtype%253D%2526network%253Dg%2526gclid%253DEAIaIQobChMIkuam7vbj3wIV2UwNCh0OPQZREAkYASABEgIg8vD_BwE&u1=pb_011119_chloesmallc"]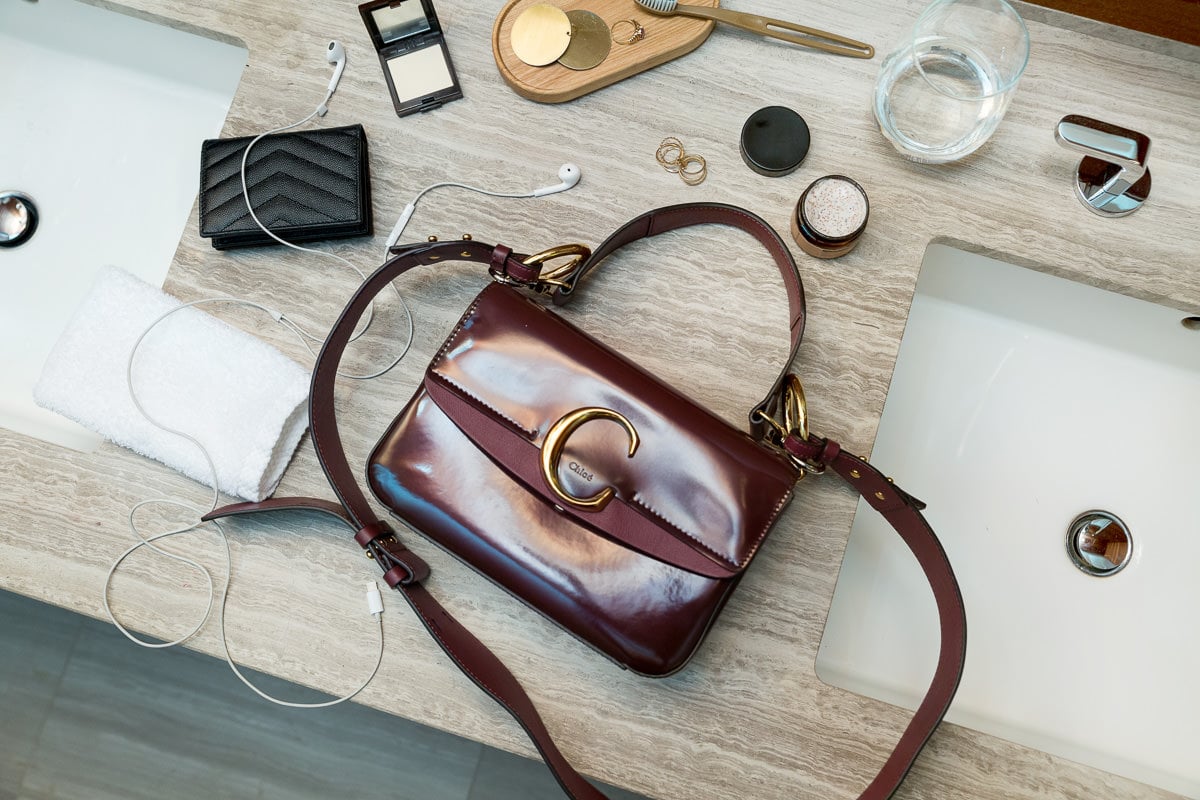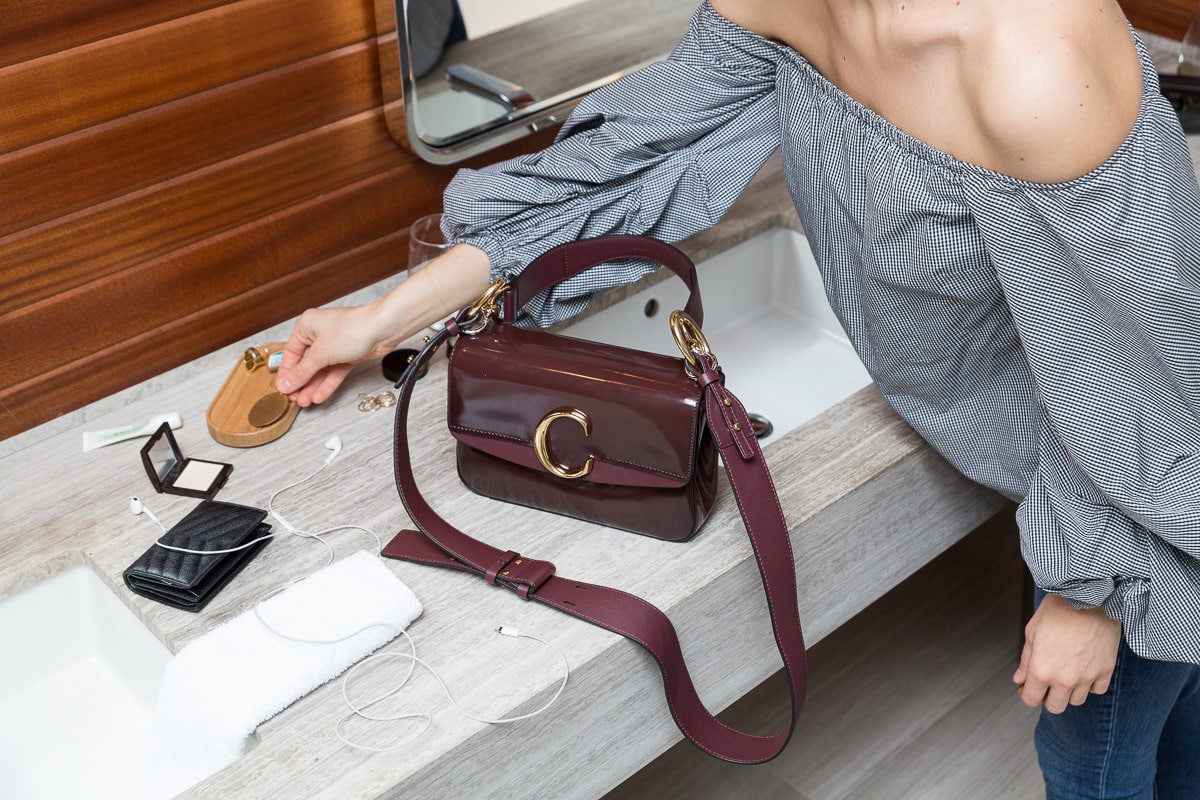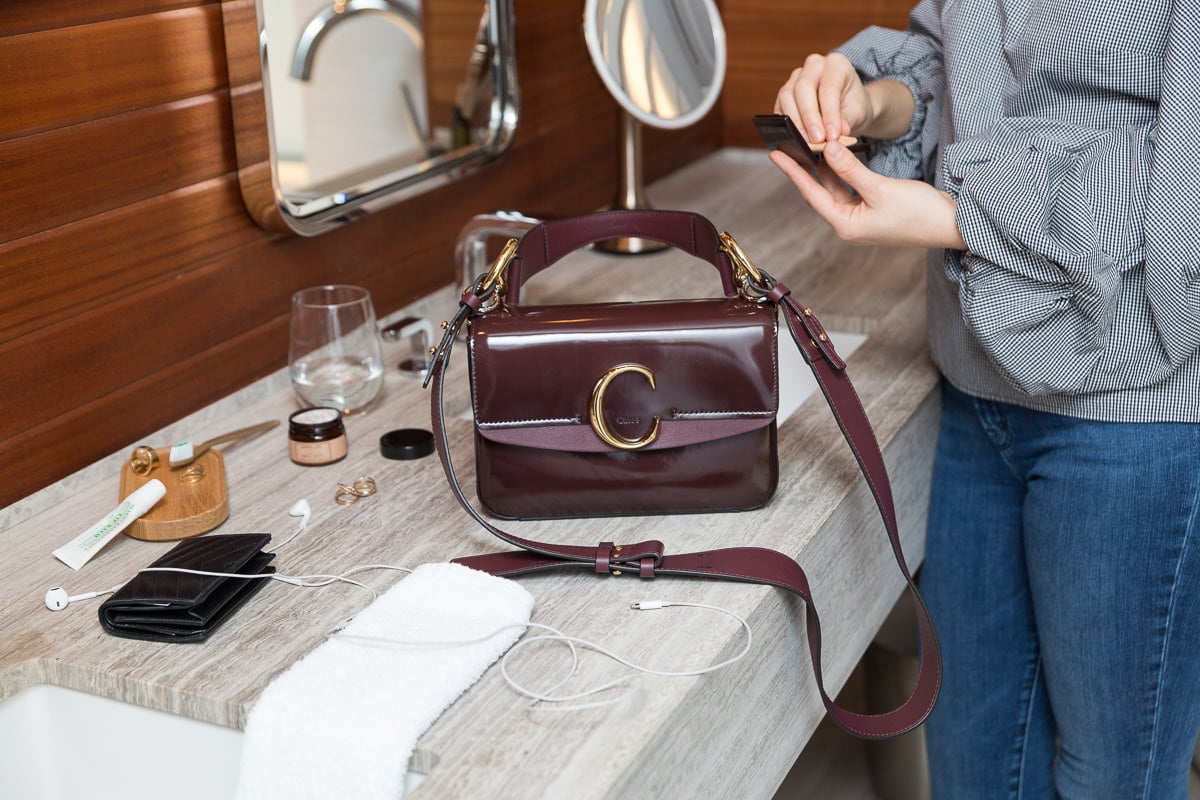 What I love about both of these bags is how chic they are, both in shape and in overall style. This flap bag makes a bold statement and is the perfect new addition to Chloé's line of equestrian-inspired bags that are both eye-catching and incredibly well crafted.
Shot at the James New York Hotel – NoMad in New York City