It's hard to believe it was a mere six months ago since I last posted about the best television shows to watch for bag spotting—time has really flown since then, yet it also seems as though I wrote that just yesterday. Since I have been staying home much more often in 2020, I've binged more shows than I usually do. I recently watched three shows that had some of the best bag watching I've ever seen and I strongly recommend them.
Emily in Paris
Emily in Paris premiered like a breath of fresh air on my Netflix queue earlier this month and had me hooked from the moment I pressed play. I devoured the season in one sitting and was delighted to be swept away to one of my favorite cities: Paris. The plot is neither groundbreaking nor thought provoking, but it sure did keep me entertained and was just what I needed this fall. The show follows a young American, Emily, who unexpectedly moves to Paris for a marketing job in place of her boss and gains a large social media following along the way. The costume design was done by none other than the iconic Patricia Field herself, so it is a given that fashion plays a large part in the show.
Shot on location in Paris, Emily in Paris will give you wanderlust, croissant cravings, and the urge to pull the cutest clothes out of your closet. This TikTok sums up my feelings on how the show made me feel quite perfectly. Combine Paris, creative costume design, and a tricky love triangle plot too and this show has all the makings to be one of my favorites of 2020. With so many gorgeous bags shown throughout the season, it was hard to pick a sole favorite, but Emily's Marc Jacobs Jelly Snapshot bag definitely stood out to me (and is an affordable option, which I love). Get it while you still can!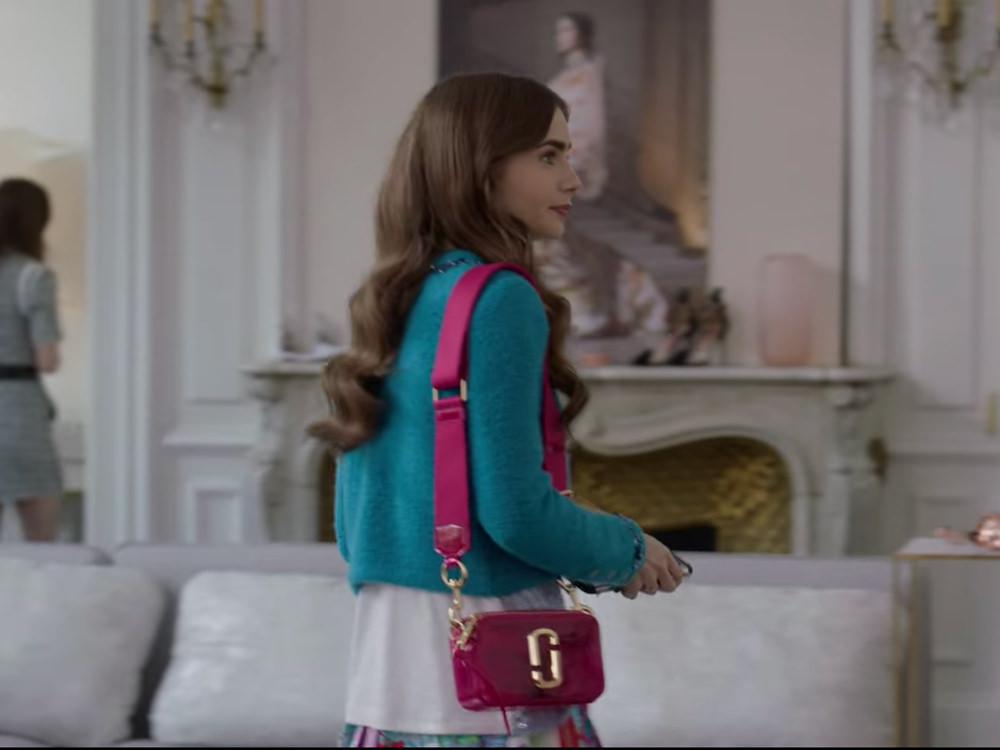 [image via Netflix]
Selling Sunset
Selling Sunset is a reality show created by Adam DiVillo, the same person behind the iconic television show, The Hills. Set in Los Angelos, Selling Sunset follows the lives of six successful real estate agents at their brokerage, The Oppenheim Group. It also happens to be one of the most bingable television shows I've seen in a long time. I personally love this show because it is a mix of visually stunning LA homes, drama and friendships among the group, and of course, the gorgeous bags and fashion worn by the cast.
If you loved The Hills, you will not want to miss Selling Sunset! All of the agents on the show carry some seriously gorgeous bags and wear beautiful clothes, but Christine Quinn in particular takes her fashion game to a whole new level. One of my favorite bags seen on the show was her Balenciaga Ville Bag. I've never really coveted that particular style, but Christine had me seeing the bag in a brand new light (don't worry, I'm still Team Crishelle). Selling Sunset has three seasons streaming now on Netflix, and I hope we get a season 4 soon—fingers crossed!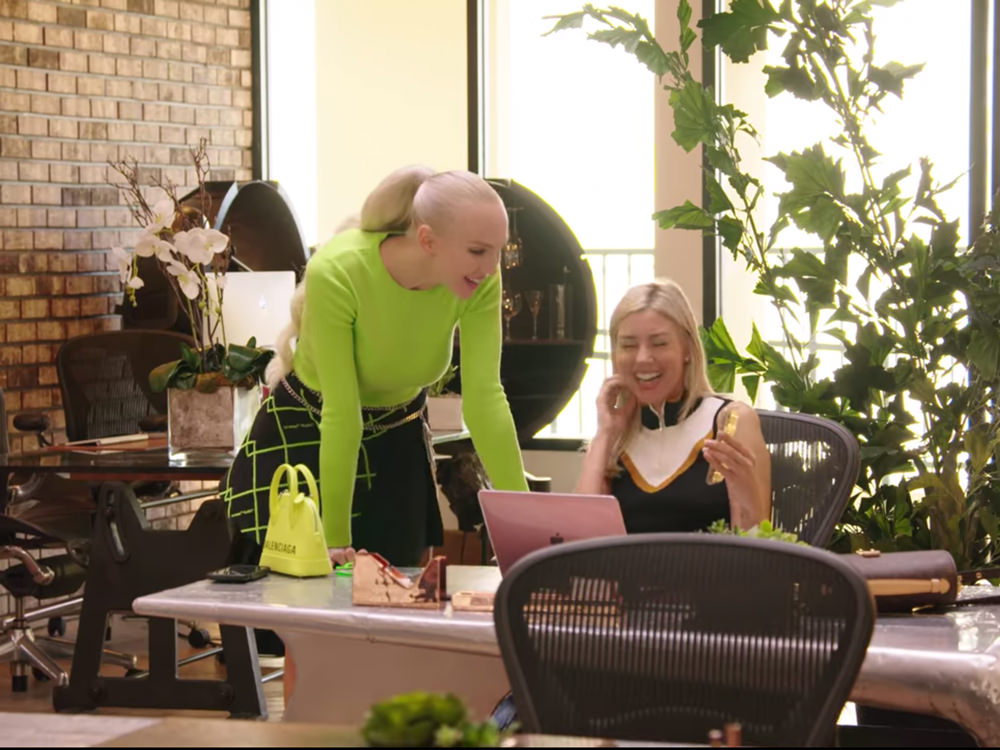 [image via Netflix]
Schitt's Creek
I started watching Schitt's Creek after a reader suggested it in the comments of my last post about bag watching on TV. It has quickly become one of my favorite television shows of all time (and my husband loves it too!). I thoroughly enjoyed the first season, but during the first episode of season 2 when Moira Roses's brown crocodile bag goes missing, I finally understood what a true gem of a show Schitt's Creek is. Describing her bag as being "out there, frightened and alone", Moira Rose solidified herself as my favorite character on the spot.
Moira Rose isn't the only Schitt's Creek character with a love of fashion, in fact, each of the Rose family members have a strong eye for style. The combination of strong costume design and extremely lovable characters makes this show so special. I cried watching the final season, I didn't want it to end! I need more David in my life. Seasons 1-6 are streaming on Netflix now and if you haven't seen what the hype is about yet, I strongly recommend it. My favorite bag spotted on the show? Alexis' Céline Luggage Tote, mainly because I have one too and I loved twinning with a Rose family member.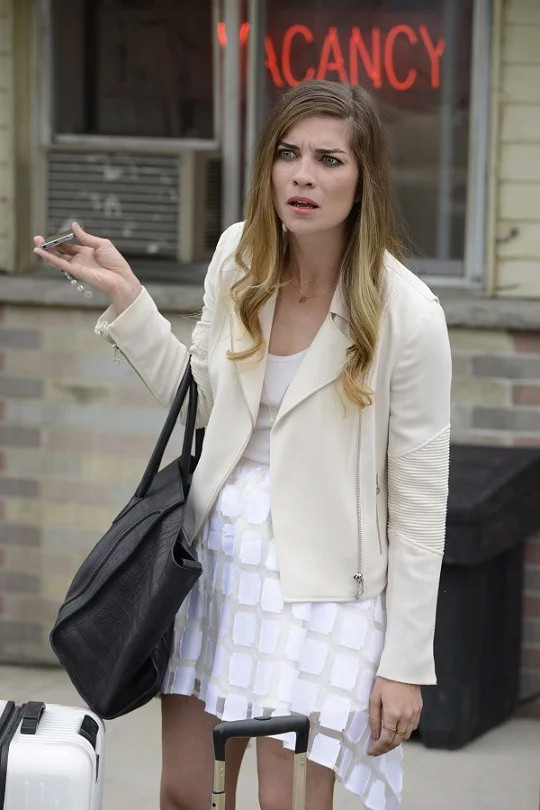 [image via Popsugar]