For a significant time during the 2010s, a particular school of purses became immensely popular amongst working individuals, students, and gym-goers – in short, anybody and everybody who was required to schlep around a fair amount of stuff. Were these purses stylish? Not in the conventional sense. In fact, they weren't even made of leather – an oft-mistaken industry staple for luxuries. Rather, these were made of mesh and juxtaposed all over with graphic resin triangles. However, what made them different from your basic black or tan purse were the colors – metallic (which we've already made a case for) but not over-the-top or workplace-inappropriate. And their functionality – worry-free come rain or shine – was a blessing. They were also made available in various silhouettes, from the ever-versatile tote to the backpack, the flap, the hobo, and the baguette. But most of all, what set them apart from nylon, coated canvas, or other such durable, waterproof materials was a certain amount of edginess – an almost origami-like design that's clean and catchy at the same time.
Eventually, I discovered that these bags were from the House of Issey Miyake. Did the name ring a bell for me? Not really. After all, the luxury fashion world is startlingly dominated by European brands, more specifically, by French and Italian fashion houses. Not even American designers are viewed with the same caliber. So as I was taking my first steps into the world of fashion, it's understandable that Japanese names weren't the first to come my way. But as you delve further into the workings of the fashion world, the name of Issey Miyake appears multiple times. Because in their run for conquering the realm of haute couture, storied European houses have somewhat left everyday pieces of clothing behind. And that's what Miyake primarily specializes in.
History of Issey Miyake
The history of Issey Miyake, and to a large extent, much of his inspirations, can be traced back to a single event when he was seven – the bombing of Hiroshima. While legend has it that he was sent away to the countryside to escape the explosion, his mother suffered from radiation exposure and passed away within a span of three years. That, and the two bridges now established at the epicenter of the bombing, Create and Go, despite being a grim period in his life, have profoundly affected every aspect of his journey – from his early days at the Faculty of Graphic Design at Tama Art University in Tokyo to his education at the l'Ecole de la Chambre Syndicale de la couture alongside another Japanese fashion figurehead and Miyake's peer, Kenzo Takada.
He also interned during this period at Guy Laroche and Givenchy. He was on a track to becoming an avant-garde fashion designer much like his counterparts, Rei Kawakubo and Yohji Yamamoto, moving to New York in 1969 after completing his education in Paris. However, unlike his fellow contemporaries looking to break into the world of couture with edgy, modernist fashion, the ongoing French riots changed his mind about the audience he wanted to cater to. So, instead, Miyake moved back to Japan in 1970, launching the Miyake Design Studio to create wearable, universal pieces for everyday wear. The rest, as they say, is quite literally the stuff history is made of.
The Appeal of Miyake's Aesthetic
Miyake has always insisted that his work emphasizes design, not fashion. And his Pleats Please collection, launched in 1993, is a testament to that, featuring heat-pressed pleats that retain their shape through the washing machine and don't wrinkle. Meanwhile, his paper suit, simple in appearance but never creasing, is another big success from his studio. Another big (and critically lauded) winner from his books is the APOC, A Piece of Cloth, displaying garments made from a single piece of fabric that has been regarded by many as a revolutionary move in fashion. In fact, Tamsin Blanchard at The Guardian mused after visiting the Miyake Issey Exhibition: The Work of Issey Miyake, at the National Art Centre Tokyo in 2016:
"At the exhibition, I was struck by how timeless – and relevant – the clothes are, even the early pieces like Sashiko (AW71) which is made from hard-wearing quilted fabric used for Judo uniforms and farmers' work clothes; Tanzen (SS76/77), a loosely cut kimono style coat with a tie belt; and Shohana-momen (SS76/77), a red shirt and cropped trouser set made from fabric traditionally used to line men's kimonos."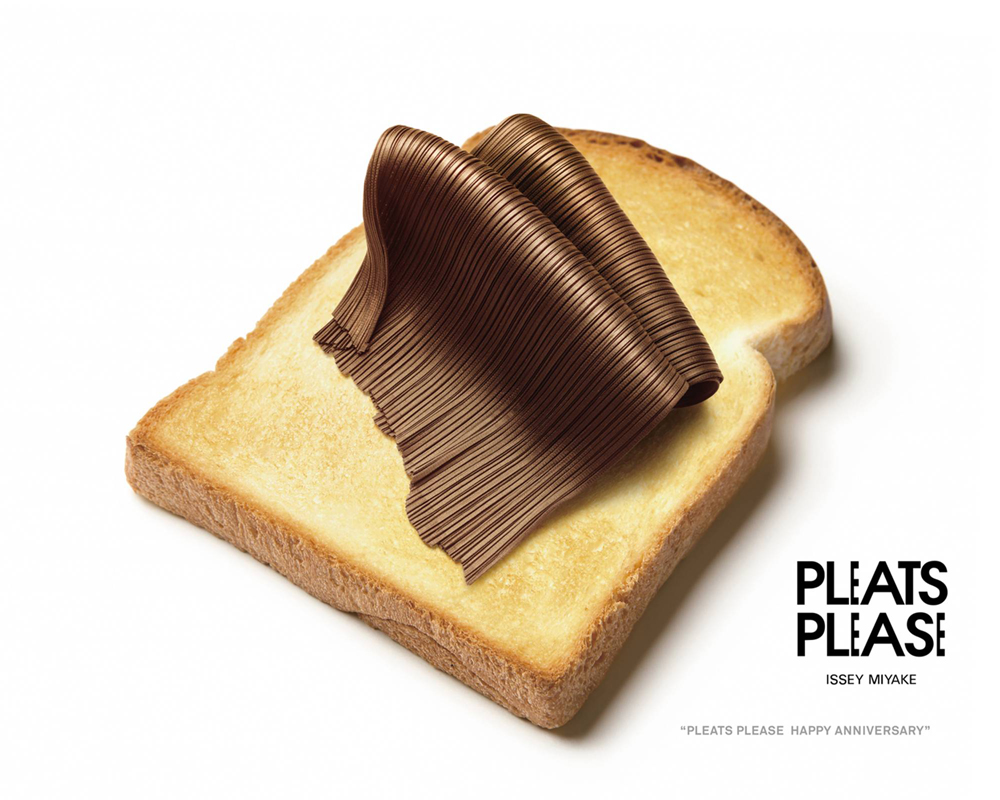 The Pleats Please Collection by Issey Miyake
It's easy to see the modern appeal of the pieces he designed (and has been designing) ever since the beginning of his career, and not just because retro styles are having a resurgence now. Design-wise, Miyake's creations may be less controversial than his peers, Rei Kawakubo at Comme des Garçons and Yohji Yamamoto, prioritizing utilitarianism over attention-seeking avant-gardism – think Maison Margiela and his subtle deconstructed details morphed into even more wearable, practically plain silhouettes, and you get an idea of what the Issey Miyake DNA represents. But they certainly aren't unattractive in any way.
As a result, while the fashion industry has become obsessed with creating the next "It" thing that remains at the forefront of discussion, Miyake instead chooses to drape the designers themselves with his wares. Thus, at 84 years of age and with over 50 years of designing experience, he boasts an impressive clientele: The late Steve Jobs (and his infamous black turtleneck), the celebrated architect Zaha Hadid, and the London-based French designer and 2015 LVMH prize finalist, Faustine Steinmetz, are all big-time fans of Issey Miyake's clothing (lore even has it that the only pieces Steinmetz wears apart from her own line are those from Miyake's Pleats Please collection!)
Miyake's Standout Purses
Speaking of the it-appeal, Miyake never quite sought the fame that our common set of luxury handbag brands have chased. And yet, his purses, namely the Bao Bao range, have become a uniform of sort for creatives like Mrs. Hadid. When originally released in 2000, the bag was called Bilbao, after the Spanish town where the Guggenheim Museum opened in 1997. The architecture of the Frank Gehry-designed landmark served as the inspiration for the purse. So, by the time I'd started to see the polyvinyl triangles all around me, they'd been around for more than a decade!
Over the years, the Bao Bao range has gone through significant evolution, launched in 2010 as a separate collection from the brand in a range of silhouettes. In 2016, Miyake launched the Chord collection, where the PVC panels come in triangular pieces and in a multitude of shapes, some even featuring prints. In 2020, the brand's Lucent Metallic Tote was seen in the Victoria & Albert Museum's "Bags: Inside Out" exhibit. While the same year, the brand developed a miniature version of the signature geometric purse called the Hello Bao bag for its 20th anniversary.
Even besides these notable changes, the Bao Bao range and its many iterations are now available in the Prism style in frosted but nonetheless vivid colorways, the Carton, that can be folded flat, making it perfect for travels, the Platinum line, the shiniest of the designer's metallic offerings, as well as a variety of matte shades. But while their versatility is unmatched, their distinctive design makes them a staple carry amongst the Margiela, Yamamoto, and Vêtements-clad edgy fashion crowd. And the best part – they're much more affordable than your average It-bag, most available under the $1,000 mark!
Despite massive strides towards liberating fashion, transcending gender boundaries, and pre-conceived notions, a major case can be made towards fashion becoming increasingly restrictive. Not in the sense that people are expected to dress in a certain way, but in that, once one brand receives a favorable response to something, the design makes its way onto the shelves of most other companies. The low-rise trend of Miu Miu, the pillow bags by Margiela, and the mini moon-shaped hobo style like the BV Jodie are all great examples, and imitation has become the name of the game. So, buyers are faced with limited options beyond what the reigning trend is. In fact, it can be argued that even the so-called avant-garde artists of fashion are victims of the trend-chasing movement. And amidst this sea of painfully low-rise jeans and distressed-to-the-point-of-screaming sneakers, Issey Miyake's creations are reassuringly enabling. Meant to take form once the wearer dons them, they emphasize the user's personality – it serves to forward them, not present them as some kind of fashion victim. That's the reason why most fashion designers, from Karl Lagerfeld to Vera Wang and Tom Ford, usually pertain to a uniform way of dressing, drawing a fine line between looking good and looking overwhelming, something Miyake does with a lot of gusto.
Plus, the designer's purses are just so distinctive that one instantly develops an appreciation for the wearer's good taste – and no other big brand has yet imitated it – it's quintessentially Miyake! No wonder it remains a staple among style-conscious New Yorkers to date!