Who influences your bag-buying decisions?
Nope, this isn't a Closet Confessional; I'm just curious.
Are you the resolute buyer – dependent on the opinions of no one but yourself? Or do the style gurus on social media have a bearing in determining your choices? For most of us, it's likely that a healthy mix of our own preferences, lifestyles, friends, and/or significant other's perceptions of ourselves, as well as celebrity styles or prevailing trends, culminate in the form of our bag-buying habits.
Personally, though, nothing sways me more towards liking a purse than seeing it in the wild in real life. There are numerous instances when pictures don't really do a handbag justice unless you physically see it (the opposite, too, isn't entirely unheard of either, helping to ward off a potentially undesirable purchase). Plus, getting to witness something in real life helps you develop a deeper appreciation for it, even if it isn't strictly your style.
Sometimes it's a bag (more specifically, a backpack) that you hadn't given much thought to previously but actually looks stunning in person.
*Love at first sight*.
Therefore, I'm happy to report that I've fallen for MCM backpacks, and I've fallen for them hard!
But the hype around MCM isn't entirely news at this point, and we proclaimed last year as the year the backpack was officially over. So, you might ask – why now? Why am I fangirling about this particular rucksack at a time when sleek Y2K hobos or 2010s-era maxi totes are all the rage?
Hooked on the MCM Backpack
It all started on a faithful day a couple of weeks ago when I spotted an exceedingly fashionable gentleman waltz into one of the swankiest hotels in town with a large iteration of the MCM signature cognac Visetos backpack in tow. As you might imagine (and as if the entire introductory statement wasn't a dead giveaway), I was intrigued.
Until then, the brand had pretty much remained on the periphery of my search results. Of course, I knew how its offerings looked because when much of your life revolves around ogling at handbags, how could you not? But since the earliest days of my handbag journey, I have been averse to backpacks in general and not particularly inclined towards the trendy nature (and hence, relatively inferior staying power) of logos, which happens to be a major design element of the MCM backpack.
So, seeing it being carried by the user in question made me realize that, perhaps in my attempt to steer clear of logo-heavy knapsacks in their entirety, I had never seriously considered MCM as an option. When most of us come across a bag, it's a natural response to imagine how it would look on us (or is it just me?), but it appeared as if I stumbled upon an MCM-shaped hole that day, and this needed some investigation. Hence, I decided to delve deeper into the brand's history.
How MCM Took Over the World (Twice)
In the 1970s, Munich, Germany, was the place to be, home to the likes of David Bowie, Mick Jagger, and Freddie Mercury. And of Michael Cromer, whose namesake brand, Michael Cromer München, launched in 1976 with 20 pieces displayed inside a salon in Munich (which once also housed a live alligator). Their specialty? All were emblazoned with the initials MCM encased within a laurel, as a homage to King Ludwig I of Munich, and a diamond, taken from the Bavarian flag.
It soon became the most covetable logo, featured on luggage in the 80s cult-show, Dynasty while also accompanying Diana Ross on her music tour. In the 1990s, arguably at the peak of its popularity, a campaign by photographer Herb Ritts starring Cindy Crawford became massively popular. With its name on the hearts of the young and the old, it seemed as if nothing could go wrong for the brand.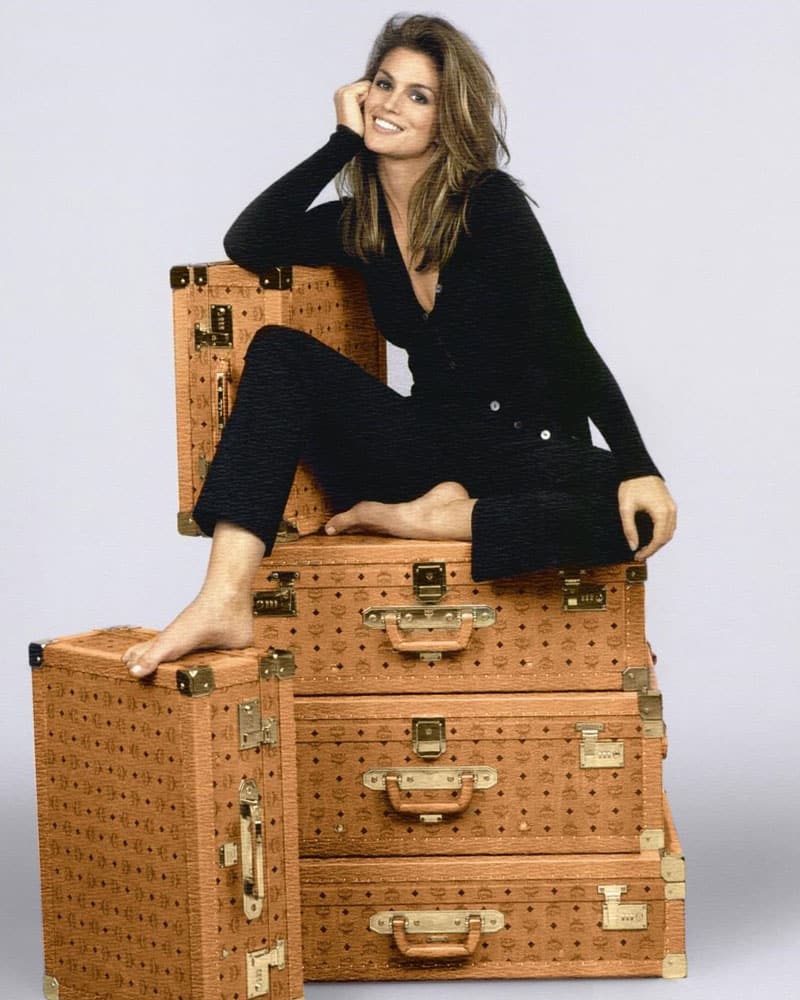 With the arrival of the 2000s, however, as other brands fought for the it-bag status, Cromer himself was charged with tax evasion, dragging the brand into the murky waters of legal and financial troubles. And with that came the barrage of fakes (I still come across the tell-tale "MOM" and "WOW" logo-ed backpacks every now and then). Slowly but surely, MCM's monogram disappeared from most circles in fashion.
But despite its many setbacks, the brand remained popular in South Korea, where it was licensed under the Sungjoo Group. In 2005, the Group acquired the brand, renaming it Modern Creation München and hiring the former global creative director of Adidas, Michael Michalsky, as its lead designer.
By the turn of the decade, sales had turned around, and the future was looking up – with collaborations with designers like Joy Gryson and campaigns led by Coco Rocha. In 2011, the brand released a special range of studded backpacks in various colorways, and the iconic MCM backpack as we know it today came into being.
Gaudy Yet Cool – The Perfect Blend?
The rise of MCM came just in time for the rise of high-fashion backpacks in the early 2010s. Following the recession, customers wanted chic, functional purses that could take them everywhere, rather than highly embellished and impractically heavy mini bags which would barely fit your phone or leave you with back pain. So, as every fashion house, from Chanel and Louis Vuitton to Gucci and Chloe, scrambled to get a piece of the backpack pie, MCM had a head-start.
After all, its offerings were already well-known in the East – with a third of its revenue coming from China, Japan, and Korea, markets Western brands had just started warming up to. Soon, the signature Visetos backpack began to be seen on the backs of some of the greatest in fashion, from Cristiano Ronaldo to Beyoncé, Rihanna, and Justin Bieber, and its popularity kept skyrocketing.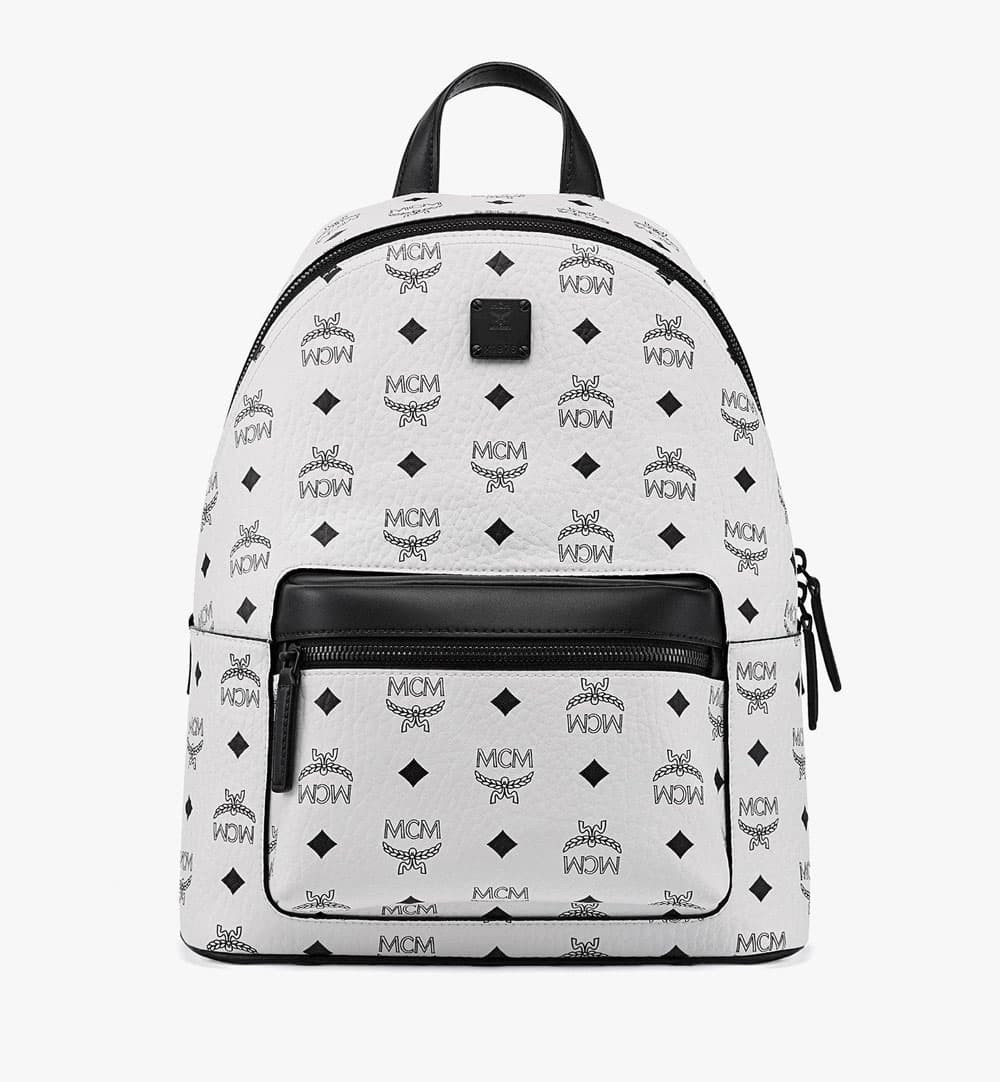 Besides the backpack trend, the brand's heritage logo, the signature MCM pattern, appealed to both 90s kids for their nostalgia and to Gen Z-ers for being less conspicuous than, say, logos from Louis Vuitton or Gucci. Thus, it keeps logo love alive while still being sufficiently under the radar to most people. Plus, MCM backpacks are priced reasonably affordably for a luxury backpack: at a time when Chanel was charging $3,800 for its graffiti canvas backpack, MCM's starting price for a mini backpack was just under $1,000 – a veritable steal, by comparison.
Speaking of mini backpacks, the 2010s can often be cited as the era when fashion houses went "honey, I shrunk the purses." And the shrinking spree began with backpacks. In fact, very few of Chanel's rucksacks (except for the overpriced canvas version) were functional enough to be a day bag, and Gucci, Saint Laurent, and Chloe followed suit. On the other hand, MCM retained the large version of its comfy thick-strapped Stark backpacks alongside launching trend-appropriate mini versions, effectively remaining relevant to all demographics.
Now Is the Time to Get One for Yourself
It might be a little too early to predict this, but I'll say it anyway – the MCM backpack's appeal is timeless. I know it's tempting right now to run and get yourself a Balenciaga (I can feel myself caving in), but if there's really a bag that'll feel like an investment purchase right now, it just might be this.
Here's why – we've already seen that alongside the resurgence of Y2K bags, silhouettes from the 2010s are also making a comeback. And that should hopefully indicate that we'll likely see a rise in the backpack again. Plus, the logomania trend thrives stronger than ever, so buying into the MCM heritage, especially at a time when its backpacks are relatively affordable on resale, could prove to be quite the wise purchase!
MCM offers well-made, functional, and chic backpacks in many sizes to accommodate your worldly needs while taking on the wrath of the elements with considerable stoicism. As MCM's Chief Visionary Officer Sung-Joo Kim explains, "The young generation expects brands to be interactive and for luxury to be functional." The present generation, more than any of its predecessors, is technology-dependent.
But carrying a chic designer purse on one hand and a separate (possibly rather unsightly) laptop bag on another is not feasible for most of us on the go. Therefore, MCM, with its tech-friendly backpack with ample space for the rest of our worldly possessions while having just the right touch of maximalism, could easily be the answer to all your needs for school, work, and play – and last you a long time too. And perhaps that's the best kind of investment purse there is!
So, here you have an extensive rundown of the MCM Backpack detailing why I should bid on that neon-green version on eBay right now. I was just trying to give you all a glimpse of the wonderful world of MCM – and almost certainly not trying to justify making a purchase for myself (*nervous laughs*).
Truth be told, though, I never imagined I could ever gather myself to actually love a full-sized functional backpack (*conveniently forgets the metallic Burberry Rucksack*), and now that I have come to know about it, I can really imagine, what with its style, functionality and price point, how much of an integral addition it could become in one's life!
If you ask me, I would originally have liked to get myself the classic cognac, though thanks to my Saddle PS1, I simply can't imagine adding another brown bag to my collection. But is the neon I'm eyeing going to be as versatile? That's perhaps a discussion for another day. For now, I'll ask you – would you get yourself an MCM backpack, and if you do, what size and colorway do you prefer? Or do you find it a tad too over the top?