We've covered this Bottega Veneta Woven Zip Wallet before, when Megs was considering getting it as a replacement for her LV Zip Around Wallet. As even a cursory glance and click around the blog will confirm that our love for Bottega Veneta has grown epically since Megs penned that post more than a year ago.
But even while the glamour of the brand surrounds us, with their ability to custom-make pieces and their head-turning exotics, it's important to remember that they still make basics like the Bottega Veneta Woven Zip Wallet, that are, for lack of a better word, gorgeous.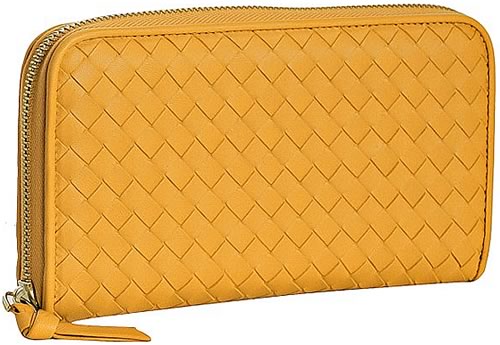 This wallet's bright sunshine yellow is an example of the company's intrecciato signature, which combines with a simple color to create a piece that's so awesome, not to mention buttery soft and durable. So if you have yet to purchase a Bottega, then you and I are in the same boat. Don't get overwhelmed by their crazy amazing pieces, though! If need be, it's always good to stick to basics; at least in the beginning! Buy through Bluefly for $504.