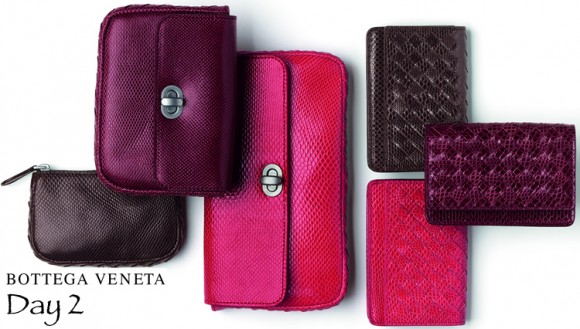 ♪ On the second day of Bottega Veneta we can not resist: wallets and cases hard to miss! ♪
Continuing with our Twelve Days of Bottega Veneta, we are at Day 2. And day two brings us an array of wallets, coin purses, and card cases. We love the colors of the karung skin, a type of snakeskin, on these items. Karung is gradually becoming a favorite not only of Bottega Veneta but also of shoppers.
I was gifted a card case a few years ago and I have not stopped using it. It may be a small item, but the usability factor is major. There is also the 'High-Tech' case, for the fashionable person who loves to listen to their iPod. My pick of the pack is still the card case. I would not mind having the entire lot.
Details from top: Truffle Intrecciato Shiny Karung Coin Purse $280, Pourpre Intrecciato Shiny Karung Nappa High-Tech Case (for ipods, etc.) $460, Fever Intrecciato Shiny Karung Nappa Document Case $560, and Intrecciato Shiny Karung Business Card Case in Fever, Pourpre and Truffle $360.
Shop Bottega Veneta Wallets and cases via Bottega Veneta online HERE.