intrecciato woven leather design, I am always intrigued by some of the other intrecciato-less handbags available. Case in point, this luxurious Bottega Veneta Woven Shoulder Bag. I am absolutely in love with how buttery smooth this leather looks. Being part of the resort collection, this is one bag that will completely live up to its price tag.
We've been lucky enough to get our hands on some of the most beautiful Bottega Veneta handbags available. While I can't get enough of the signature BV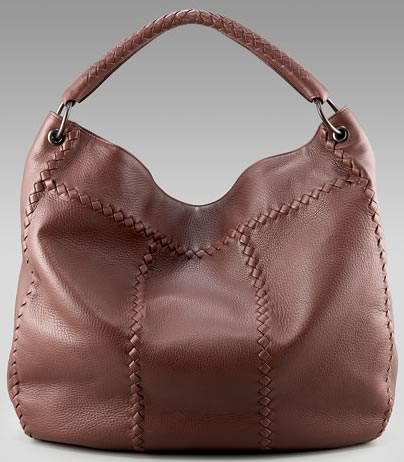 I don't know about you, but when I come across handbags that are part of a designer's resort collection, I find myself looking at the bag and being whisked away to a gorgeous place where both I and the bag would shine. Yet the thing about this Bottega Veneta bag is that it is constructed for use all year long.
The truffle colored leather is paired with dark brass hardware. I love the detailing along the (makeshift) seams of the bag as well as used on the handle. This handle has a 12″ drop which I think is enough to fit nicely on your shoulder without it being too snug. Per usual with a bag this large, I would be careful how much you put in it so that it doesn't become too heavy. This might be one of my new favorite Bottega Veneta bags. Buy through Bergdorf Goodman for $1750.