It is that time, the time for bright and cheery Bottega Veneta Spring 2010 colors. One of my favorites is orchid, which I am fairly certain is being used on this bag (though it is labeled as grape). And the bag this color is being splashed over is the Montaigne, a popular duffel shape bag from the house.
Liking this bag comes down to whether you like the duffel shape or not. Bottega Veneta is known to produce classic simple designs that stay relevant and elegant at the same time. This design falls into that category.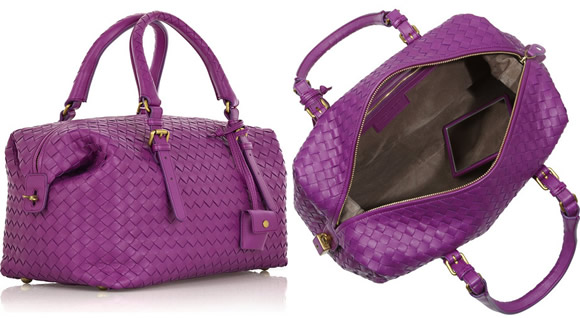 The signature Intrecciato weave is used on this design. Of course there is every bit of impeccable quality used, both in craftsmanship and materials. The inside is lined with pebble suede, which adds a bit of weight but is always a nice touch.
The shape of the body will slouch, unlike the photos in which the bag is stuffed. In the battle of the perfect duffel bag, the Bottega Veneta Montaigne should at the very least be a contender. Other options include the punk rock Alexander Wang Coco, and the classic monogram Louis Vuitton Speedy. I say go for the BV option if you are looking for a timeless classic, which sounds cliche, but when it comes to BV is entirely true. Buy through NAP for $2,280.