You might want to sit down, if you aren't already. At first, I was really excited to see the Bottega Veneta Leather Fringe Shoulder Bag. But then, I saw it and I became extremely conflicted. As I've mentioned several times before, I am totally in love with the leather Bottega Veneta uses on its handbags. It is always supple, always gorgeous and always bumps up the bag design to the next level.
That lovely leather is can be seen on this bag as well. However, I am a bit concerned that it looks, hmmm, a bit unfinished. Yet, as soon as I type those words I go to the complete opposite end of the spectrum and begin to think that this pattern is an eccentric and unique play on the intrecciato weaving and slight fringe.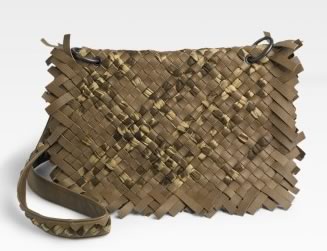 A zoomed in look at the bag demonstrates how the design actually is fairly thought out. Perhaps it is BV's way of spicing up their collection a bit? The bag boasts a single shoulder strap with a 13″ drop, a flap closure and two zipper pouches under the flap. While I am still not sure this bag is for me, I can imagine those of you boho fashionistas out there would rock this bag with pride. So, tell me, what do you think: fab or drab? Pre-order through Saks for $1850.