Bottega Veneta is one of very few handbag brands that deserves all of the praise it continuously receives. Bottega Veneta is known for classic, incredibly well-made bags that are understated but elegant. And while Bottega Veneta continues to introduce new designs that feel both updated and luxe, they still have a timeless quality to them that allows them to remain relevant for years to come. That's exactly the feeling I got when reviewing bags from Bottega Veneta's Fall 2018 collection. Bottega's newest bags are incredibly well-crafted, and though my two favorites from the collection feel modern and updated, they make use of Bottega's classic materials and techniques, like beautiful, supple nappa leather woven in BV's traditional intrecciato pattern and extravagantly exotic skins.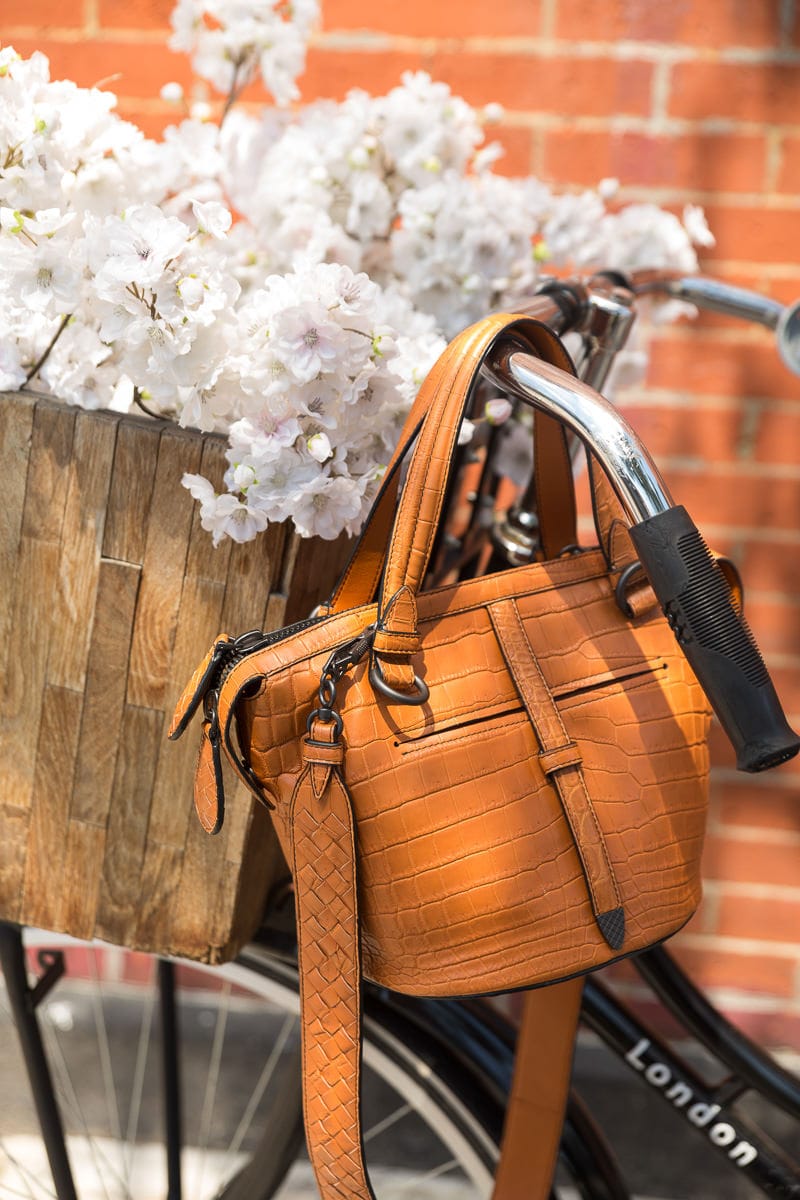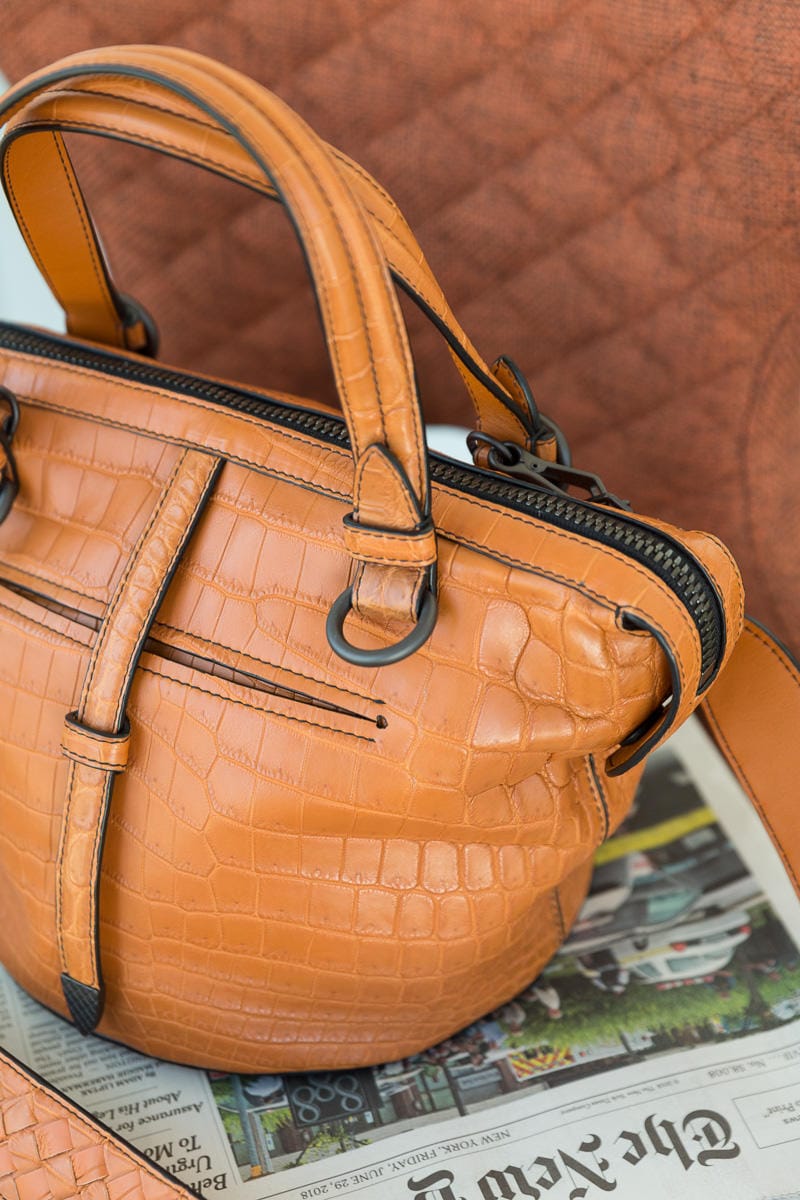 My favorite style from the Fall 2018 collection by far is the newly-introduced Tambura bag. The name is inspired by its drum-like shape, and though the shape of the bag is similar to a bucket bag, the look is slightly different than a classic bucket bag, which I really like. The overall size and shape of this bag is relatively compact and it's easy to carry. It makes for the perfect everyday bag because it's super roomy inside. I easily carried all of my daily essentials plus some extras like a snack and a small Fiji water bottle. Additionally, I love the option of carrying this via the two top handles, or tossing it over your shoulder with the shoulder strap, which, though not adjustable, is completely removable.



Made from a gorgeous and incredibly exotic crocodile skin, this bag is truly breathtaking. It is beautifully constructed, and like all of the other BV bags we've previously shot, the incredible attention to detail is what makes this bag all the more stunning. I adore the large, exaggerated zippers, and the long leather strap down the front of the bag that hooks closed. I personally do not own any Bottega bags—yet—but Megs has a collection of them (of course!) and I imagine this bag will age just as beautifully as her other bags have. The Tambura bag has a flat base and though this makes the bottom of the bag very structured, the rest of the bag is not. The shape does tend to droop a bit if the bag is not super full. Inside, the bag is lined in suede and has an interior zippered pocket as well as an interior slit pocket. Overall dimensions are 7.6″ L x 11.8″ W x 8″ D, and it is available for $23,800 via Bottega Veneta stores nationwide, or by calling 1-800-845-6790, and if croc is not your thing you can snag it in intrecciato leather for $2,550 via Bottega Veneta.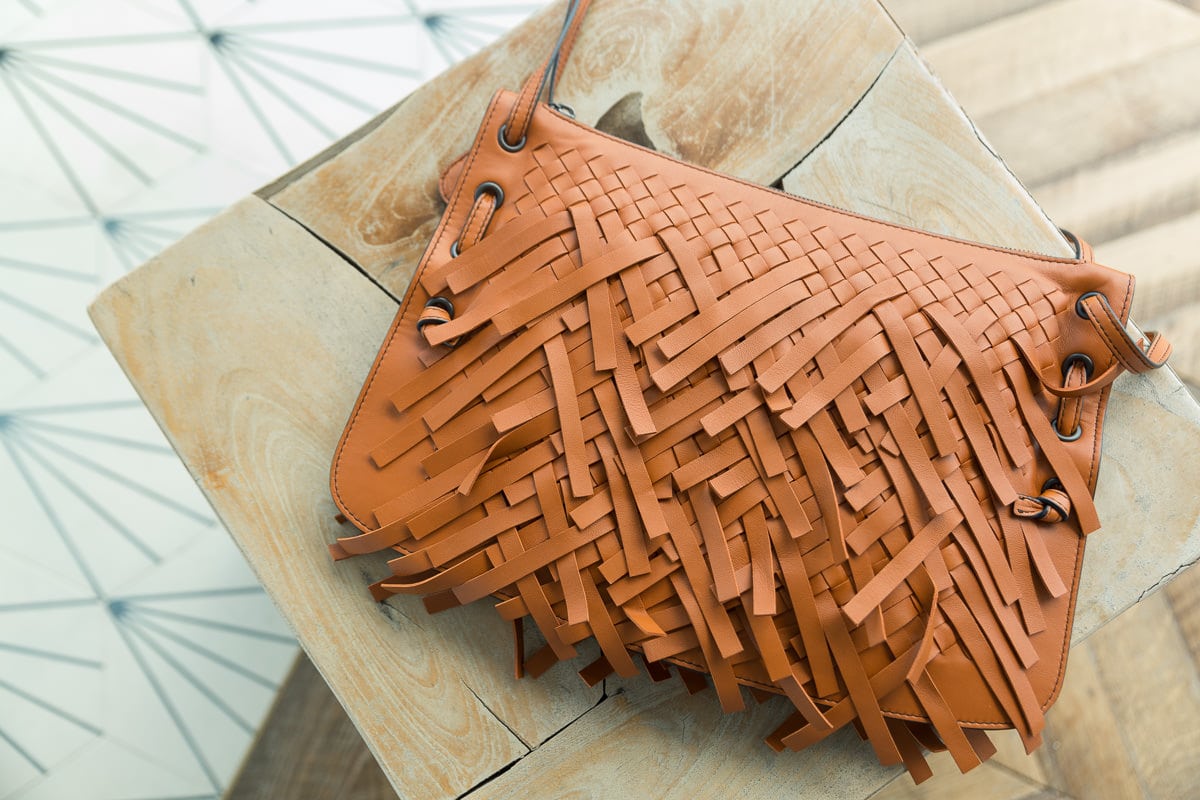 Another one of my favorites from Bottega Veneta for Fall is a bit on the funkier side, and that is the Palio Fringe Messenger Bag. This playful messenger bag is an updated version of the Palio bag from a previous collection, and the fringed intrecciato leather adds a fun take on Bottega's typically more traditional bags. This bag definitely caught my attention, though I'm not sure this is a shape that I would personally like to own. Incredibly well crafted, the Palio messenger bag is another perfect example of Bottega Veneta's attention to detail and even more incredibly talented artisans. Made from nappa leather and lined in suede this bag features an interior zippered pocket as well as one slit pocket. Finished with an exaggerated zipper and a double shoulder strap, which is unfortunately not adjustable, this stunning bag is truly unique. Overall dimensions of the Palio Fringe Messenger Bag are 9.8″ L x 14.5″ W x 2.7″ D, and it is available for $3,180 via Bottega Veneta.



Shot at the Williamsburg Hotel in Williamsburg, Brooklyn.