In the last few seasons of his work in particular, Alexander McQueen became famous for the incredibly intricate, digitally-rendered patterns that he used in everything from reptile-reminiscent cocktail dresses to Hieronymus Bosch-referencing pantsuits. The prints were at first only used for clothing, but the art has made its way to accessories with the Alexander McQueen Samurai Print Canvas Tote.
Printed bags can be a bit hard to wear, but if it's doable in any season, it's winter. People tend to regress to their favorite dark neutrals when weather gets cold and foreboding, and the warm, classic-meets-modern feel of this pattern is the perfect way to incorporate some colors into a fall outfit that aren't black, navy or charcoal grey. Not that there's anything wrong with black. Of course not.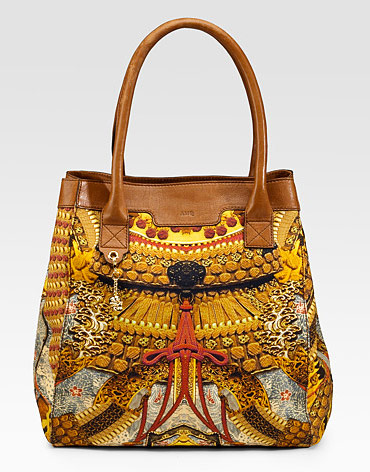 As much as I like the pattern, though, I'm a bit disappointed by the bag's simple structure. One of the best things about McQueen's use of print was that he didn't just use it on boring straight sheath dresses. Instead, his printed garments always had a structure and tailoring that accented both the details of the pattern and the shape of the design. Putting a nice pattern on a plain tote is child's play, and I hope that McQueen's accessories crew doesn't start slacking now that the company's namesake is no longer around to watch over its work. Still, I'm glad to see that these materials will be finding their way into the accessories market, and hopefully into the closets of more of McQueen's fans. Buy through Saks for $925.