If you just can't stop looking at the haunting pictures of Alexander McQueen's final collection, I've got a little Friday treat for you. Originally posted by the crew at Fashionista, the video shows details of not only the clothing, but also the shoes, bags and accessories that are on display at McQueen's buyer display in Paris. As expected, the tailoring and finishing are impeccable.
Video via Fashionista.com.
After Alexander McQueen's death, one of the ways many people reacted was shock followed by wanting to buy a piece from one of his last collections. The Skull Clutch is an iconic McQueen bag and all of the websites that previously had them in stock sold out within hours.
Saks just stocked a few new McQueen bags, one being the Alexander McQueen Stringray Print Skull Clutch. The clutch is on pre-order right now, with a shipment date of the end of July. In fact this clutch popped up a couple weeks ago with a much earlier shipment date, but was sold out quickly and the shipment date changed. The black/silver stingray print adorns the outside of the classic clutch with a skull clasp closure and purple lining. Pre-order through Saks for $1,175.
If there is a more haunting experience in fashion than watching Alexander McQueen's posthumous Fall/Winter 2010 presentation to a very small group of fashion's glitterati, I can't imagine what it would be. Presented in an ornate salon owned by the brand's parent company, the partial collection of 16 looks was brilliant, as we all knew it would be. It was also, in part, something totally unexpected: angelic.
The collection was inspired by 16th centurty painter Hieronymus Bosch, among other artists, who specialized in religious interpretation and commentary. Some of the patterns actually contained computerized and re-worked prints from the original artwork, including the Bosch masterpiece "The Garden of Earthly Delights." Outside of the professed inspiration, however, it's difficult to not ascribe a more personal and tragic meaning to the stylized angel wings that several models sported. Indeed, there were otherworldly aspects to many of the looks – pure white, gilded feathers. Perhaps the most pointed reference was in the show's final look, a golden jacket that could have been made of wings, fluted at the floor by gobs of beaded white tulle.
But this collection was anything but one-note. Alongside the angelic whites were brocaded and beaded dresses in hues of red and gold, plus digitally printed short dresses, seemingly a continuation of the previous season's much-lauded Plato's Atlantis collection. The show displayed only a fraction of what McQueen had probably completed, but even in its abbreviated length, it not only demonstrated the designer's unmatched technical prowess, creativity, and mastery of the female form, but also rendered in stark relief the stunning loss that the fashion industry and the world at large has suffered in McQueen's death. (more…)
For those of you who think that Alexander McQueen handbags might be a little too out there for your taste, I may have found a bag for you.
Looking at the name of the bag, I was wondering what was really meant by the word camouflage. Did it have to do with the colors, the design, some hidden meaning? It is not that McQueen camouflaged his genius or his innate ability to take design to the next level. Perhaps the word surrounds the idea that the bag is a bit more understated than most of us might be used to. (more…)

Alexander McQueen, magnificent designer and creative role model to thousands of fashion lovers, has died of an apparent suicide. He was 40 years old.
It would be disingenuous, at this juncture, to speculate about what McQueen's legacy will be or what impact his all-too-soon death will have, but if there is one thing I can say for sure, it's that the world still needs Alexander McQueen. (more…)
We are self-proclaimed Alexander McQueen fans here at PurseBlog. And this bag is no different.
The Alexander McQueen Leather Biker Satchel infuses a design that I wasn't completely in love with to make a bag that is speaking to me. With all of the pockets and zippers from the Alexander McQueen Leather Biker Tote and the laid-back satchel style, I am loving this bag from Alexander McQueen. Confession: Amanda wrote about a grey version of this bag before and thought it was a misstep from McQueen. I too felt like that bag was lacking something. Actually, in grey it is completely blah for me. (more…)
Alexander McQueen Croc-Print Skull Clutch.
This morning, I said to myself, "Self, you haven't had an opportunity to slobber all over Alexander McQueen in a while. Make that happen." It didn't take much looking to find something to talk about. Behold: the
I've never quite understood why these clutches aren't more popular with starlets on the red carpet. They're tiny, glam, come in so many finishes, and have a ton of personality. What gives? (more…)
Alexander McQueen has learned to pull off without making bags look sloppy. In fact, this aspect is what I've come to know and love about McQueen bags. I am sure you remember the Alexander McQueen Red Faithful Glove Clutch we covered a little while back. If you weren't already on the McQueen bandwagon, many of you converted when you were able to embrace that clutch. This tote is no different. (more…)
Now this is a unique tote. Sure, there is a lot going on, but this is something
Alexander McQueen Biker Faithful Satchel. The more I look at it, the more I think that's probably because it doesn't really look anything like what we've come to expect from the brilliant McQueen.
As much as I'm an unrepentant Alexander McQueen fangirl in almost every way imaginable, I'm still not really feeling the
In fact, it sort of looks like a mid-tier brand trying to ape the Balenciaga aesthetic, if anything. Thin-looking glazed leather, the double-riveted leather strip in the middle, front zipper pockets – am I completely off base here? (more…)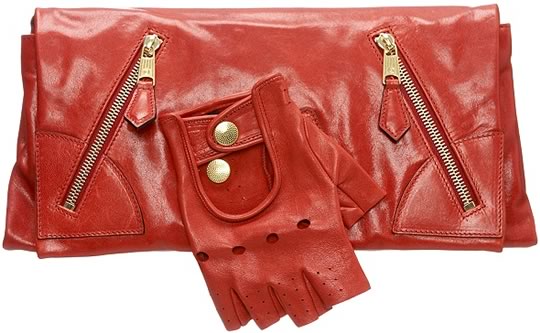 The moment after I post about this handbag I am going to feel a sense of regret take over my body. In fact, I feel it now. After I post this sale I am certain a few of you will buy it and then it will be sold out, all before I could plead my case of needing this clutch myself. The Alexander McQueen Faithful Glove Clutch is an attention grabber, a total out of the box idea. While I understand that it seems like a fairly simple idea to place a glove on a clutch and call it a day, it is the way in which McQueen can pull this off that amazes me. (more…)
Alexander McQueen Skull Clutch? If you did not, click back to refresh your memory. Everything about that clutch spoke to Amanda, from the designer to the design.
Remember the time when Amanda professed her love for the red
Amanda was all about the red paired with the skull clasp from a designer that she adores. Now I feel like one-upping her, because really, could the Alexander McQueen Skull Diamante Clutch be anymore amazing? (more…)