Alexander McQueen Biker Faithful Satchel. The more I look at it, the more I think that's probably because it doesn't really look anything like what we've come to expect from the brilliant McQueen.
As much as I'm an unrepentant Alexander McQueen fangirl in almost every way imaginable, I'm still not really feeling the
In fact, it sort of looks like a mid-tier brand trying to ape the Balenciaga aesthetic, if anything. Thin-looking glazed leather, the double-riveted leather strip in the middle, front zipper pockets – am I completely off base here?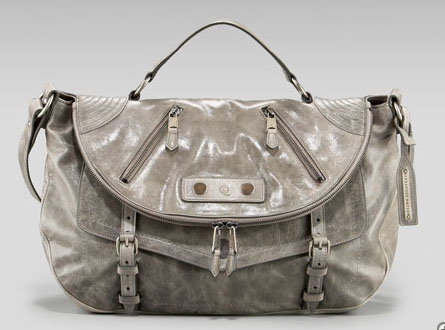 I don't think I am. I like the little buckles and the color of the leather, but this bag is missing the signature McQueen spark and irreverence that makes the brand's designs so special. Without that, it's just a bag.
Visually, it also seems a bit crowded, although it doesn't seem like it was done intentionally. There's just too much stuff, too many different elements fighting for attention for the design to be successful. Every designer makes a misstep occasionally, and I'll go ahead and count this as one of McQueen's. Buy through Bergdorf Goodman for $1450.