Alexander McQueen has learned to pull off without making bags look sloppy. In fact, this aspect is what I've come to know and love about McQueen bags. I am sure you remember the Alexander McQueen Red Faithful Glove Clutch we covered a little while back. If you weren't already on the McQueen bandwagon, many of you converted when you were able to embrace that clutch. This tote is no different.
Now this is a unique tote. Sure, there is a lot going on, but this is something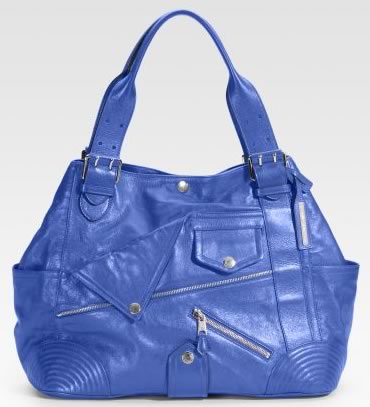 While the Alexander McQueen Leather Biker Tote makes a statement, it makes a statement in all the right ways. Sometimes totes bore me. They are all large, some use great colors and materials and others don't. Yet, this tote, it is a show stopper. This tote boasts bright blue leather with a glazed finish, silvertone accents, snap closures and metallic zippers. I love the almost belt like adjustable shoulder straps. Details like this always put a smile on my face. You can be sure that this bag will get compliments and even if it didn't, would it matter? It is fabulous. Period. Buy through Saks for $1595.