With much of the fashion world still reeling from the loss of talented designer Alexander McQueen, there's a lot out there taking subtle cues from his signatures. This Alexander McQueen Skull Print Canvas Shopper recalls of what may be McQueen's most commercial success, the skull print scarf. Worn by fashion plates from Nicole Richie to the Olsen twins to Kate Moss, it was hailed for the unique mixture of dark subject matter and amazingly light chiffon.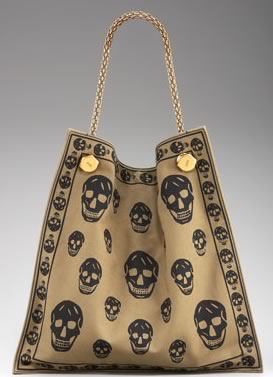 The iconic skull has been reincarnated a multitude of times, on tank tops and rings, sandals and the fierce skull clutches, a favorite here at PurseBlog. The canvas shopper reminds of the skull motif in the best, most simple way possible. The design is similar to that of the famed scarf, but in light of the designer's death there's an ominous feel.
Yet, the golden hardware and luxe chain handle provide the perfect juxtaposition to the toughness of the canvas. It's a good tote, but simple. So what do you think of this tote? Is it too simple or too ominous, or just right? Buy through Bergdorf Goodman for $650.