We all know that I tend to be a little tough on Versace, but it comes from a place of love. (Usually.) The brand has a great and utterly glamourous history, and with the right people in place, it could be a source of lovely bags and shoes that would make us all sublimely happy. The company has struggled in recent years, but lately I've noticed a significant uptick in the look of its accessories. For example, the Versace Patent Flap Shoulder Bag is a functional piece that doesn't take itself too seriously.
The squiggly red lines reminded me of the work of 80s pop artist and social activist Keith Haring on first glance, and although I don't know for a fact that Haring's work has anything to do with this particular bag, it would be particularly fitting if there were some connection. Haring's 80s heyday was marked by an artistic output featuring bold shapes and bright colors, and much the same could be said for Versace as a brand.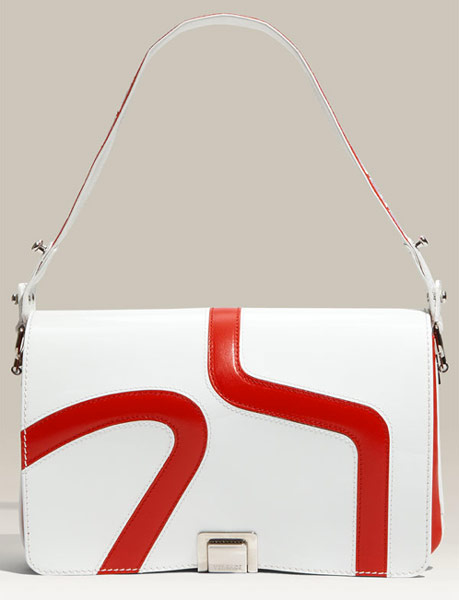 Besides the possible artistic influence, this design has a few other charms. The wide, comfortable shoulder strap is printed with the traditional Versace interlocking logo trim to give a little bit of print contrast, and the roomy side gussets reverse the flap's color scheme with white-accented red leather. Although this bag doesn't look all that roomy at first blush, the structure and depth make me suspect that it'll hold more than you might think. The price seems a little high, but Versace's prices always do to me; I'll forgive the brand for the price point because this bag is one of my favorites from it in quite a while. Buy through Nordstrom for $1795.