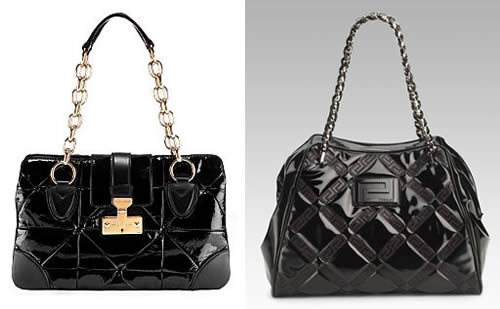 They say that there's nothing new under the sun, and from time to time, as Megs & Co. are demonstrating today, this adage holds true in the handbag world as well. When faced with the need to blend practicality and style, how many different things can you really make?
So I present to you two bags: the Marc Jacobs Patchwork Amanda and the Versace Large Greek Key Shoulder Bag. Both are black patent leather, both have chain straps, both are kind of square and boxy, and both have large quilting over most of the bag. The styling is slightly different – Versace, naturally, makes everything in their line to be flashy and obvious, with their Greek motif forming the lines between the quilts. The Marc Jacobs bag is more fashionista friendly with more subtle styling and branding.
To me, the choice between these two is a no-brainer, and not just because the winner shares my name. The Marc Jacobs Amanda is much more elegant in its details and wearable in my wardrobe, and although not a complete original (Chanel did do pleats and chain straps first, after all), it's still much preferable to its uninspired Versace cousin.