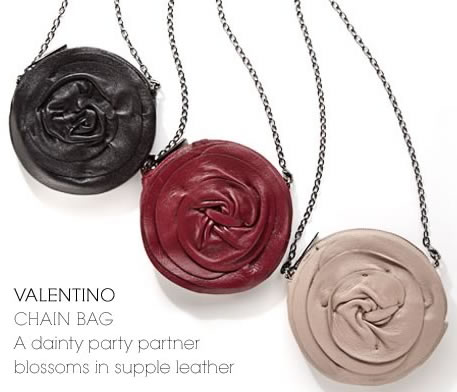 If you are like me and have been a long time fan of Valentino but have not splurged on one of their bags, this may be the item for you. Sure, the Valentino Petale Chain Strap Leather Mini Bag is entirely small, but the design packs a punch.
I was never entirely sold on mini bags, but I have come to appreciate their functionality in recent months. If you do not always have to carry around every last item you typically stuff into your bag, having an easily accessible mini bag is the perfect option. Lately I only leave the house with a couple credit cards, cash, lip gloss, phone, and my keys.
Ok so this Valentino mini bag is truly mini, with dimensions of 5″W X 5″H X 1″D. An iPhone is 4.5″, so it can just squeeze into this bag. Once you get your phone in there, your other few essentials fit as well. This is perfect for a night out (truly perfect). And I forgot to even talk about the design with you all. This is classic Valentino, merely on a smaller scale. The petal applique on the front is what we have come to expect from Valentino. Most larger Valentino bags will run around $2k, so this is a great little piece of the brand. Available exclusively at Saks in black, blush, lipstick, and red. Buy for $325.