We're all told from a young age that we shouldn't judge books by their covers, but how many of us manage to make a good-faith effort to follow that advice? I know that I'm guilty of it, even as a writer myself – we all like a pretty picture. The problem with pictures, however, is that they don't give you the whole story. I know for a fact that most of the ones that I've seen of the Alexander Wang Diego Bucket bag didn't paint an accurate picture of how I would feel about the bag in person.
In photos, I hated it. In fact, I kind of hate it in the photo we've got here – it looks shapeless and busy, like you'd have an impossible time trying to figure out how to get in and out of it. I thought it lacked the simple elegance that Wang's Rocco duffel has, and that it was surely a rare miscue for the young designer. And then I saw it in person.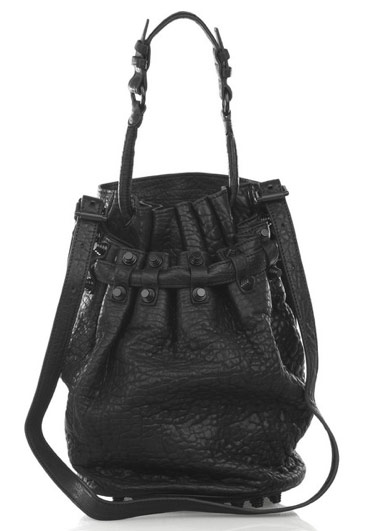 When I was actually holding this bag in my hand, it was all over – I loved it. Where the leather had once looked dumpy and overly complex, the bag's shape and function seemed totally clear in person. The flat back, which puzzled me in photos, made total sense when it was hanging on my shoulder. Unlike many bags in the drawstring trend, the Diego Bucket Bag isn't the same structure all the way around, and the back panel ensures that the bag sits easily against your hip.
Even the little shorty handle makes sense in person – the bag can be easily carried as a shoulder bag or satchel, and both options are more comfortable than I expected. Sure, the Diego is a bit heavy because of the signature studs on the bottom, but I've never been one to be intimidated by an extra pound or two. If you prefer a bit of edge to your accessories but want a piece of the drawstring trend, this is the perfect bag for you. Buy through Net-a-Porter for $825.