Valentino bags, Dolce & Gabbana has a stark reminder for us: ruffles aren't easy, man. Not when leather is involved.
Lest we all had forgetten after seeing one too many soft, wonderful
The key to successful leather ruffles is to make them so light and airy that you forget that what you're looking at is a thick, hardy material out of which they also make car interiors. The illusion is what's important, and if the designer can't take the materials and make something greater than the sum of its parts, then the whole design doesn't work. Sadly, that's the situation we find ourselves in with the Dolce & Gabbana Miss Heather Shopper.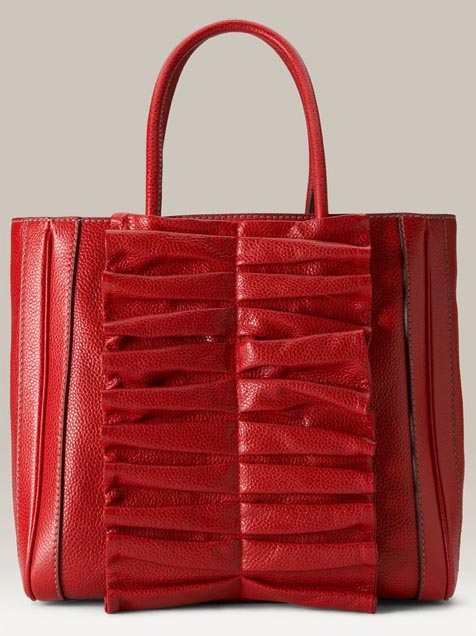 Dolce's first mistake was their choice of leather. This bag's material is pebbled and stiff, and in order to mimic the movement and fluidity of a softer, more ethereal fabric, they need to choose a softer, smoother leather. They were screwed from the beginning with this stuff.
And then there's the shape of the ruffles themselves. They're too straight and tight to be pleasing in a visual or tactile way, and the stiff and shiny finish makes them look cheap. The bag's overall effect isn't one of luxury or sumptuousness, and if they want to achieve that in the future, then perhaps they should take a page out of Valentino's book (or hire a few of their accessories designers). Buy through Nordstrom for $1450.