If you follow along with horrible TV as closely as we do (and believe me, we follow it closely), you might know that perennial guilty pleasure Gossip Girl started its final season on Monday. I still haven't caught up on last season, but when the whole mess finally makes it to Netflix, you can guarantee that I am going to spend lots of rainy evenings and weekends stuffing my head full of the Upper East Side travails of Blair and Serena. They're like long-lost friends who I'm itching to get a cocktail with, no matter if the show has fallen a bit from its gleefully melodramatic heights.
To celebrate (mourn?) the beginning of the end, we've assembled a comprehensive look at The Many Bags of Blake Lively. Blake's been in the news lately, and not just because of the return of Gossip Girl; she wed Ryan Reynolds in South Carolina several weeks ago in a ceremony that surprised pretty much everyone in the entertainment world. So what does Blake carry, both on set and off? We'll explore that, as always, after the jump.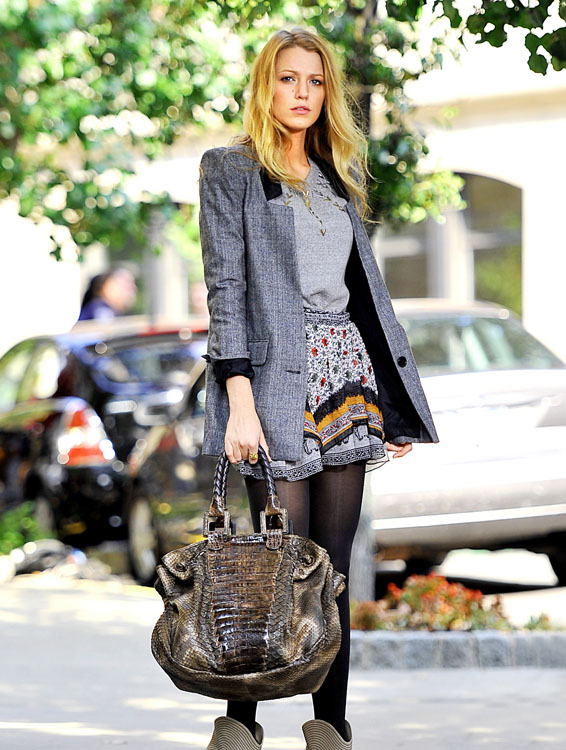 First, let's start with a classic Gossip Girl look from the good ol' days. Very fashionable, slightly preppy and with a big ol' Carlos Falchi Crocodile Tote. Shop Carlos Falchi via Saks.
1 / 18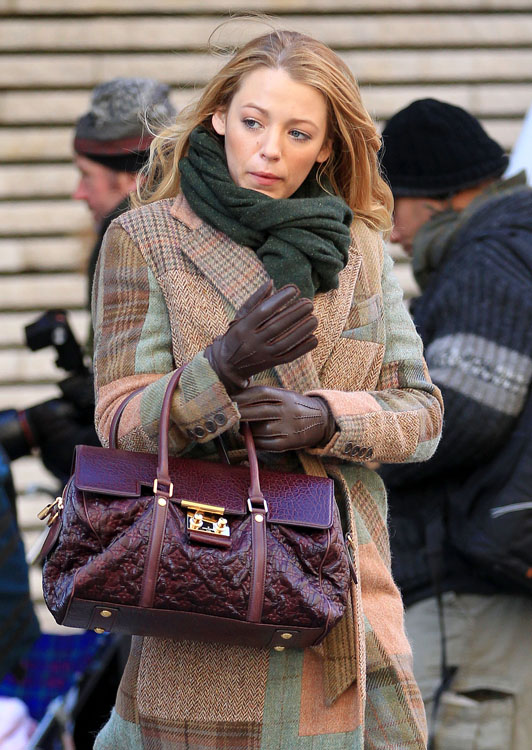 Another Gossip Girl set favorite? Louis Vuitton. Here's Blake several seasons ago with a Louis Vuitton Hazier Satchel that I fervently wish were still around today.
2 / 18

The West Coast is a whole different ballgame when it comes to characters and their style - this Louis Vuitton Vernis Alma in bright green is way different than how Serena would dress in New York. Buy through Louis Vuitton for $2490.
3 / 18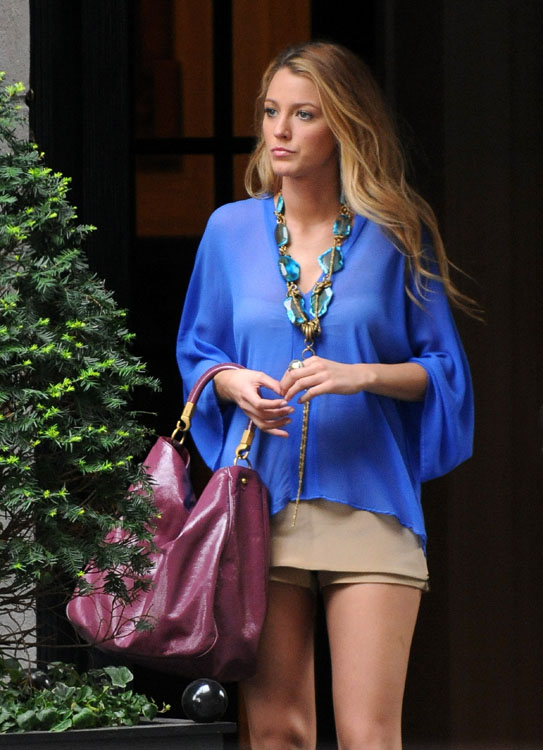 The ever-popular Yves Saint Laurent Roady was another bag that saw a lot of airtime on Gossip Girl - remember when Little Jenny Humphrey was giving out Roadys for Christmas?
4 / 18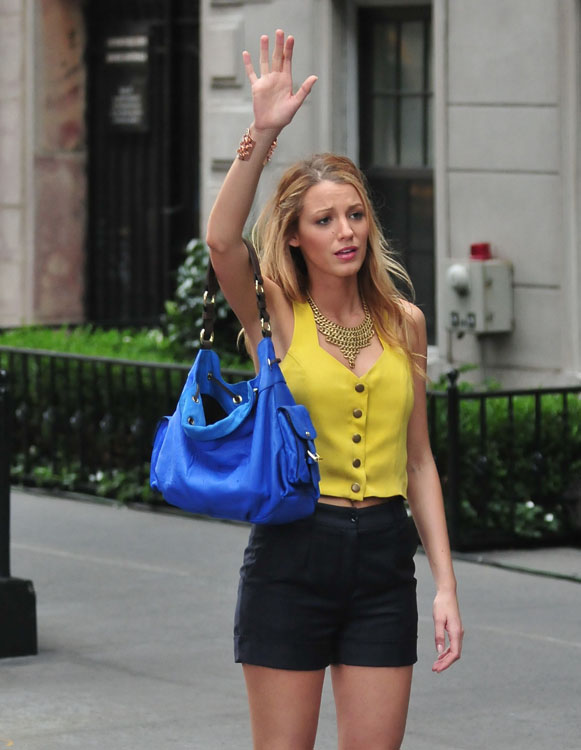 The GG wardrobers also love to put Serena in Mulberry - specifically blue Mulberry. Here's Blake on set carrying a cobalt Mulberry Leah Hobo. Shop Mulberry via Net-a-Porter.
5 / 18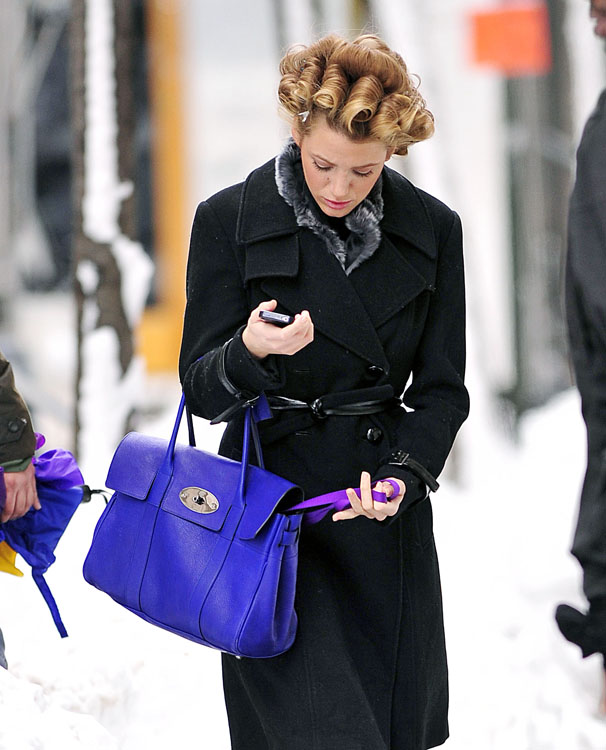 And here's yet more blue Mulberry on set, this time with the Mulberry Bayswater. Pick up your own bright Bayswater at Net-a-Porter for $1250.
6 / 18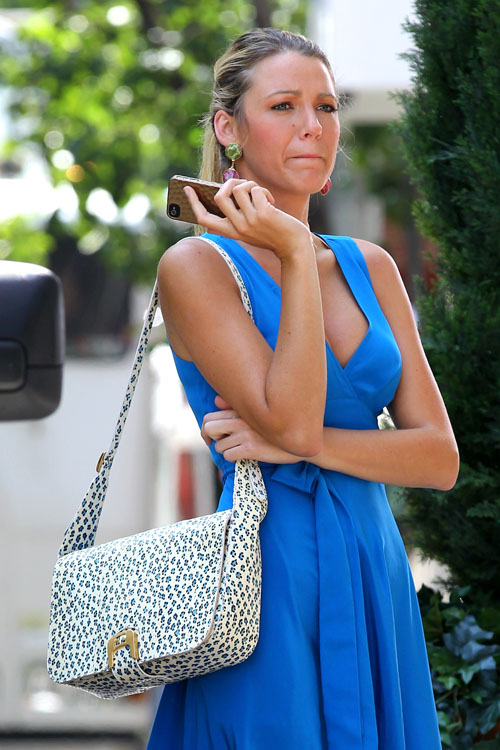 By now, even if you've never seen Gossip Girl, you can probably tell that the wardrobe department really loves to have a show-stopping bag hanging on every available arm. This quirkily printed Fendi Flap Shoulder Bag might be from Resort 2013 because I can't find it anywhere, but it's worth keeping an eye on. Shop Fendi via Neiman Marcus.
7 / 18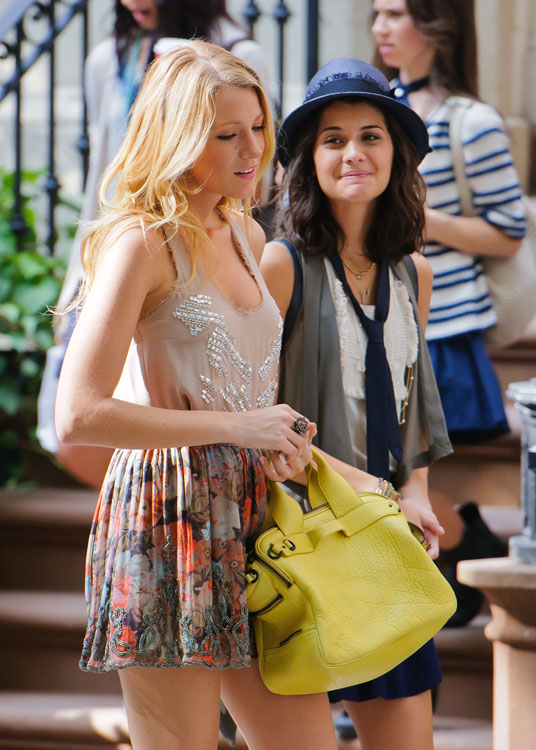 Another bit of Gossip Girl brightness! This time, it's a 3.1 Phillip Lim Lark Satchel. Buy through Neiman Marcus for $875.
8 / 18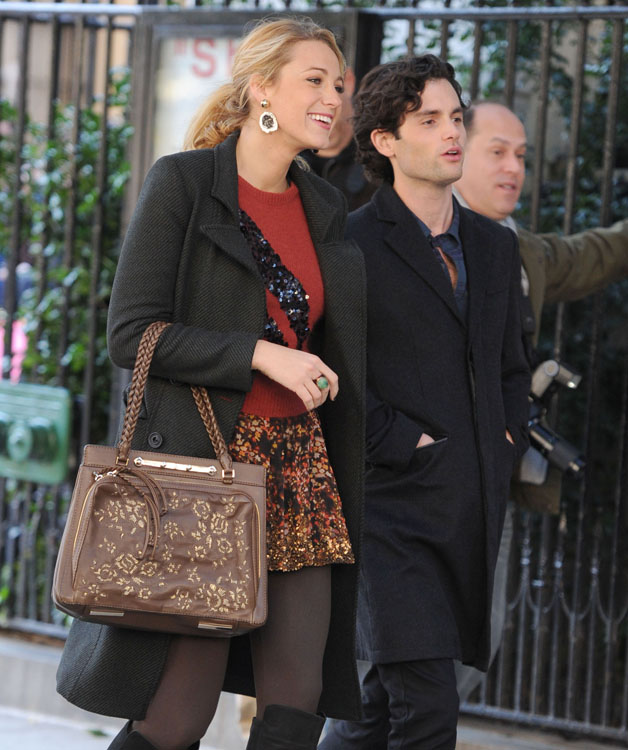 When the show's wardrobers decide to go for something more subdued for Blake/Serena, though, they often look to Valentino. First, there's the Valentino Demetra Tote in brown. $2345 via Neiman Marcus.
9 / 18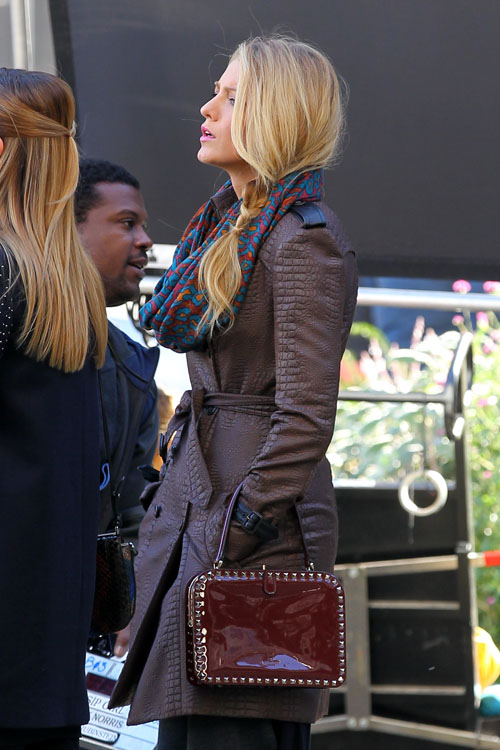 More recently, there was this tiny, burgundy Valentino Rockstud Frame Bag. Buy through Neiman Marcus for $3295.
10 / 18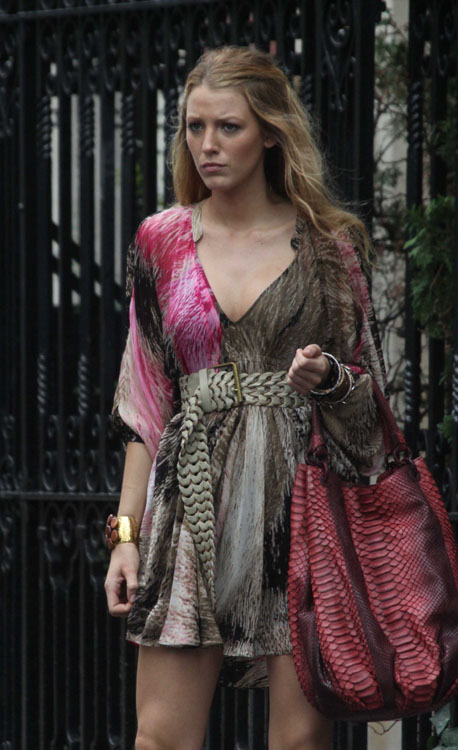 And sometimes, things are completely mismatched. (On purpose, of course.) This Nancy Gonzalez Python Hobo is gorgeous, but it doesn't really work with that dress. (Which I think is actually a shirt.) Shop Nancy Gonzalez via Neiman Marcus.
11 / 18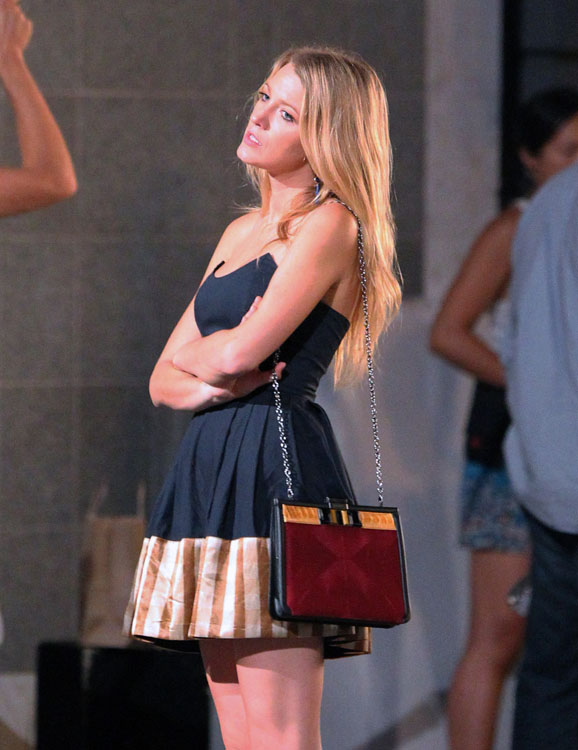 This shot of the Oscar de la Renta Marelia Clutch just doesn't do it justice - up close, it's incredibly detailed and totally beautiful. $3695 via OscardelaRenta.com.
12 / 18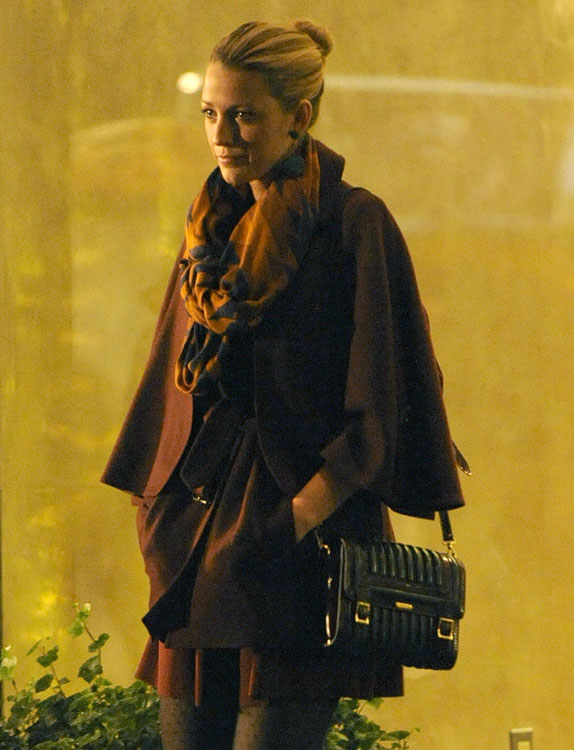 Actually, clutches are often a strong point of the Gossip Girl handbag wardrobe - the characters certainly have enough fancy events to go to that a big clutch wardrobe is justified. Check out this Burberry Prorsum Ribbed Quilting Crossbody Bag. Shop Burberry via Net-a-Porter.
13 / 18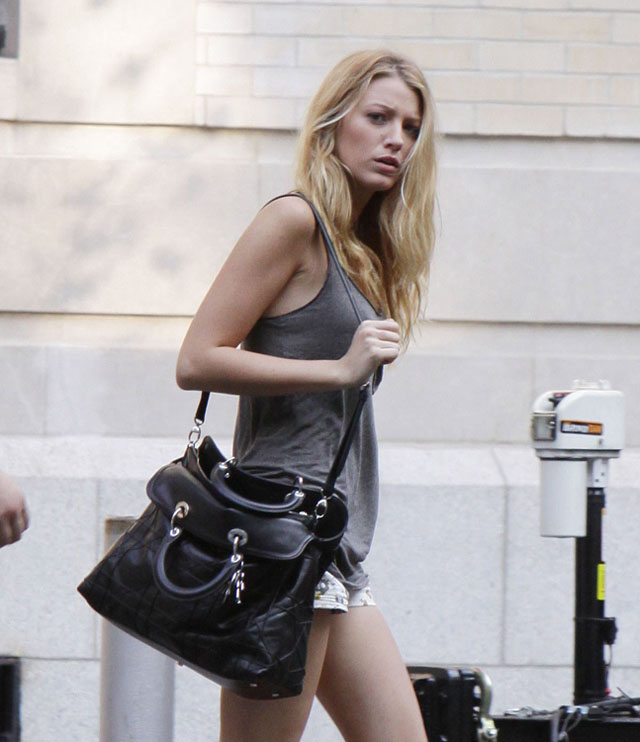 In her downtime, Blake tends to be a bit more casual, like with this Dior Granville Satchel.
14 / 18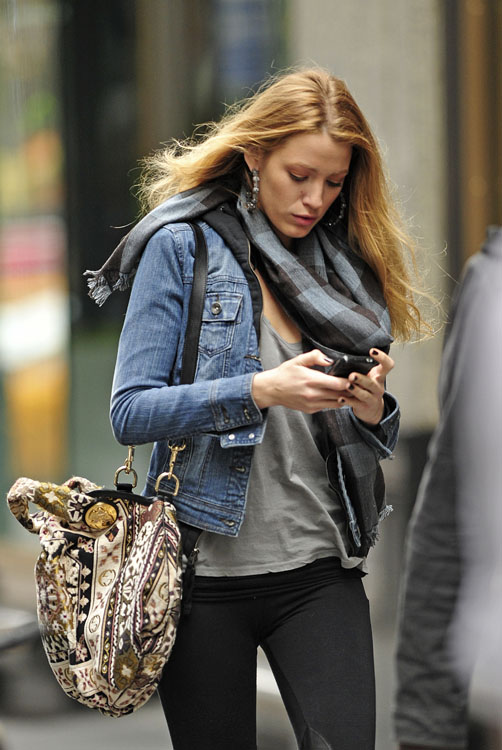 My favorite bag in Blake's personal collection? This cult-classic Gucci Hysteria Bag. Shop Gucci via Neiman Marcus.
15 / 18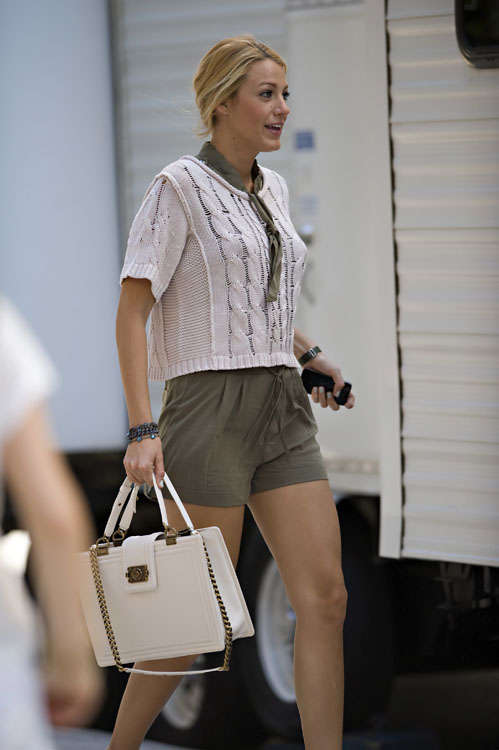 Naturally, though, Blake also carries a ton of Chanel - she was the face of the brand's Mademoiselle handbags in the not-so-distant past. In this photos, she's carrying the white Chanel Boy Chanel Tote as recent Many Bags subject Rachel Bilson!
16 / 18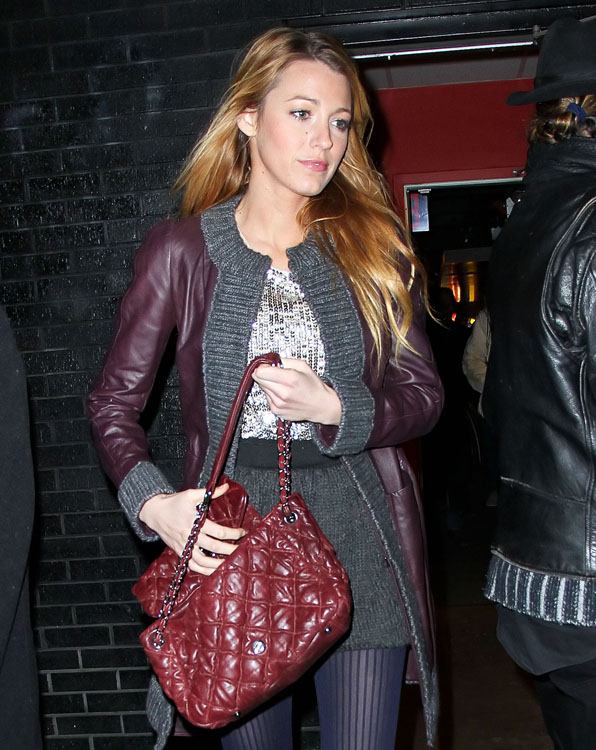 This slouchy Chanel Quilted Shoulder Bag is a bit more casual option. (As casual as Chanel gets, anyway.)
17 / 18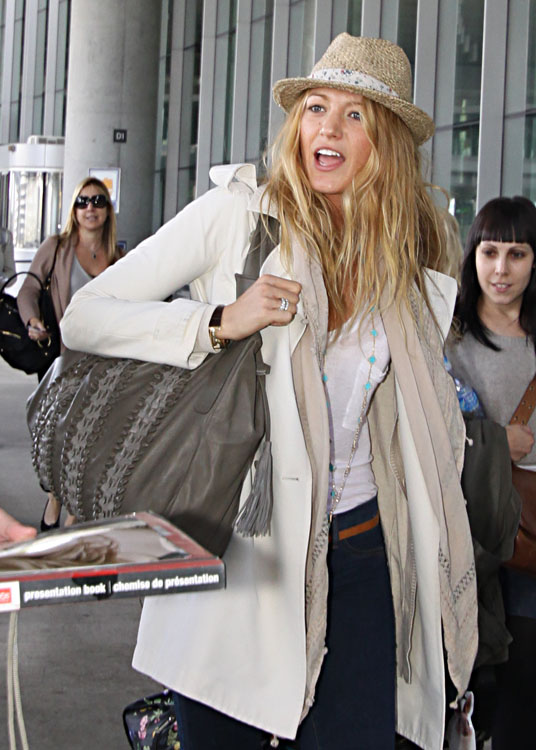 This Pringle of Scotland Kasia Slouch Tote is a prime example of why I wish the British knitwear company would beef up its handbag offerings. Isn't it gorgeous? Blake's a lucky girl.
18 / 18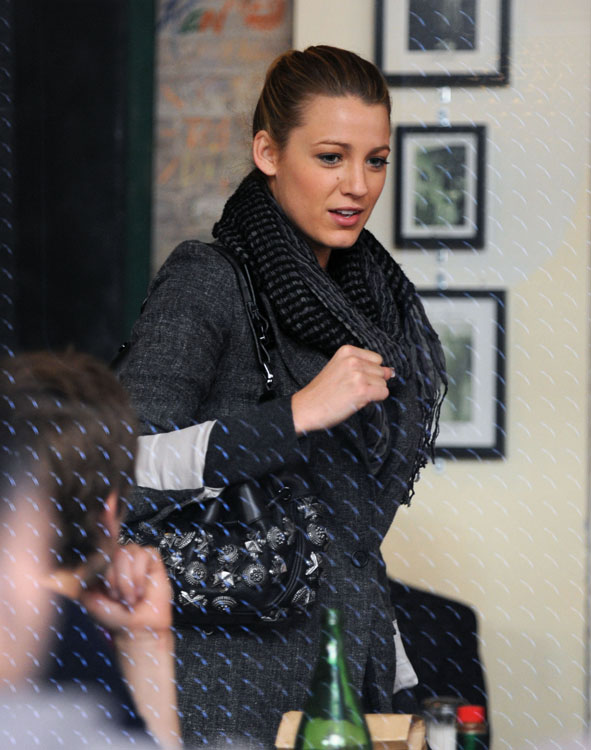 And lastly, we have this crazypants Burberry Studded Shoulder Bag. Those giant medal things are all slightly varied studs! Ambitious, to say the least. Shop Burberry via Net-a-Porter.
P.S. Please consider supporting our small, bag-loving team by clicking our links before shopping or checking out at your favorite online retailers like Amazon, Neiman Marcus, Nordstrom, or any of the listed partners on our shop page. We truly appreciate your support!