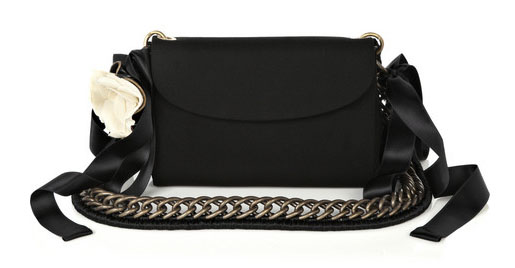 There's something so Parisian and ladylike about the Marni Small Crepe Shoulder Bag that I just can't help but be attracted to. The brand may be Italian, but what we have here looks so much like a cross between Lanvin and Chanel that you'd never know it from just this piece. Somehow, though, I like this bag even more – its lines are cleaner than on some of Chanel's fashion bags and the totality of the design seems more well-edited than the average Lanvin.
There is so much going on with the bag's strap – chains, ribbons, faux flowers – that the bag itself actually borders on boring. The mini bag is made of crepe wool instead of leather, and the only changes I would make would be to make the bag itself larger to correspond with the scale of the chain and also make it out of another material – maybe even an exotic to provide some contrasting texture.
Other than those two things, the overall design is unexpected and beautiful. Somehow, Marni manages to combine all of the elements that we see in a way that doesn't make them looked like they're tacked-on afterthoughts to spruce up a boring design, and that's no small accomplishment when dealing with lots and lots of extras. Buy through Net-a-Porter for $975.