Zimmerman is normally one of the companies whose designs I find very easy to hate on, but this morning, they have pleasantly surprised me.
When intricacy and usability collide, I'm normally a very happy girl, and in this case I have to give credit where credit is due. The designers that created the Zimmerman Lace Cutout Bag have done a very nice job indeed.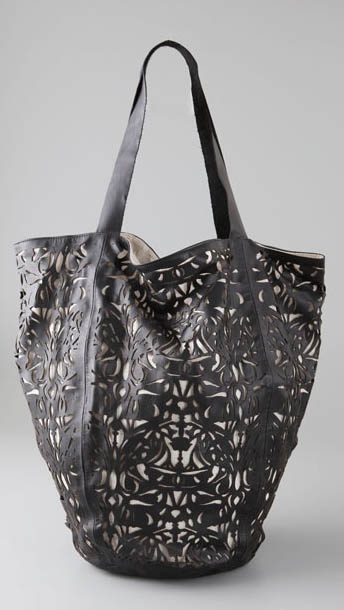 It's impossibly to say how delicate all of the cutouts would make this bag in person, but they appear to have used reasonably thick leather and linen lining will take most of the beating. It may not be a bag that lasts you forever, particularly if it's used to haul school books or a computer, but it will be absolutely gorgeous while it's still functional. The lace cutout sections are as pretty as they can be.
And when a bag is beautiful but may not stand up to a beating, it's important to price the bag correctly in order to make it seem like a reasonable expenditure, particularly when the brand is not well-known. Zimmerman has also done an excellent job of that here, and despite my general distaste for bags that are more than one color and lack exterior pockets, I can't help but picture what this bag would look like with my favorite grey sweater and dark skinnies for fall. Buy through ShopBop for $352.