One of the best things about cold weather dressing is the ability to use so many and varied textures in a single outfit. Wool, leather, denim, suede, cashmere, silk – it can all go together! Layer it up, choose some solids and patterns, and you can create ensembles far more interesting than anything that warm weather allows. As far as fashion goes, I wish it was 50 degrees outside year-round.
Which is why things like the UGG Australia Classic Knit Drawstring Bag confuse me so much. When there are so many beautiful leather and suede options, why choose a bag made out of a material that's already so well-represented in fall and winter clothing?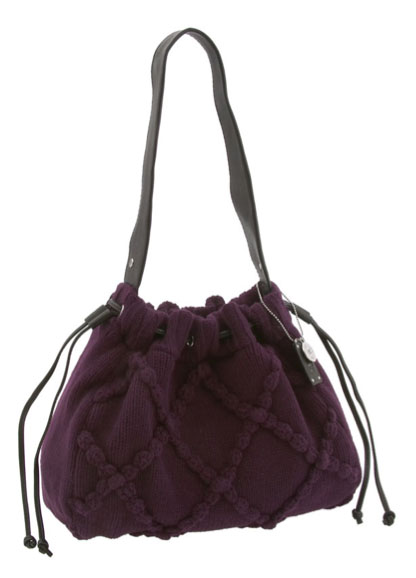 I think my dad has a sweater made out of the same knit. It's not a bad material in and of itself, and it certainly looks cozy and winter-appropriate. I even like the color. But when you're likely to be already wearing a significant amount of heavy knit in a particular season, I can't help but wonder why anyone wouldn't take the opportunity to do something OTHER than a chunky knit in their handbag. You know, like, leather or something. Suede. Anything.
I also question the durability of a bag made out of this material. We all know that most knits pill like crazy after frequent use, and shoulder bags are particularly likely to be constantly rubbing against other clothing since they're carried next to the body. So how long before this thing looks completely trashed? Overall, there are better choices to be made, particularly for the nearly $300 price tag. Buy through Nordstrom for $268.