Treesje Asher Mini Satchel: the color. It's not too teal-y, but has just the right amount of green so it's not too turquoise-y, either. It's the perfect shade that looks great with the gold hardware-if it was just a tad lighter, it would cross into turquoise territory, which might require silver hardware. This is what I thought I didn't like about the satchel when I first saw it: the half-moon shape of the outside zippered compartments. But then I warmed up to that quite easily.
This is what I like about the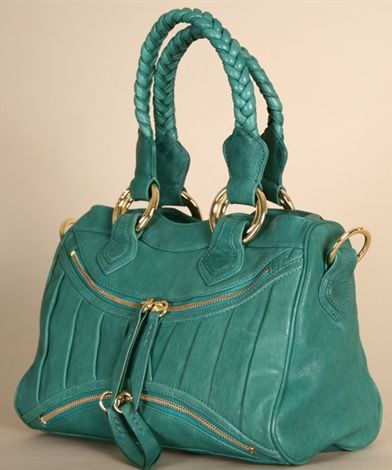 The top compartment I like, it's just the bottom that I had a problem with. Why would you even open a zippered compartment in the shape of an upside-down half-moon, I asked myself before I realized that it didn't matter. The fact is, the whole aesthetic of the bag is pleasing enough that the use of that particular zippered compartment made no difference whatsoever. Because really, if that zipper was gone the whole bag would seem off. So it's there to stay. And another little unique feature of this bag? The double rings on the handles. Who knew that two rings would look so much better than one? Buy through Luna Boston for $498.