Versatility: a good thing! On the surface, at least.
At times, handbags striving to be useful in as many ways as possibly totally fail at being genuinely useful in any of them. You get quantity over quality, and design elements get muddled and altered in ways that aren't entirely adherent to the idea that good design should have focus and purpose. Does the Olivia Harris Three-In-One Shoulder Bag succeed in any of the things that it intends to do, or does it miss the forest for the trees? You're going to have to click to find out.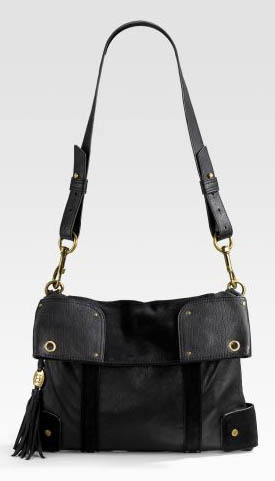 Let's call it "marginally successful." It intends to be carried, as the name suggests, in three different ways: folded clutch, shoulder bag, and crossbody. It will definitely work as a folded clutch, which is one of my favorite shapes for a bag, ever. It'll hold a lot, look cute, and keep your stuff safe inside. Win! It also looks like it'll work just fine as a shoulder bag, even if it might say "clutch on a strap" pretty obviously. Sometimes a clutch on a strap isn't the worst thing ever.
Where it loses me is at the point where it should (and can) be worn crossbody. The strap simply doesn't look long enough, not even close. The picture appears to show it at its longest configuration, and at best, it looks like a long shoulder bag. Unless you're an Olsen twin, it's not going to come anywhere close to reaching around your body, and let's face it: there's not a lot of Olsen twins running around out there. This is America, and we need extra long straps on our bags to span our girth when we go out to a fancy dinner at Olive Garden. And yes, I went to Olive Garden yesterday, and it was delicious. Buy through Saks for $295.